'Ocean's 8' Box Office Tracking Suggests A $45 Million Opening Weekend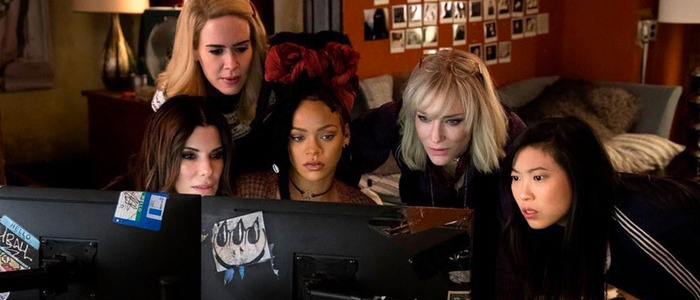 It's been more than ten years since Ocean's 13 wrapped up director Steven Soderbergh's Ocean's 11 trilogy, but now The Hunger Games director Gary Ross is reviving the franchise with a new female-led heist movie set in the same universe. The Ocean's 8 box office tracking projections have arrived, and if they turn out to be accurate, it seems like Warner Bros. is going to be happy they rolled the dice on this particular gamble.
Ocean's 8 Box Office Tracking
According to Deadline, industry projections for Ocean's 8 arrived this morning and indicate that the new movie could pull in $45 million during its opening weekend. That would be higher than the unadjusted opening weekend for the George Clooney-led Ocean's Eleven, which earned just over $38 million in its opening weekend in December of 2001. Not only that, but it'd be higher than the unadjusted opening weekends of any movie in the Ocean's franchise thus far: 2004's Ocean's Twelve brought in $39 million, while 2007's Ocean's Thirteen dipped down to only $36 million.
Deadline is comparing Ocean's 8's presumed opening haul to 2016's Ghostbusters, which opened to $46 million and went on to make $128 million domestically, but they rightly point out that Ocean's 8 was far cheaper to produce. Even with a significant ensemble cast that includes heavy hitters like Sandra Bullock, Cate Blanchett, and Anne Hathaway, Ocean's 8 only cost around $70 million to make, as opposed to Ghostbusters' $144 million. (And this is not me crapping on that Ghostbusters movie, either – I'm a defender of that movie and found it to be pretty damn funny.)
Along with the first Hunger Games film, this should be one of the highest grossing opening weekends of director Gary Ross's career. Pleasantville opened to $8 million, Seabiscuit wrangled $20 million, and 2016's Free State of Jones was a dud that earned just $7 million off the starting blocks. A breezy heist film like this with a built-in audience should provide a big comeback for Ross.
Rihanna, Awkwafina, Helena Bonham Carter, Mindy Kaling, Dakota Johnson, and Sarah Paulson co-star in this film, which sees Bullock playing the sister of George Clooney's Danny Ocean.
Criminal mastermind Debbie Ocean and seven other female thieves try to pull off the heist of the century at New York's annual Met Gala. Their target — a necklace that's worth more than $150 million.
Ocean's 8 hits theaters on June 8, 2018, competing against movies like Won't You Be My Neighbor, Hearts Beat Loud, Hereditary, and Hotel Artemis.