Theme Park Bits: Harry Potter Parade Floats, Float On Fire At Magic Kingdom, Wearable Infinity Gauntlet Sipper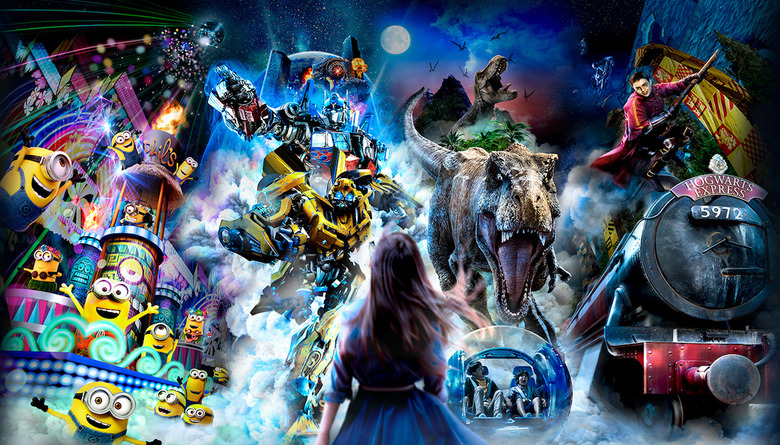 In this edition of Theme Park Bits:
See video of a parade float going up in flames at the Magic Kingdom.
Guess which theme park has surpassed Epcot's annual attendance.
You can now wear the Infinity Gauntlet (and drink from it) at Disney California Adventure.
Rumors peg Islands of Adventure for a new Jurassic Park coaster and Jurassic World re-theme.
Watch the full Spectacle Night Parade with Harry Potter floats at Universal Studios Japan.
And more!
It's all fun and games until the fire-breathing dragon's head catches on fire. Last Saturday, the Maleficent float in the Magic Kingdom's Festival of Fantasy parade did indeed have its breath backfire, turning its head into a small conflagration over Main Street, U.S.A.Rather than vanquish the dragon, the prince from Sleeping Beauty could be seen smiling and waving while speed-walking away with his sword sheathed. What gives, guy? This left Disney Cast Members to combat the dragon with fire extinguishers. Theme Park Bits had already gone to press last week before this fiery incident occurred, but you can see a clip compilation of the moment it happened below.
In a twist straight out of the horror movie A Quiet Place, the Talking Mickey at the Magic Kingdom will no longer greet guests audibly. Rumors had been swirling for months that a hush would soon fall over his spot in the Town Square Theater, and now it has. Guests can still meet Mickey at this location, but from now on, they'll be having one-way conversations with him as the mouse goes back to his old pantomiming ways. As for the Main Street Theater, that project looks to be definitively canceled.
There's actually Magic Kingdom news aplenty this week as the park that was once known for its no-alcohol policy is now offering alcoholic beverages at eight of its restaurants. If drinking makes you feel like a pirate and you're wondering how to play the park's interactive Pirates Adventure Game, look no further than the video below.
It used to be that Epcot was always the second most popular park at Walt Disney World, but the opening of Pandora – The World of Avatar last year has changed all that. The numbers for annual attendance at Disney parks globally are in, and it's official: Disney's Animal Kingdom has knocked Epcot out of the top five. The Magic Kingdom is still #1, followed by Disneyland, Tokyo Disneyland, Tokyo DisneySea, and now, Animal Kingdom.
Bet on Disney's Hollywood Studios climbing the rankings once Star Wars: Galaxy's Edge opens there in 2019. This week, we learned some new details about how the upcoming Star Wars hotel will be integrated into Galaxy's Edge to give guests staying there a unique experience with special missions and side missions available only to them. A list of guests from Walt Disney Imagineering who will be appearing in the "Inside Star Wars: Galaxy's Edge" panel at Star Wars: Galactic Nights is also now available.
NEW Marvel merchandised, released TODAY! Thanos Infinity Gauntlet souvenir sipper, with your choice of beverage $20, one per person. (Carts near guardians of the galaxy) @Disneyland @DisneylandToday #Marvel #infinitygauntlet #Avengers #infinitywar pic.twitter.com/KUEmVCuwSB

— Living Mi Vida Loca (@LMVLblog) May 12, 2018
Parkgoers at Disney California Adventure, have you procured your wearable Infinity Gauntlet drink sippers yet? The neatly themed souvenirs went on sale near Guardians of the Galaxy – Mission: Breakout! last Saturday, but they reportedly disappeared like half the universe's population, selling out over the weekend and leaving guests waiting for a restock this week.
In Cars Land at California Adventure, Flo's V-8 Cafe has a new pun-filled menu to bring it in line with the park's tradition of free-flowing puns. You might say it's ... getting in on the pun?
Pixar Pier Special Event Coming to Disney California Adventure June 22 for $299 Per Personhttps://t.co/ne305SAqub#Pixar #PixarPier pic.twitter.com/VFc93BErag

— WDW News Today (@WDWNT) May 14, 2018
For the low, low price of, er, $299.00, California Adventure is offering guests the chance to attend the Pixar Pier Premiere on June 22. That's about one-third the price of an Annual Pass, but if you're willing to cough up the dough, you'll gain exclusive entry to Pixar Pier and be among the first to ride its rides and sample its food a day before it opens to the general public.
Last week we talked about John Lasseter, but now it looks like reports of his probable dismissal from Disney and Pixar may have jumped the gun.
New @DisneyParks sweet treats arrive for May, including Purple Wall Slush at @WaltDisneyWorld https://t.co/g0nbxQVaQ1 pic.twitter.com/845xb2ypqn

— Inside the Magic (@InsideTheMagic) May 16, 2018
A Purple Wall Slush is just one of the new sweet treats coming to Disney parks in the U.S. this month.
Disney already has its own private island in the Bahamas (Castaway Cay), but now it's looking to acquire a second port to accommodate the Disney Cruise Line's growing fleet of ships. Sailing out of home ports in Florida, New York, California, and Texas, the cruise line just announced a new string of itineraries for Fall 2019.
Universal Studios Hollywood will see its Jurassic Park ride converted to a Jurassic World ride next year and now there are rumors (see above) that Islands of Adventure in Florida may follow suit, with the park possibly adding in a new coaster to the land, as well.
A talking mirror, new wizarding apparel, new magic wand experiences, new lunch menu options at the Three Broomsticks, and the return of "The Nighttime Lights at Hogwarts Castle" are all coming to the Wizarding World of Harry Potter at Universal Studios Hollywood this summer.
We begin and end this week with a parade video. No flaming floats in this last one, but Universal has debuted its very first parade with Harry-Potter-themed floats at Universal Studios Japan. The new Spectacle Night Parade, as it is called, also features floats themed to Transformers, Minions, and Jurassic World (including an animatronic T-Rex).