'Deadpool 2' Clip Introduces The Merc With A Mouth To Julian Dennison As Firefist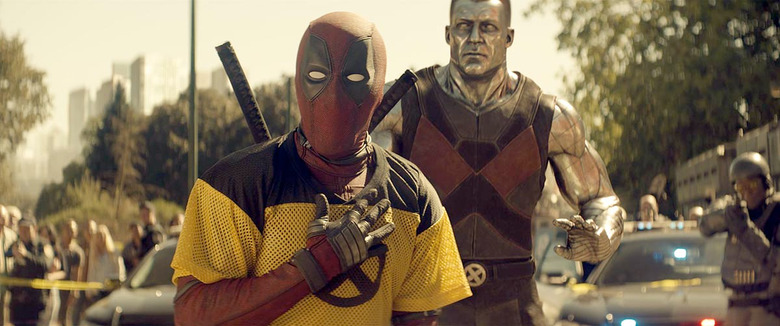 We're just a couple days out from the first sneak preview screenings of Deadpool 2 on Thursday evening, when the most excited and hardcore Deadpool fans will be flocking to theaters to see what the smart-mouthed sequel has to offer. However, if you're one of those people who ruined your life with kids, has some stupid responsibility, or are stuck under a refrigerator and can't make it to Deadpool 2 this weekend, we've got something to hold you over.
A new Deadpool 2 clip has surfaced online featuring Ryan Reynolds arriving at a tense stand-off as the Merc with a Mouth alongside the X-Men. It appears authorities are having some trouble with a kid named Russell (Julian Dennison, calling himself Firefist) letting his powers get out of control. Deadpool, Colossus (Stefan Kapicic) and Negasonic Teenage Warhead (Brianna Hildebrand) come in to squash the situation, but it turns out they may only be exacerbating it.
Watch the Deadpool 2 Clip
Part of me wonders if this clip has been censored a bit for television or just so that it's not a fully R-rated clip. There are a couple lines in there that feel like they're more tame replacement dialogue than what we'll see in the final cut. But even so, there are still some solid one-liners in here. Deadpool's crack about that guy's "weird, secret sex lips" is a good laugh, and the kid referring to Negasonic as Justin Bieber is solid too.
But easily the best gag here is both Russell and Deadpool calling out Colossus for using a line from RoboCop while trying to contain the situation, and the big metal guy looking so dejected afterwards. Maybe Russell will end up matching wits with Deadpool and deliver just as many jokes as Red himself.
Could Wade Wilson and his girlfriend Vanessa (Morena Baccarin) end up adopting Russell, AKA Firefist? Let's not forget that an early idea for Deadpool 2 would have turned the title character into a father, and giving him a mouthy, adoptive son would be an interesting way of still bringing that idea to fruition.
Deadpool 2 also stars Josh Brolin as Cable, Zazie Beetz as Domino, Karan Soni as Dopinder, Terry Crews as Bedlam, Lewis Tan as Shatterstar, Bill Skarsgard as Zeitgeist, Rob Delaney as Peter and Leslie Uggams as Blind Al. David Letich (John Wick) directs, and the movie hits theaters this week on May 18, 2018.
After surviving a near-fatal bovine attack, a disfigured cafeteria chef (Wade Wilson) struggles to fulfill his dream of becoming Mayberry's hottest bartender while also learning to cope with his lost sense of taste. Searching to regain his spice for life, as well as a flux capacitor, Wade must battle ninjas, the yakuza, and a pack of sexually aggressive canines, as he journeys around the world to discover the importance of family, friendship, and flavor – finding a new taste for adventure and earning the coveted coffee mug title of World's Best Lover.