'Set It Up' Trailer: Netflix's New Rom-Com Looks Delightful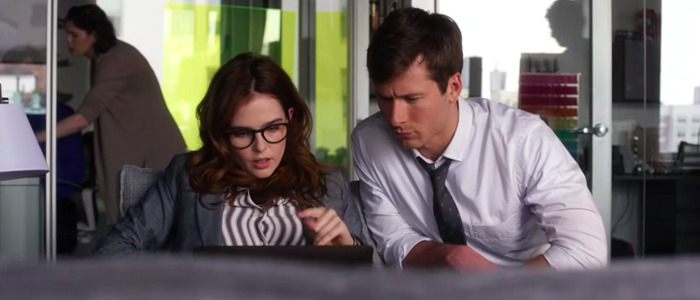 The romantic comedy genre has suffered tremendously over the past twenty years as mid-budget movies have practically ceased to exist, but with the proliferation of streaming services today, we may be in the midst of a rom-com mini-renaissance.
One of the most promising upcoming entries is a Netflix film called Set It Up, in which two overworked assistants (Zoey Deutch and Glen Powell) scheme to hook up their high-powered bosses (Lucy Liu and Taye Diggs) just so they can have a little time to themselves.
Set It Up Trailer
There's so much to like about this trailer. First of all, the premise – while admittedly a little too cheesy and perfect – is absolutely perfect for a modern rom-com. And the cast is aces. Zoey Deutch and Glen Powell, reuniting after first appearing together in Richard Linklater's cool, breezy college comedy Everybody Wants Some!!, both have charm to spare. Meanwhile, Lucy Liu, who I've always thought was under-appreciated in Hollywood, and Taye Diggs (another perennially underused performer) look right at home in these high strung executive roles.
If the romantic leads have chemistry in these types of movies, half the battle has already been won. But a good script and solid execution certainly helps, and thankfully it seems like Set It Up might have the total package.
This film is the brainchild of first-time feature writer Katie Silberman, and it's the feature directing debut of Claire Scanlon, a long-time TV director who's helmed episodes of shows like The Office, Suburgatory, The Goldbergs, The Last Man on Earth, Fresh Off the Boat, Unbreakable Kimmy Schmidt, GLOW, Black-ish, and Brooklyn Nine-Nine. (Scanlon started her career as an editor, and has worked on shows like The Office and Hello Ladies in that capacity.) It's kind of sad that a movie like this, which would have absolutely killed in theaters it had come out in the mid-1990s, is relegated to Netflix. But the landscape has changed so much that I guess I should be somewhat thankful that any company is willing to fund a story like this on any platform right now.
Here's the movie's official synopsis:
New York assistants, Harper (Zoey Deutch) and Charlie (Glen Powell), are used to going above and beyond for their high-powered (and highly demanding) bosses, Kristen (Lucy Liu) and Rick (Taye Diggs). But now they're teaming up for the biggest projects of their young careers – getting their bosses to fall in love! Only time will tell whether they strike out...or score a home run.
Set It Up arrives on Netflix on June 15, 2018.