Watch The Teaser For Michael Jordan's 10-Part Documentary Series From Netflix And ESPN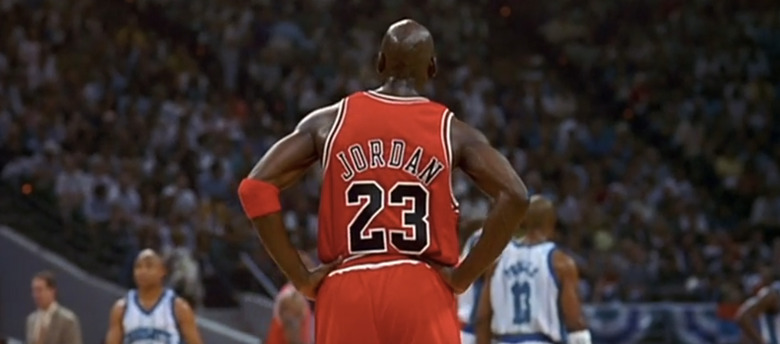 With LeBron James continuing to dominate the court during the NBA Finals, the debate about whether or not he's better than basketball icon Michael Jordan continues to rage on. Next year, a new documentary series might have some new insights to keep the argument going strong.
Netflix and ESPN Films have announced a joint production called The Last Dance, a 10-part documentary series looking at the life, career and legacy of Chicago Bulls point guard Michael Jordan, believed by many to be the greatest professional basketball player of all time.
Watch Michael Jordan's The Last Dance Trailer
Jason Hehir, who was at the helm of the sports documentaries The Fab Five, The '85 Bears and Andre the Giant, will be directing the anthology documentary that will look at the rise of Michael Jordan during the time he spent on the roster of the 1990s Chicago Bulls.
The documentary series will be pulling from 500 hours of never-before-seen footage from the final championship run that Jordan and the Bulls made in the 1997-1998 season. Though the title is called The Last Dance, with 10 episodes to fill out in the series, this surely won't be just about that final season, but rather a chronicle of Jordan's career and the success of the team that became a nationwide sensation.
A press release from Netflix and ESPN Films indicates the production "will have the full participation of Jordan and other key figures from the Bulls' championship teams, as well as dozens of other luminaries from basketball and beyond." Hopefully that means Jordan's teammates like fellow starters Scottie Pippen, Dennis Rodman, Luc Longley and Ron Harper will be included. And surely head coach Phil Jackson will make some kind of appearance, too.
Even though I'm not ingrained in the world of sports at all, as a kid in the 1990s, I was positively obsessed with the Chicago Bulls and the NBA in general. I have binders of basketball cards, and I watched as many games as I could. This documentary sounds right up my alley, and I can't wait to find out everything about His Royal Airness.
However, we'll be waiting a little while to find out more about this documentary, because The Last Dance won't be hitting Netflix until sometime in 2019. In the meantime, if you can seek out a copy of the documentary Michael Jordan to the Max from 2000, then that will provide some insight into Jordan's final season with the Chicago Bulls. Here's the trailer for that documentary: