New Blu-Ray Releases: 'Black Panther', 'Annihilation', 'It's Alive' Trilogy, 'Wild At Heart'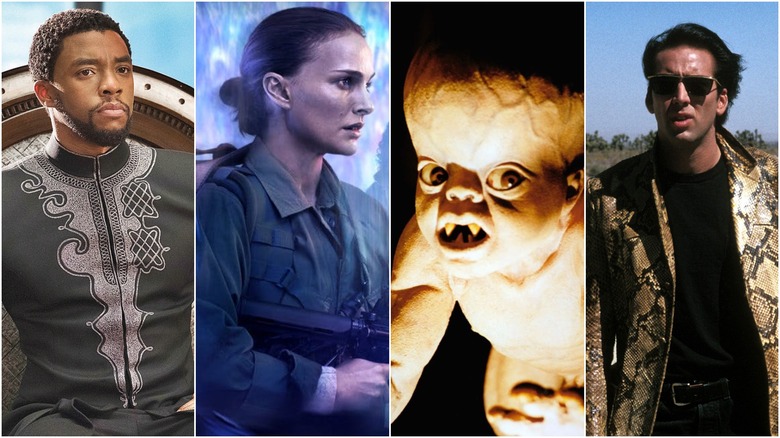 (Welcome to Not Dead Yet, a feature dedicated to new Blu-ray releases and what special features you should be excited about. Because yes, some of us still like to own physical copies of our movies.)
It's time to round-up the best Blu-ray's available right now, and in the immediate future. This week's biggest release is, of course, Black Panther. Beyond that, we have an early look at the impending Blu-ray release of Annihilation. Also: Scream! Factory's It's Alive box set, and Shout Select's Blu-ray release of David Lynch's Wild and Heart.
Here are the new Blu-ray releases and their special features you should check out this week, and beyond.
Black Panther
The Marvel Cinematic Universe can often feel as if it's spinning its wheels, telling the same story over, and over, and over again. And then every now and then, they'll release something like Ryan Coogler's Black Panther, and what a treat it is. Coogler has crafted one of the best films of the MCU – a funny, tragic, emotional journey full of characters that stand out from the rest of the usual Marvel players. Chadwick Boseman makes for a compelling, sympathetic and best of all, earnest hero as Black Panther. But the real draw here are the supporting players. Like Letitia Wright, playing Black Panther's brainy, funny sister. And Danai Gurira, as Okoye, the general of the Dora Milaje – the all-female guard that protects the secret country of Wakanda. And of course, Michael B. Jordan, as the first legitimately great Marvel villain, Killmonger.
Is Black Panther Marvel's best movie? I really don't know. But I do think it's one of their most important – a film that shows that the superhero genre can rise above itself and create something spectacular and game-changing. And that's what matters most.
Special Features to Note: There's a slew of featurettes included on the Blu-ray release, so let's take a look at them.
Crowning A New King: This starts off talking about how Black Panther was such a standout character in Captain America: Civil War. Marvel Studios head honcho Kevin Feige says the idea with Black Panther was to take that character and craft "an entire movie that focuses on his world."
Director Ryan Coogler says here that the character, who is taking over as King of Wakanda after the death of his father, "just got the biggest promotion of his life; he's wondering what's next."
Coogler goes on to say that the film is about the character dealing with the responsibility of becoming king and wondering if he's worthy of that. This whole featurette is pretty by-the-numbers, but serves as a brief breakdown of the film as a whole.
The Hidden Kingdom Revealed: This featurette is all about Wakanda; "The big function of how Wakanda works is staying out of the spotlight," Coogler says. Coogler also says that in making the film, it was important to make Wakanda seem like a real place and not just some fantasy.
Coogler went to Africa to write the script and do research and draw upon actual African culture in crafting the film. The movie's dialect coach talks about the different African dialects they used to create the languages of the different Wakandan tribes;
"[Wakanda is] a different place for the Marvel audiences to go and see," says Letitia Wright.
Ultimately, this featurette does a great job illustrating how much work went into creating Wakanda and making it seem genuine.
The Warriors Within: The focus here is on the many female characters in Black Panther.
"These female characters are incredibly important," says Coogler, adding: "Women are the backbone of any society."
Wakanda Revealed: There's a lot of tech featured in Black Panther, and this featurette goes into how most of it was created and how it works – both on set and in the context of the film.
The most interesting comment from this featurette comes from Coogler, who says that Black Panther and Wakanda are "what could be if African people had control over their own resources."
There's a lot of talk here about the film's weapons, and also how the production designers drew upon the art of Jack Kirby.
Blooper Reel: The Marvel blooper reels are almost all kind of pointless, and sadly Black Panther isn't much of an exception. Rather than genuine bloopers, this is mostly just footage of the actors dancing or making silly faces in between takes. The only genuinely amusing moment here is when, while shooting one of the film's big waterfall battles, Angela Bassett leans over to Letitia Wright and says, "Some exciting shit happening up in here."
Deleted Scenes: There are four deleted scenes total. The first comes near the end of the film, where Black Panther/T'Challa goes to the UN to reveal the truth about Wakanda. There, he runs into CIA agent Ross (Martin Freeman), who advises T'Challa against going through with this. T'Challa says he will no longer rule in fear. The scene is fine, and there are a few funny moments between Boseman and Freeman, but cutting it was no huge loss. You can read about (and watch) the other deleted scenes here and here.
From Page to Screen: This lengthy featurette involves a conversation with writers of the Black Panther comics throughout the years, and Ryan Coogler. It focuses primarily on the history of the character in the Marvel comics, and while a bit dry at times, it's an excellent crash-course in the history of Black Panther as a character.
Ant-Man and the Wasp Featurette: This featurette is a behind the scenes look at Marvel's next film, Ant-Man and the Wasp. It's predictably silly, and makes the movie look like it's going to be a lot of fun.
Commentary: In addition to all the features, there's also a commentary track with Coogler and production designer Hannah Beachler. Both are very insightful, with Coogler in particular going through nearly every aspect of the production. Over the course of the commentary, it's revealed that the amusing scene where Shuri mock-challenges T'Challa at the waterfall was an idea courtesy of Donald and Stephen Glover. Coogler also reveals his wife came up with Killmonger's emotional line at the end of the film where he talks about being afraid of being locked up.
Special Features Include:
From Page to Screen: A Roundtable Discussion – Delve into the film's making
Crowning of a New King – Explore the world of "Black Panther" in all its color and complexity
The Warriors Within – Get to know Wakanda's women and the actors who portray them
The Hidden Kingdom Revealed – Wakanda's diverse people
Wakanda Revealed: Exploring the Technology
Okoye And W'Kabi Discuss the Future of Wakanda
T'Challa Remembers His Father
Exclusive Sneak Peek at "Ant-Man and The Wasp"
Marvel Studios the First Ten Years: Connecting the Universe
(on Digital May 22; Blu-ray May 29)
Time will be kind to Alex Garland's Annihilation. Already, the film has garnered something of a cult following, with many (myself included) beating the drum and calling the film an unheralded masterpiece. At the same time, I know Garland's twisty, depressing, often terrifying sci-fi film isn't for everyone. And that's fine. But those who are in tune to this film's strange wavelength are going to be rewarded with a challenging, haunting experience. A film rife with symbolism and allegory. A story about grief; about life; about sickness; about madness. It's almost impossible to truly pin this movie down, and that's what makes it such a minor miracle. Natalie Portman leads a female-centric cast in a story about a journey into a mysterious, time-and-space altering landscape where almost anything can happen. And when it does happen, it's tailor-made to give you nightmares. As I said in my theatrical review, this film "lingers, burned into your thoughts, branded on the brain. It is nothing short of a masterpiece, and the fact that it exists at all is something worth celebrating."
Special Features to Note: I'm thrilled to report that the extensive featurettes including on the Annihilation Blu-ray really do the film justice. I had worried that the poor box office performance would doom the film to a bare bones release. Happily, that's not the case. Several different featurettes tackle the production from all angles – from adapting the film from Jeff VanderMeer's book, to casting, to shooting, to special effects.
Alex Garland reveals he was sent the book by a producer, and confesses that while he really enjoyed reading it, he didn't know how to adapt it. According to Garland, it's not an obvious book-to-film movie. Ironically, Jeff VanderMeer is also on hand here, and he says he wrote the book in a cinematic style. Go figure.
Garland didn't want to do a straight adaption – he instead wanted to adapt his subjective experience of reading the book; the feeling of the book, in other words. That makes sense, since beyond the plot, Annihilation the film is drastically different from Annihilation the book.
Some other info gleaned from these featurettes:
Garland describes the movie as a journey from suburbia to psychedelia. A journey from an objective state to a subjective state.
The real influence for the film, beyond the book, is "unknown" to Garland, but he also says he was inspired by Alan Moore comics, like

Swamp Thing

.
Garland talks about casting the film, and how he wanted each character to have their own energy.
Natalie Portman says how nice it is to be in a film that's female-driven. And she talks about how the script blew her away.
Garland has a very interesting take on Portman's character, calling her both controlled, ordered and structured, but also internally damaged. He praises Portman for able to nail that down on screen.
Garland confesses that before she took the part in the film, Tessa Thompson asked him "fair but confrontational" questions about his previous movie,

Ex Machina,

and he appreciated that kind of "intellectual courage"
The film was shot in sequence.
There's very little green screen in the movie, and the production used as many practical effects as possible.
This leads into the best featurette on the disc – one focused on how the crew set about creating the nightmarish mutant bear in the film. Garland tells us that the goal of that was to make audiences feel different than a typical kind of monster attack scene – the monster is in a state of despair and pain; it's an existential monster in an existential space. Of course, the other goal was to make it scary. 
Beyond this, we get to see an animatronic bear head on set, as well as a stuntman wearing a sort of half-formed bear costume. Almost every angle of the scene is covered here, from the stunt work to the staging. Fun fact: it took Garland and company 5 days to shoot just this one scene. Overall, this featurette reminds me of old school videos of people like Tom Savini and Stan Winston showing horror fans how they created their classic movie monsters. It's a must-see.
Special Features Include:
Part 1 – SOUTHERN REACH
Refractions – See how director Alex Garland created the tone, textures and color palettes for the various film environments on set.
For Those That Follow – Listen to the cast's perspective on their roles and learn why they found the story so intriguing.
Part 2 – AREA X
Shimmer – See how filmmakers transformed real set locations to create the world of Annihilation.
Vanished into Havoc – Check out all the action as cast and crew walk you through the mind-blowing stunts and special effects.
Part 3 – TO THE LIGHTHOUSE
Unfathomable Mind – Learn why the visual effects are integral to achieving director Alex Garland's overall vision for Annihilation.
The Last Phase – Listen to the cast and crew share their fondest memories from filming Annihilation.
It's Alive Trilogy
Larry Cohen's utterly bonkers, utterly wonderful killer-baby-based It's Alive trilogy comes to Blu-ray box set courtesy of Scream! Factory. Cohen, the B-movie auteur behind movies like The Stuff and Q, took a simple/silly premise – what would happen if someone gave birth to a murderous mutant baby – and spun it into three wacky, entertaining films. The first, 1974's It's Alive, is the best of the bunch, because it plays its ludicrous premise 100% straight. This works primarily due to John P. Ryan's earnest performance as a father trying to deal with the shock of having a killer mutant baby as offspring. It's Alive 2 is a bit derivative, even though it does turn the premise on its head – this time, people are trying to protect the killer babies rather than destroy them. But the best sequel is It's Alive 3: Island of the Alive, which goes all-in on the craziness. In this film, the babies have grown to full, mutated adults, and are dwelling on an island. The mutants are really secondary – the main draw in It's Alive 3 is Michael Moriarty's extremely baffling performance as a father of one of the mutants. It has to be seen to be believed. This box set is a glorious treat for anyone who loves B-movies.
Special Features to Note: The box set comes with a lengthy interview with Larry Cohen, as well as actors James Dixon, Michael Moriarty And Laurene Landon, and more. Cohen is the main draw here, as he nonchalantly recounts the making of the trilogy. When it came time to design the killer baby, Cohen says he drew concept art that resembled "the star child from 2001 and a wolf." Cohen also reveals that he shot most of the first film at his house, simply because he just liked to be home.
In this featurette, we learn that Warner Bros. was not happy with the first film when Cohen had finished it, and they planned to dump it entirely. But, oddly enough, the foreign office of Warners took the film and entered it into European film festivals, and it ended up winning awards and doing well internationally, while still being ignored domestically. As luck, or fate, would have it, a regime change took place at Warners, and Cohen seized the opportunity to ask the new execs in charge to give It's Alive another chance. Which they did, with better marketing. As a result,the film became a box office hit, and the demand for a sequel was born. 
"Nobody bothers me, I just go out and make my movies," Larry Cohen says over the course of the interview. We should all be so lucky.
Special Features Include:
DISC ONE: IT'S ALIVE
NEW 2K Scan Of The Original Film Elements
NEW Cohen's Alive: Looking Back At The It's Alive Films Featuring Interviews With Writer/Producer/Director Larry Cohen, Actors James Dixon, Michael Moriarty And Laurene Landon, And More...
NEW It's Alive At The Nuart: The 40th Anniversary Screening With Larry Cohen
Audio Commentary with Writer/Producer/Director Larry Cohen
DISC TWO: IT LIVES AGAIN
NEW 2K Scan Of The Original Film Elements
Audio Commentary With Writer/Producer/Director Larry Cohen
DISC THREE: IT'S ALIVE 3: ISLAND OF THE ALIVE
NEW 2K Scan Of The Original Film Elements
NEW Interview With Special Effects Makeup Designer Steve Neill
Audio Commentary With Writer/Producer/Director Larry Cohen
(on Blu-ray May 22, 2018)
How does one explain Wild At Heart? Imagine Bonnie and Clyde meets Badlands, recounted by a lunatic Elvis fanatic, and you might come close. If you've never seen a David Lynch film, Wild At Heart would not be the film I'd recommend you start with. In fact, while there's plenty of weirdo grace to embrace here, this isn't even close to being one of Lynch's best. But it is worth seeing, primarily for the whacked-out lead performances of Nicolas Cage, who is doing some sort of bizarre Elvis impersonation here, and Laura Dern, who spends multiple scenes screaming her head off. Cage and Dern play Sailor and Lula, a couple of crazy kids in love who get themselves mixed-up in all sorts of madness and violence. Along they way, they hook up with a madman played by Willem Dafoe, sporting a set of the most disgusting teeth you'll ever clap eyes on. Oh, and there are Wizard of Oz references peppered in as well. What's it all mean? Only David Lynch really knows, and he's not telling.  
Special Features To Note: The only new special feature here is an interview with Barry Gifford, author of the book that inspired the film. Gifford says the book was drawn from a William Carlos Williams quote: "The pure products of America go crazy", then goes on to say it's a "true love story."
Gifford confirms he had no problems with the way Lynch changed the novel, saying that muich of what Lynch portrayed were events that happened "off page" in the novel – that is, elements that were "suggested" in the novel. Gifford also adds that 80% of the dialogue is taken right from his book.
Beyond this, there's 1990 documentary about the making of the film, ported over from a previous DVD release. It features interviews with Lynch, Cage, Dern, and Dafoe, and more. Willem Dafoe talks about those disgusting goddamn teeth he wears. It's also revealed that Lynch would sometimes changed scenes on the day of shooting, like the scene where Dafoe threatens Dern, in order to create a sense of spontaneity.
There's also over an hours worth of deleted scenes, most of them involving more sexually explicit or violent scenes. Fun for the whole family!
Special Features Include:
NEW Interview With Novelist Barry Gifford
Extended And Deleted Scenes (76 Minutes)
Love, Death, Elvis And Oz: The Making Of Wild At Heart
Dell's Lunch Counter: Extended Interviews
Specific Spontaneity: Focus On David Lynch
Original 1990 Making Of EPK
Original Theatrical Trailer