'Bohemian Rhapsody' Trailer: Rami Malek Will Rock You As Freddie Mercury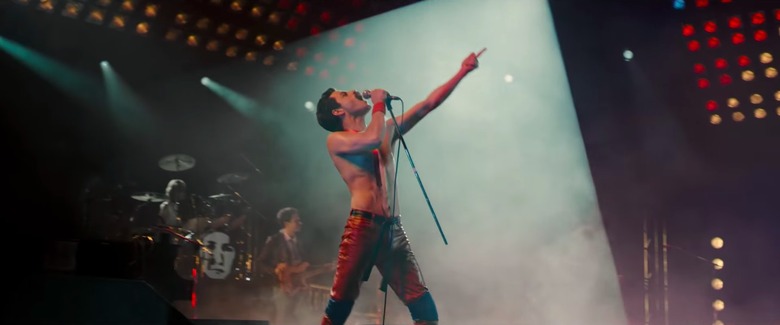 It's been a long and hard journey for Bohemian Rhapsody, but as they say, the show must go on. No person better embodies the lyrics to one of Queen's final songs as a band than Freddie Mercury, the glamorous, tragic figure at the center of this biopic that's played here by Rami Malek. It's a daunting task to portray the legendary Queen frontman, but in the Bohemian Rhapsody trailer, it looks like Malek more than steps up to the task.
Bohemian Rhapsody Trailer
Rami Malek embodies Freddie Mercury, the legendary singer whose famous four-octave vocal range was something that few popular singers could achieve. But Mercury's bright career was tragically cut short after he contracted AIDS in 1987 and died from complications from the disease just four years later.
The movie chronicles Queen from their inception in 1970, when Mercury teamed with Brian May and Roger Taylor, through the band's performance at Live Aid in 1985, six years before Mercury's death. Notably, however, it doesn't chronicle any of Mercury's struggle with HIV and AIDS, with former director Bryan Singer describing Bohemian Rhapsody as "not a traditional biopic" but "a celebration" of Queen. May — who is heavily in involved in the production of the film alongside Taylor — has also reportedly been adamant on preserving Queen's legacy.
That blind spot in the movie's plot was the reason that original star Sacha Baron Cohen exited the project, which he had been attached to since 2010. Malek eventually signed on to play Mercury in 2015 — though the production would later run into another set of troubles. The film is now being helmed by Dexter Fletcher, who stepped into the director's chair after Singer was fired for a poor work ethic and wildly unprofessional behavior — though it reportedly didn't have to do with the sexual assault accusations against Singer that would surface a few days later.
But despite its wealth of behind-the-scenes troubles, Bohemian Rhapsody is finally opening in theaters on November 2, 2018. The show must go on.
Here is the synopsis for Bohemian Rhapsody:
Bohemian Rhapsody is a foot-stomping celebration of Queen, their music and their extraordinary lead singer Freddie Mercury, who defied stereotypes and shattered convention to become one of the most beloved entertainers on the planet. The film traces the meteoric rise of the band through their iconic songs and revolutionary sound, their near-implosion as Mercury's lifestyle spirals out of control, and their triumphant reunion on the eve of Live Aid, where Mercury, facing a life-threatening illness, leads the band in one of the greatest performances in the history of rock music. In the process, cementing the legacy of a band that were always more like a family, and who continue to inspire outsiders, dreamers and music lovers to this day.