'Brooklyn Nine-Nine' Saved! NBC Renews Canceled FOX Comedy For Season Six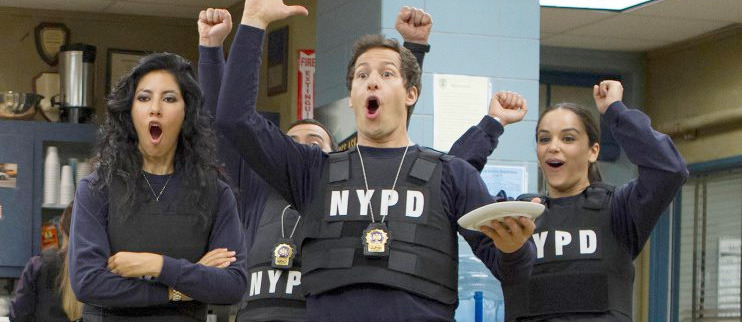 It turns out there's some good left to do by the power of the internet after all.
Earlier this week, fans of the FOX comedy series Brooklyn Nine-Nine raised hell when the network decided not to renew the series for a sixth season. Of course this was hardly a surprising action from the network that previously canceled championed series like Family Guy, Firefly and Arrested Development. But FOX's loss has become another network's gain.
NBC announced late last night that they would be picking up Brooklyn Nine-Nine for a sixth season of 13 episodes. That's a shorter season than Brooklyn Nine-Nine fans are used to, but surely they're just glad to have the show coming back.
Executive producers Dan Goor and Michael Schur announced the news on Twitter last night, and they gave full credit to the fans for getting this show saved:
Hey everyone, just wanted to say no big deal but....
NBC JUST PICKED #BROOKLYN99 UP FOR SEASON 6!!!
Thanks in no small part to you, the best fans in the history of the world!

Nine-nine!!!!!!!!!

— Dan Goor (@djgoor) May 12, 2018
Brooklyn Nine-Nine. Season 6. NBC. pic.twitter.com/ezW4ejgxGL

— Ken Tremendous (@KenTremendous) May 12, 2018
This happened because the fans of the show went berzerk. We can't thank you — or @NBC — enough. #Brooklyn99

— Ken Tremendous (@KenTremendous) May 12, 2018
NBC Entertainment Chairman Robert Greenblatt released a statement announcing the renewal:
"Ever since we sold this show to Fox I've regretted letting it get away, and it's high time it came back to its rightful home. Mike Schur, Dan Goor, and Andy Samberg grew up on NBC and we're all thrilled that one of the smartest, funniest, and best cast comedies in a long time will take its place in our comedy line-up. I speak for everyone at NBC, here's to the Nine-Nine!"
The cast of the series also celebrated on Twitter with statements of their own:
Thank you to everyone for the crazy outpouring of support. It means the world to us. It wouldn't have happened without you.

— The Lonely Island (@thelonelyisland) May 12, 2018
#Brooklyn99 IS COMING BACK FOR SEASON 6 YOU GUYS ON NBC!!!!! You did this!! You got loud and you were heard and you saved our show!! Thank you!! Thank you to NBC!! NINE NINE!!!!! pic.twitter.com/cTycfF4FoR

— Melissa Fumero (@melissafumero) May 12, 2018
TERRY LOVES @NBC https://t.co/x6R6r8xZaI

— Terry Crews (@terrycrews) May 12, 2018
SQUAD YOU DID IT #BROOKLYN99 WILL BE ON NBC FOR OUR 6th SEASON!

— Stephanie Beatriz (@iamstephbeatz) May 12, 2018
NBC TAKIN B99 OFFA FOXES HANDSIES BBBBBSSSSSSssss pic.twitter.com/qXFr3Ic27G

— Chelsea Peretti (@chelseaperetti) May 12, 2018
It's NINE o'clock and the NINE NINE is now on NBC. We are so grateful for our fans. THANK YOU. You made this happen. And we're excited about this amazing new chapter for Brooklyn Nine-Nine. ❤️👍🏻🚨

— JoeLoTruglio (@JoeLoTruglio) May 12, 2018
Though Brooklyn Nine-Nine airs on FOX, it's a co-production between 3Arts Entertainment and Universal Television, which is part of the of the NBCUniversal Television Group. So that fact that NBC saved the series from cancellation is all too appropriate. After all, the series always felt like a show destined for NBC but ended up accidentally airing on FOX.
What's great about Brooklyn Nine-Nine is that even though it can be a totally goofy comedy, it has also tackled some pretty serious topics, including police corruption and racial profiling. On top of that, the cast is one of the most diverse on television. This really is a show that deserves to be saved, and I'm glad we'll be getting at least one more season out of it. Even though the order is for only 13 episodes, NBC could always order more down the road.
The new season of Brooklyn Nine-Nine will come to NBC sometime in the 2018-2019 television season.