'Solo: A Star Wars Story' Early Buzz: A Fun Heist Movie, But Donald Glover Steals The Show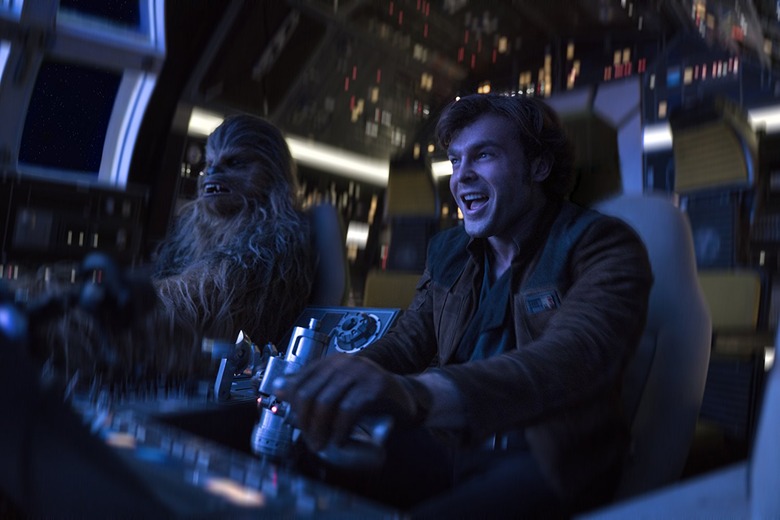 Every Star Wars movie is undoubtedly an event, but Solo: A Star Wars Story can't help but feel different from everything that has come before. Sure, it's another prequel (and we all remember those), but it takes a beloved character from the original trilogy, recasts him with a fresh-faced young actor, and offers up an origin story. Sure, the Star Wars name is going to pack theaters, but do people want a young Han Solo movie? And can Lucasfilm pull it off in a way that makes people care?
Well, Solo: A Star Wars Story has started screening and the first reactions have hit the internet.
Solo Early Buzz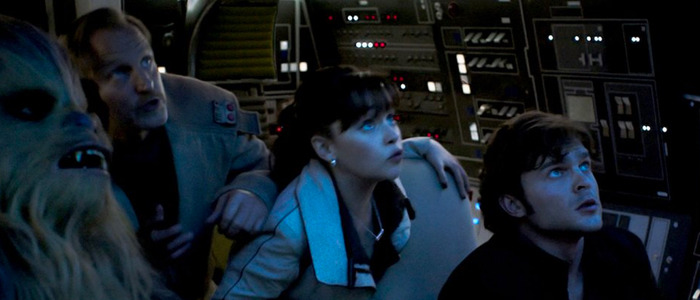 The first reactions are almost entirely positive, with critics calling special attention to the film's "ground level" crime setting and Donald Glover's show-stealing turn as Lando Calrissian. Some note that the film takes about 30 minutes to really get going and it takes a little while to accept a new actor as Han Solo, but the parts eventually click into place.
#Solo was a blast. The Kasdans nail the character of Han Solo. Yes, the story is a series of expected events (Han meets chewie....etc) but none of them happen as expected. Stay away from spoilers, big Marvel-level shit that will make you wonder where Lucasfilm is headed next.

— /Film (@slashfilm) May 11, 2018
#Solo feels surprisingly unlike any Star Wars movie before, yet perfectly captures the tone, adventure, characters and humor of the #StarWars franchise. Also, I need a Lando movie in my life.

— /Film (@slashfilm) May 11, 2018
It's hard not to laugh at Becket telling Han before a heist to stick to the plan and absolutely no improvising, seems like a meta commentary on the production problems. Regardless of any of the production problems, the finished film is going to make most fans happy.

— /Film (@slashfilm) May 11, 2018
Solo: A Star Wars Story is a goddamn delight. It's a non-stop adventure packed with way more emotion than your expecting. You'll have a smile on your face the whole time and leave eager for more. pic.twitter.com/fOsF7Tr95L

— Germain Lussier (@GermainLussier) May 11, 2018
#SoloAStarWarsStory has a bit of a rough start, but it was a blast of of an adventure. And yes, Donald Glover steals the movie! But you already knew that. pic.twitter.com/4SGiq6tDmQ

— Jenna Busch (@JennaBusch) May 11, 2018
So, I was REALLY worried about #SoloAStarWarsStory but those concerns are totally laid to rest. A movie for fans AND those totally fresh to the Star Wars franchise. Heart, humor and a Falcon full of top notch action. From a worry to a favorite. Very, very happy! pic.twitter.com/VhvBSDFvjE

— Simon Thompson (@ShowbizSimon) May 11, 2018
Wow. Just come out of #SoloAStarWarsStory and can confirm it's kinda a blast. @donaldglover was as perfect as expected, but Alden Ehrenreich has swagger to match, and spare.

— Joel Meares (@joelmeares) May 11, 2018
The first act of SOLO: A STAR WARS STORY can be hit and miss clunky. But once Donald Glover's Lando shows up (who is legit fantastic) and the Kessel Run heist plot kicks in, it's a whole lot of fun. (And those who've always wanted a Han and Chewbacca shower scene are in luck.)

— Mike Ryan (@mikeryan) May 11, 2018
It does take a bit to get used to Alden as Han, but after 30 minutes or so your brain adjusts. (Also I've now finally seen Clint Howard in a Star Wars movie.) #soloastarwarsstory

— Mike Ryan (@mikeryan) May 11, 2018
ALDEN EHRENREREICH IS HAN SOLO! The movie is an absolute blast to hyperspace! #SoloPremiere #SoloAStarWarsStory #Solomovie

— Umberto Gonzalez (@elmayimbe) May 11, 2018
Chewie...you can be my wingman anytime. #SoloAStarWarsStory

— Mark Ellis (@markellislive) May 11, 2018
I figured if @DisneyStudios was willing to show 'Solo: A Star Wars Story' a few weeks before release it must be good and it absolutely is. Film is a blast and a welcome addition to the Star Wars universe. @RealRonHoward you did a great job. Congrats. pic.twitter.com/1pkWH2y6qE

— Steven Weintraub (@colliderfrosty) May 11, 2018
Another thing about 'Solo: A Star Wars Story' that really stood out are the action set pieces. They were GREAT and so well choreographed.

Also thought Alden Ehrenreich was perfectly cast as Han Solo. Trust me entire cast was fantastic. Can't wait to see it again. pic.twitter.com/Sh5IC8qnSF

— Steven Weintraub (@colliderfrosty) May 11, 2018
WOW! #SoloAStarWarsStory! I felt like I was watching a @StarWars movie again. So many great moments for the fans AND surprises.. I've got the feels after this one...MORE than #InfinityWar.

— Brian Tong (@briantong) May 11, 2018
Alden Ehrenreich is the real deal, Thandie Newton is who I want to be when I grow up, and Phoebe Waller-Bridge's L3... well we'll talk about that later. 😃 #SoloAStarWarsStory

— Angie J. Han (@ajhan) May 11, 2018
Boom. #SoloAStarWarsStory Loved it. Stay off the internet! Avoid spoilers! Great job @RealRonHoward and cast!

— Clayton Sandell (@Clayton_Sandell) May 11, 2018
#SoloAStarWarsStory is reaaaaalllly good. Fun as hell. It's a straight intergalactic heist movie, kind of refreshing to see a Star Wars movie w/o a Death Star or the rebellion's fate at stake. Alden Ehrenreich is super impressive as Han, but L3 might be my favorite new character.

— Kevin Polowy (@djkevlar) May 11, 2018
I'll tweet tomorrow but Inwill say that @JoonasSuotamo kicks ass as Chewbacca. More thoughts to come

— Kristian Harloff (@KristianHarloff) May 11, 2018
#Solo is afun! I was pleasantly surprised that it worked as well as it did given all the behind the scenes drama & retooling. Charming cast, fun action, good jokes, good fan service but still does its own thing. #StarWars will be fine.

— Jim Vejvoda (@JimVejvoda) May 11, 2018
Oh, thank the maker. It's good. It's sooo good. #Solo

— Chris Taylor (@FutureBoy) May 11, 2018
This is the grungiest, most grunt-level blue collar #StarWars ever and I am here for it. #Solo

— Chris Taylor (@FutureBoy) May 11, 2018
Got out of #SoloAStarWarsStory and I'm completely floored. This movie seriously holds up! I was on the edge of my seat and had so much fun watching it! Interviewing the stars of the film tomorrow, cannot wait ❣️ pic.twitter.com/7GAr6h2c8q

— Jacki Jing (@JackiJing) May 11, 2018
#SoloAStarWarsStory was a mostly fun adventure and solid performances but with a predictable story. Never will be one of my favorite #StarWars movies but I enjoyed enough of it.

— Dennis Tzeng 曾逸凡 (@ThinkHero) May 11, 2018
Here's the official synopsis for Solo:
Board the Millennium Falcon and journey to a galaxy far, far away in "Solo: A Star Wars Story," an all-new adventure with the most beloved scoundrel in the galaxy. Through a series of daring escapades deep within a dark and dangerous criminal underworld, Han Solo befriends his mighty future copilot Chewbacca and meets the notorious gambler Lando Calrissian, in a journey that will set the course of one of the Star Wars saga's most unlikely heroes.
Solo: A Star Wars Story hits theaters on May 25, 2018. Ron Howard directs a cast that includes Alden Ehrenreich, Woody Harrelson, Donald Glover, Emilia Clarke, Thandie Newton, Joonas Suotamo, Phoebe Waller-Bridge and Paul Bettany.