'Rick And Morty' Has Been Renewed For 70 Episodes, But How Many Seasons Will That Be?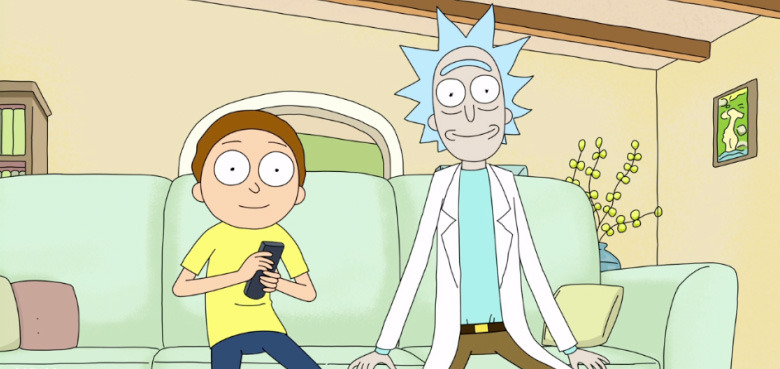 Earlier this year, there was some concern about the complicated discussions taking place for Rick and Morty to get renewed for season four. Now it appears there was good reason for the extended negotiations.
Rick and Morty has been given a huge 70-episode order by Adult Swim. That's more than double the amount of episodes already created across three seasons.
Rick and Morty Renewed!
The Hollywood Reporter has news on the Rick and Morty season 4 renewal. However, this is clearly much more than a renewal for one more season. Unfortunately, what's not clear is how those episodes are going to be spaced out over time. The renewal is merely described as a "longterm deal" that has no time frame for when the episodes will air.
The first season of Rick and Morty had 11 episodes while the second and third seasons had 10 episodes each. If new seasons of Rick and Morty follow suit, then at the very least, we'll likely be getting seven more seasons of raunchy, cosmic misadventures. But considering how long series co-creators Justin Roiland and Dan Harmon have taken to get new seasons of the series off the ground (not to mention the long process of creating animated shows), we're likely looking at Rick and Morty being around for at least another decade.
Rick and Morty, Renewed Forever and Forever, a Hundred Years Rick and Morty
This is not only good news for Rick and Morty fans, but for those making the Adult Swim series. This new 70-episode order pushes the entire series to 101 episodes, which is enough to get that sweet, sweet syndication money. And considering how much people are watching The Office in syndication on Comedy Central since it arrived earlier this year, that's a big deal.
To help celebrate the huge renewal for Rick and Morty, Adult Swim will be sending out the Rickmobile on another nationwide tour starting on May 17 in Atlanta and stopping at dozens of locations before it heads back to San Diego Comic-Con in July and journeys to more locations through October. The custom vehicle is full of exclusive goodies that you can only get from the pop-up shop inside, so find out when it's coming your way at the official Rickmobile website.
But for now, there's still no word on when a fourth season of Rick and Morty will begin on Adult Swim. Hopefully, Dan Harmon and Justin Roiland have been working on the season during these contract negotiations. But even if that's true, we're likely not looking at any new episodes until 2019 at the earliest. Stay tuned for more.