Theme Park Bits: Epcot's Space-Themed Restaurant, Universal's 'Jurassic World' Ride, Lotso And Lasseter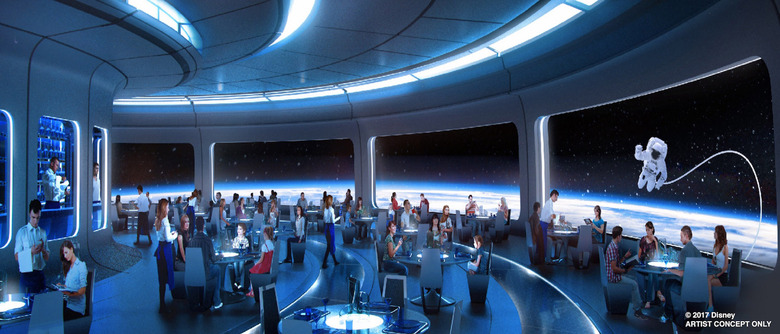 In this edition of Theme Park Bits:
Find out where the new space-themed restaurant in Epcot will be located.
Universal Hollywood's Jurassic Park attraction will soon be extinct ... but life finds a way.
Which foreign country is likeliest to get a Disney park next?
See 4K video of the new Toy Story Land at Shanghai Disneyland.
A decision about John Lasseter's future at Disney and Pixar may be imminent.
And more!
A fierce and independent pirate known as Redd will soon be taking a journey to visit with guests in New Orleans Square at @Disneyland park! https://t.co/6ygIqFGsfg pic.twitter.com/wUtlgtJYJe

— Disney Parks (@DisneyParks) May 4, 2018
Disneyland is going all in on Redd, the new female pirate (formerly a slave on the auction block) in Pirates of the Caribbean. The character is now giving interviews and this summer she will be out and about doing greetings in New Orleans Square. This week also brought news that the park will be adding FastPass and MaxPass options to the Pirates ride when it reopens on June 8 with its revamped auction scene.
Walt Disney World is now offering 1-day, 1-park tickets with various bundles of pre-selected FastPasses that guests can purchase the day before if they want to do a last-minute add-on to their trip. More info about the specific ride match-ups in each bundle can be found over on Inside the Magic. Those who use MagicBands to redeem their Fastpasses will be happy to know that you can now combine your wristwatch and MagicBand with one handy-dandy holder for both.
Construction on Epcot's planned Guardians of the Galaxy roller coaster is, well, rolling right along. Last week they poured "960 trucks' worth of concrete" to lay the foundation for this attraction, which is *ahem* on track to be one of the longest indoor coasters in the world. The sheer massive scale of the grounds for the ride, as seen in the video above, might actually throw you for a loop but the truth is, I'm mainly saying that because I wanted to do another roller coaster pun. Mission accomplished.
Elsewhere in Future World, there's a space-themed restaurant set to be built between the Mission: Space and Test Track rides. With the Garden Grill restaurant in the Land pavilion and the Coral Reef restaurant in the Seas pavilion, this means Epcot will eventually have land, sea, and space-based dining: three options sure to do any Horizons fan proud.
The one-of-a-kind, space-themed restaurant currently planned for Epcot will be built in a newly developed area located between Mission: SPACE & Test Track! Learn more: https://t.co/kQsJQnJT39 pic.twitter.com/LVl9VinyFP

— Disney Parks (@DisneyParks) May 9, 2018
As if that weren't enough, the ever-vigilant permit-watchers over at WDW News Today have picked up on a flurry of new filings, which may show that the rumored Future World Hotel at Epcot's entrance is one step closer to happening.
Some early pics inside the new DisneyStyle store at Disney Springs have already surfaced from soft-opening attendees, but from May 12 onward, everybody will be able to venture inside as the store officially opens its doors to the general public.
New Cast Member Parking Lot and Cast Services Building Opening at Disney's Hollywood Studioshttps://t.co/QJmvzbuRTh pic.twitter.com/p4n4wHkMdG

— WDW News Today (@WDWNT) May 7, 2018
AT-AT drivers and other Cast Members are about to access Disney's Hollywood Studios a different way starting on May 25 when the new Cast Services building opens. Some of those Cast Members might be pleased that Disney has finally offered to meet the demands of union workers who have been holding out for a $15-per-hour minimum wage.
Apparently, there's a National Share a Coke Day ... it was May 8, and both Disneyland and the Magic Kingdom celebrated by making special 20 oz. Disney Coke bottles available in three select park spots. For those who prefer hard cider to soft drinks, the Crystal Palace at the Magic Kingdom has added wine, beer, hard cider, and mimosas to its menu.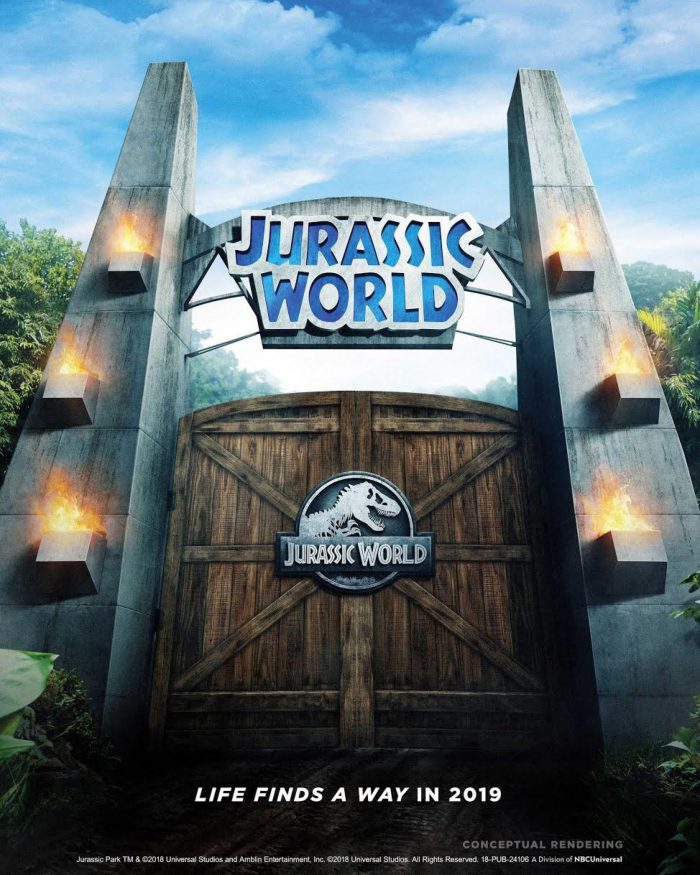 At Universal Orlando Resort, another restaurant owned by celebrity chef Emeril Lagasse is closing. Emeril's Orlando will offer up its last "Bam!" to people's mouths on July 7. If that gets you down, you can always hop on over to Theme Park University, which has an in-depth look at the new Hagrid roller coaster coming to Universal's Islands of Adventure in 2019.
Also coming in 2019 is a new Jurassic World attraction at Universal Studios Hollywood. This will replace the long-running Jurassic Park – The Ride, which is earmarked for extinction on September 3, 2018. Folks nostalgic about the 25th anniversary of Jurassic Park this year will have one last summer to enjoy the existing ride before it evolves to its new form (which we've speculated could possibly entail an "unauthorized expedition into the abandoned dinosaur theme park.")
Disney CEO Bob Iger has said he sees "opportunities to expand" the company's parks in China and other parts of the world. With Disney taking economic and political stability and other factors into account, Disney and More speculates that the likeliest spots for a new theme park development would be Beijing, Rio de Janeiro, India, Singapore, or South Korea.
Below, you can watch a 4K highlight video from ThemeParkHD exploring the layout and each of the three rides in Toy Story Land at Shanghai Disneyland. Full videos of the individual attractions can be found here.
The success of this park is just one way in which the theme park business is booming in China. There are also the country's many homegrown parks, while Universal Studios has its own Beijing park on the way in 2021. This week, it actually doubled its investment in that park to a whopping $6.5 billion, a record budget for a theme park. If Iger's comments are any indication, then maybe in the future, tourists will be able to walk the Great Wall of China and see Beijing Disneyland in the distance.
Over the last few weeks, the name John Lasseter has been in the news again as outlets like Fast Company, THR, and now The L.A. Times have each run separate reports about the exiled Pixar and Walt Disney Animation CCO. The THR piece, in particular, has gotten picked up and re-reported by numerous other sites. It's been over six months now since Lasseter announced his leave of absence in the wake of sexual harassment allegations. At this point, most of the reports are suggesting that his departure will be permanent.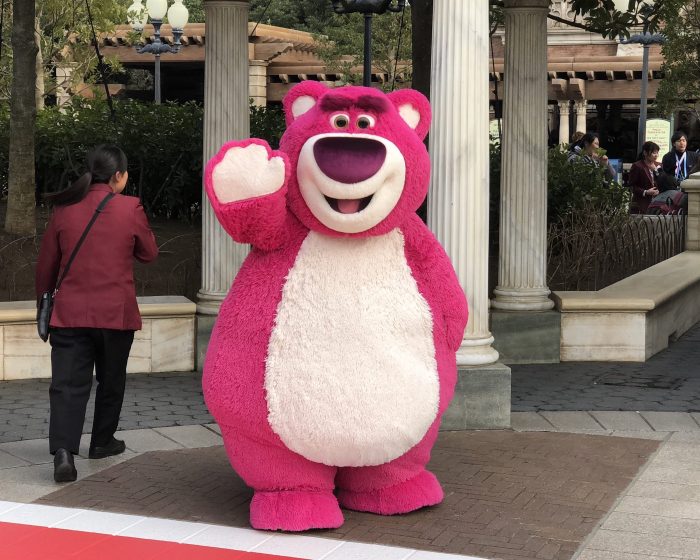 Having written an awkwardly timed feature with space devoted to Kevin Spacey's late '90s work just a few weeks before his own scandal broke last October, I had already experienced my heaviest shock before I heard the news about Lasseter in November. Theme park fans, however, were probably more stunned to see the director of Toy Story and Cars added to the growing list of disgraced public figures. Technically, Lasseter still holds the position of Principal Creative Advisor at Walt Disney Imagineering. As the Fast Company article notes, this role has seen him help "design theme park rides, like the upcoming Incredicoaster" at Disney California Adventure.
Last November, people started speculating that Lots-O'-Huggin' Bear, the kindly old teddy bear in Toy Story 3 who turned out to be a villain, might have been an animated twist on the real Lots-O'-Huggin' Lasseter, as it were. (Unwanted hugs were just the tip of the iceberg in terms of the allegations toward him). It almost seemed like there had been a message coded into Toy Story 3.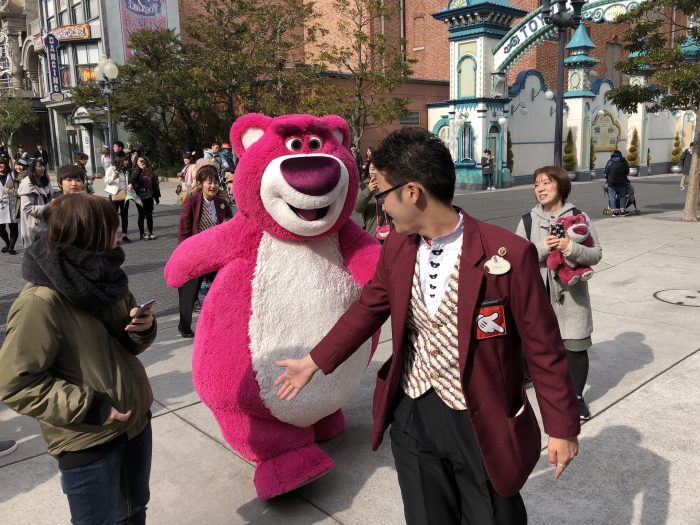 To be honest, I was never a big Pixar fan before Toy Story 3. It was the first film to break the notion I had as a young adult that computer-animated features were safe and uninteresting. A big reason for that was Lotso's arc as the dastardly dictator of a daycare center's toy collection. He was a compelling villain, and I thought it was ingenious how the movie grafted a prison-escape story onto a playroom setting.
Nothing's official yet with Lasseter, but this situation is something that could impact the future of Imagineering and Disney parks, so it's worth checking out the above-linked articles, and considering their quotes from sources inside the Pixar workplace—the people most deeply affected by the final outcome of all this. Maybe it's time for the toys to be liberated?