Video: /Film Visits The New 'Justice League' Exhibit On The Warner Bros. Studio Tour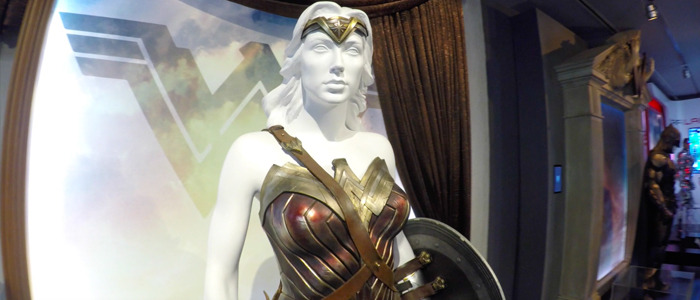 Earlier this week, the folks at the Warner Bros. Studio Tour invited me and a handful of other journalists to check out the newly-revamped DC Universe Exhibit, which now includes props and costumes from last year's superhero film Justice League. Typically, they don't allow video to be taken inside, but they lifted those restrictions for this event and let us bring our cameras inside to take a closer look.
Warner Bros. Studio Tour – Justice League Exhibit
DC-Themed Sights to See
When I first moved to Los Angeles, I worked as a tour guide at Paramount Pictures. So a few years ago, I paid to take the Warner Bros. Studio Tour out of curiosity to see how it stacked up against other studio tours like Paramount, Sony, and Universal. I wrote a whole article about this, but spoiler alert: WB came out on top. The DC Universe exhibit has changed significantly since then: there's a whole section devoted to Wonder Woman (which, as I mention in the video, is soon going to be replaced by an Aquaman section), and one of the coolest additions to the room is a collection of original comic books from the DC Comics vault celebrating major milestones for their respective heroes.
The studio tour has a lot to offer for fans of DC properties. You'll see tons of filming locations, like the exterior of Commissioner Gordon's office from the 1966 Batman TV series, the exterior of The Daily Planet from Lois & Clark: The New Adventures of Superman, and places where more modern shows like Supergirl and The Flash filmed on the backlot. Nearly every Batman live-action movie shot at least something there, and you'll see alleyways and streets that appeared in Batman Forever and Batman & Robin. There's a huge white light fixture that was used in the original Superman movie; the film's set dressers thought it'd fit right in at the Fortress of Solitude.
But Wait – There's More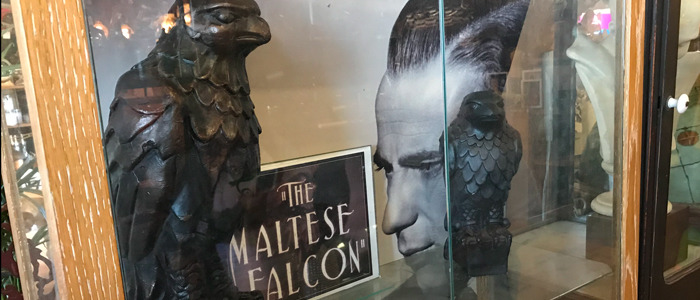 While this event – and the above video – was largely focused on DC stuff, there are a ton of other cool movie-related things to see there. We visited a massive prop house overflowing with elaborate chandeliers, musical instruments, furniture, and other knick-knacks. There's stuff in here that classic movie lovers would love to see: a piece from Casablanca, alternate statues from The Maltese Falcon, and a throne used in the 1935 Errol Flynn film Captain Blood. Elsewhere, there are costumes from Casablanca and Rebel Without a Cause. There's also one of studio co-founder Jack Warner's personal phone books, complete with the phones numbers for people like Walt Disney, Bette Davis, Olivia DeHaviland, Salvador Dali, Cecil B. DeMille, and more.
Inside the Warner Bros. props warehouse. Alternate statues from The Maltese Falcon, tons of random stuff, props from Inception, a throne that appeared in 1935's Captain Blood, a bunch of Agent Smiths, a tiny percentage of their chandeliers and light fixtures, and a lamp that can be seen in Casablanca. Bonus: Jack Warner's personal collection of hardbound movie scripts. #wbtourhollywood
A post shared by Ben Pearson (@benpears) on
So yes, there are a lot of DC-related hotspots, but I don't want to make it seem like the tour is exclusively focused on those movies. In any case, I hope you enjoyed our look inside the DC Universe exhibit. For more information about the WB studio tour, check out their official website.
Justice League is available now on home video.