Watch Rick Moranis Return As 'Spaceballs' Villain Dark Helmet On 'The Goldbergs'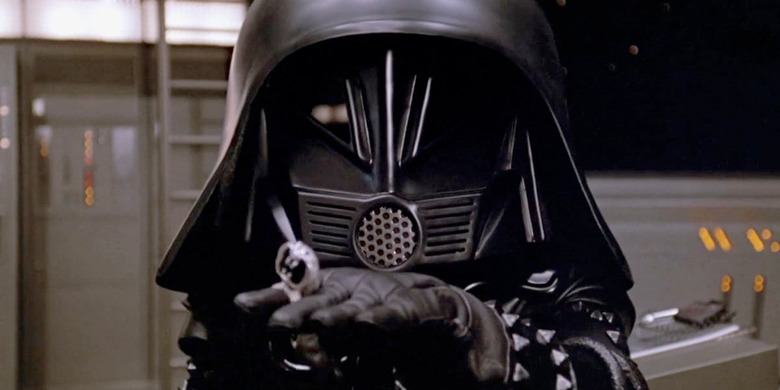 Earlier this week, we learned the surprising news that Rick Moranis was coming out of pseudo-retirement to reprise one of his most famous big screen roles. The comedian will be appearing as the Spaceballs bad guy Dark Helmet, a parody of Star Wars villain Darth Vader, on tonight's episode of The Goldbergs on ABC. But if you don't usually watch that show, you don't have a DVR, and you're not going to be around to see it, we've got you covered.
A clip from The Goldbergs featuring Rick Moranis as Dark Helmet has surfaced online. It's all part of a dream sequence that Adam Goldberg (Sean Giambrone) has in the middle of the night, where he ends up in a Schwartz ring battle with the villain before finding out all about the plot for Spaceballs 2: The Search for More Money.
Watch The Goldbergs Spaceballs Clip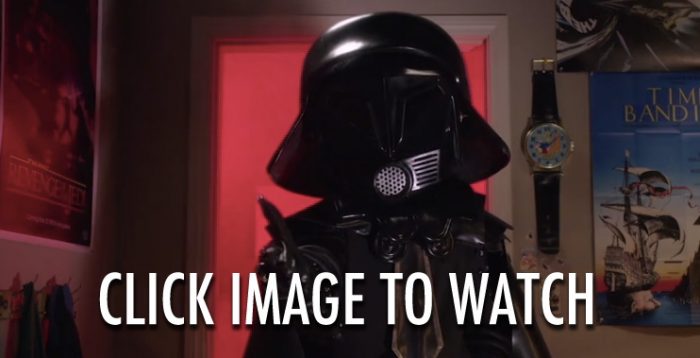 Unfortunately, the clip cannot be embedded here, so you'll have to click above to watch the image over at Yahoo on their terrible video player. But if you're a fan of The Goldbergs and Spaceballs, it'll be worth it.
The clip is obviously goofy, but that's kind of the point since it's a dream sequence on a family sitcom set in the 1980s. We get to see a Schrwartz ring battle, complete with a joke about how Adam's isn't all that impressive, and then we hear part of the idea Dark Helmet has for Spaceballs 2, with an assist from Dark Helmet's dolls from the movie. Adam, who is a fictionalized version of series creator Adam F. Goldberg, vows to get the sequel made, but the real Adam still hasn't followed through yet.
If I'm going to be honest...as cool as it is to have Rick Moranis acting again, there's something that doesn't feel quite right about his return as Dark Helmet. First of all, it should be known that Moranis isn't actually under the helmet for this scene. Instead, he only provided the voice, and I hate to be a party pooper, but it doesn't sound quite like the voice he did the original movie. Maybe it's because Moranis has aged 31 years since the film came out in 1980, or maybe he forgot how much deeper his voice was in the movie and didn't go back for a frame of reference. Here's a clip for a point of comparison:
There's not a terrible difference in the voices, but Moranis did something with the emphasis on vowels and certain syllables that doesn't feel like it's matched in his reprisal of the role. But still, I'm just glad that Moranis decided to come back for this cameo. Maybe this means that he'll be making some kind of return to the big screen at some point. At the very least, we can hopefully look forward to him participating in the forthcoming SCTV reunion special being directed by Martin Scorsese for Netflix.
The Goldbergs episode with Rick Moranis airs tonight on ABC at 9pm ET / 8pm CT.