'Never Goin' Back' Trailer: The Summer Misadventures Of Two Hilariously Dirty Girls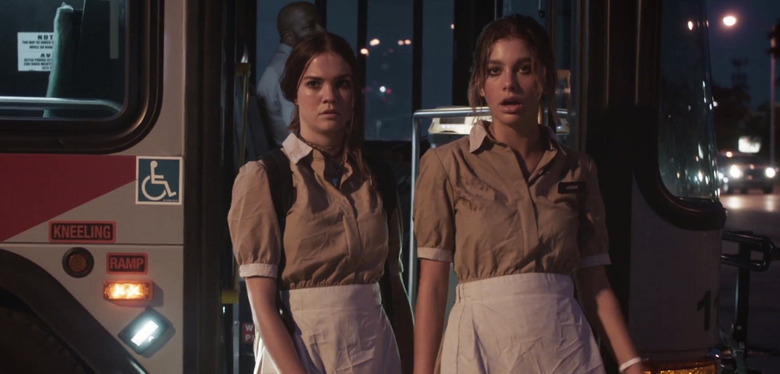 It's not often that the girls get to have as much raunchy fun as the boys on the big screen. But thankfully that's changed over the past decade or so, and we've gotten some downright dirty and hilarious comedies featuring women. And this summer looks to add one more to the line-up.
Never Goin' Back follows Maia Mitchell and Camila Morrone as Angela and Jessie, two friends working as waitresses in a Texas diner who just want to spend the summer hitting up the beach, getting high and f***ing around. And that's exactly what they do. Things like work and responsibility keep getting in the way, but they don't give a s***.
Watch the Never Goin Back Trailer
This looks like Superbad with two female leads and a bit of Spring Breakers edge tossed in there for good measure. If you're still not sure what to think based on this trailer, you might have noticed our own Jacob Hall is quoted in there from SXSW, and his full quote throws so much more praise at the misadventures of these two screw-ups:
"In her feature debut, writer/director Augustine Frizzell blasts an air horn in the face of good taste, pees on your best rug, and smokes all of your best weed. And you still want to give her movie a big ol' hug because it never loses sight of letting you fall for the lovely, wholly believable, and bizarrely likable morons at the center of the action."
Combine that level of praise with the fact that Brigsby Bear star and Saturday Night Live cast member Kyle Mooney has a small role in this movie, and I'm completely sold. This looks like the kind of comedy that I love to discover at film festivals, and it's an A24 film, which bodes well for the film's quality. I can't wait to see it.
If you need any further convincing, be sure to read Jacob Hall's full review over here.
Never Goin' Back is a fresh and funny look at female friendship, following Angela (Maia Mitchell) and Jessie (Camila Morrone), who dream of escaping their waitressing jobs at a low-rent Texas diner, even if it's only to Galveston. Taking place over just a few days, the film follows their hilarious and unpredictable misadventures on the streets of suburban Dallas as they attempt increasingly madcap and wild schemes to try and raise some cash.
Never Goin' Back hits theaters late this summer on August 3, 2018.