John Krasinski Teases 'A Quiet Place' Sequel, Teams With Aaron Sorkin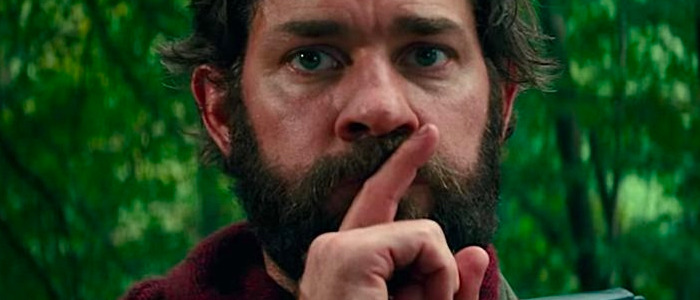 After A Quiet Place became a surprise critical and financial hit, John Krasinski is in high demand. He's lining-up more projects, like a Quiet Place sequel, for instance. Below, you can learn some new info on the Quiet Place sequel. Plus: Krasinski is reviving a previously-dead project with writer Aaron Sorkin.
A Quiet Place Sequel 
A Quiet Place sequel was officially announced at CinemaCon, and now everyone wants to know what the film will be about. Director John Krasinski offered up some details regarding the sequel to Deadline, and added that he was sort of surprised fans were hungering for a sequel at all. "It's only a short while since the movie came out," the director and actor said, "but already people are saying, 'We want to live in this world more,' which is really interesting. I'm surprised people aren't like, 'Nah, we know what this is, and we just want to leave it as it is.' "
Krasinski added: "To be perfectly honest, [a sequel] was never really on my mind while we were making it...I never really thought of it as an expanded world; I always thought of it as a one-off."
But fans (and Paramount Pictures) want more, and more they shall get. Krasinski isn't officially attached to helm the sequel yet, but he still has a few ideas kicking around in his noggin. "The thing that I loved in the movie," he told Deadline, "where my mind kept wandering as we were making it, was the question of who was on the other end of those fires, when the father lights the fire and in the distance those other fires light up. How did those people survive? How did that old man survive?"
Krasinski added:
"In the extreme these characters are going through, there's no room to think about that. They're there, there's an old man who's about to scream, they just have to deal with that. I think it would be interesting to see what's going on elsewhere at this same time."
I'm guessing Krasinski's official involvement with the sequel will be announced any day now.
Chateau Marmont
Back in 2011, HBO had planned a mini-series focused on Hollywood's famous Chateau Marmont. Krasinski and Aaron Sorkin were both set to be involved with the project, and then everything stalled out. The project was thought to be dead, but now Krasinski says it's back on. "That is one of the projects that I'm very attached to, and it's coming back around," Krasinski told Deadline. "Aaron Sorkin and I were going to do it at HBO. We were taking our time with it, and then Aaron got busy with everything Aaron's been busy with, and it just went slowly away."
Krasinski says the project will draw upon the still-unpublished book The Castle on Sunset, by Shawn Levy (the writer, not the Stranger Things producer). The Chateau Marmont has been in Hollywood since 1929, and has become famous for offering lodging to celebrities throughout the decades.