Somehow, There's A Tenacious D Movie Sequel In The Works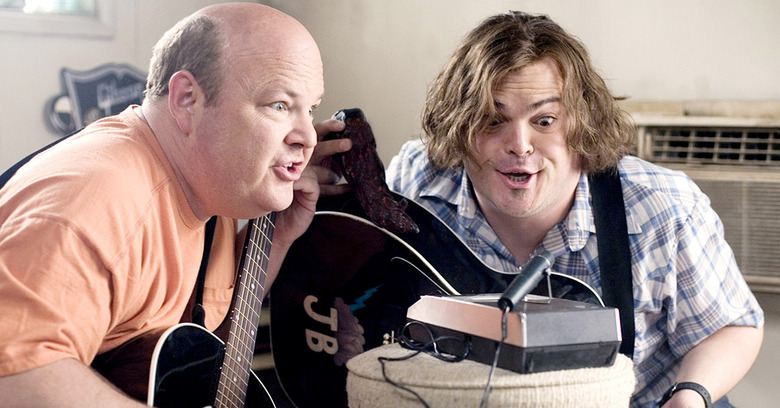 You might not remember it very well, but the rock duo Tenacious D, comprised of comedians Jack Black and Kyle Gass, released a movie back in 2006. Tenacious D in The Pick of Destiny came at the tail end of the band's popularity that peaked shortly after they got their own short-lived series on HBO. Perhaps that's why the film bombed at the box office, making just under $14 million worldwide on a reported budget of $20 million. It seemed to prove that Tenacious D was more of a cult favorite than a bankable name.
Despite the film's apparent lack of success, it would seem fans of both the movie and the band have inspired Jack Black and Kyle Gass to take a crack at a Tenacious D movie sequel, and it's coming much sooner than you might have thought.
When Tenacious D appeared at the Shaky Knees Music Festival in Atlanta, Georgia this past weekend (via The Atlanta Journal-Constitution), Jack Black took the time to announce the creation of a Tenacious D movie sequel. Details on what the movie will be about are nonexistent, but Black said the movie will be coming in October. However, where you'll be able to see it remains unclear. Black said:
"I don't know where you'll be able to see it, but we have decided that it's happening and it's coming out."
The way Black talks about the movie makes it seem like the project has yet to be completed. But perhaps they already have a production schedule to shoot it this summer for release in the Fall. That likely means this is a rather low budget affair, since that timeline doesn't leave much room for post-production. So maybe we're looking at something more along the lines of the TV series in terms of production value.
The fact that Black says he doesn't know where fans will be able to see the movie also indicates that it's not clear who is distributing the sequel. It's not likely that New Line Cinema will be behind the release since the first film did them no favors. However, it should be noted that The Numbers reports the home video release of Tenacious D in The Pick of Destiny has raked in over $10 million in DVD sales.
Honestly, Netflix would be a great home for a Tenacious D movie sequel. After all, they brought back Arrested Development, so why shouldn't they have a hand in a comeback for Tenacious D? Netflix has a penchant for tapping into niche audiences, and this would certainly qualify in that regard.
Honestly, I can't say I'm clamoring for a new Tenacious D movie, especially since the first film underwhelmed. At the very least, this means we'll get a new set of songs from the band. Say what you will about the original movie, but the soundtrack is fantastic. You can't go wrong with a showdown between Tenacious D and Foo Fighters frontman Dave Grohl as the devil:
We'll let you know when we hear more about the Tenacious D movie sequel.