New 'Black Panther' Featurette And Concept Art Highlights The Women Of Wakanda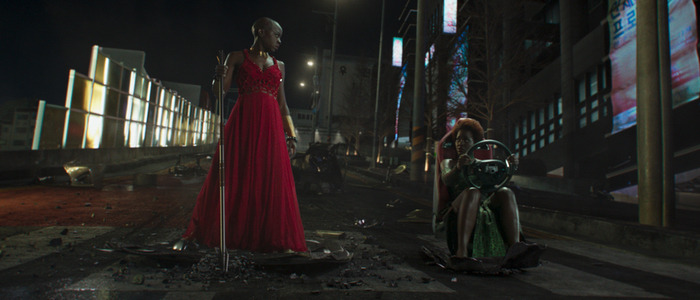 Ahead of the fast-approaching Black Panther Blu-ray and DVD release, here's a Black Panther featurette that highlights the women of Wakanda. Plus: check out some Black Panther concept art.
Everybody loves Black Panther, and rightfully so – the film is one of Marvel's best. Best of all, Black Panther introduced audiences to a whole new set of very badass women who steal most of the film away from Black Panther himself. Some of the female members of the cast – Lupita Nyong'o, Danai Gurira and Letitia Wright – recently offered insight into all of this.
"I love the way Black Panther represents women," says Lupita Nyong'o. "Each and every one of us [in the movie] is an individual. We all have our own sense of power and we hold our own space without being pitted against each other. I think that's a very, very powerful message to send to children – both male and female."
"I was immediately drawn to the idea of the Dora Milaje [an all-female, special forces security team]," adds Danai Gurira. "I loved the concept of them, but it was incredible to see them come to life [during pre-production]. I started to train with all these astounding women and then we all started to get our heads shaved for the movie. I was the first to have it done, but then all the girls started coming in with no hair. One-by-one, we'd all been balded – but we were united together. That's when our pride started to grow. We all started to embrace this symbol of power in these women."
"I think it's great to see so many strong women in Black Panther because there's a lack of them in cinema right now; especially black female characters," says Letitia Wright. "All these female characters in the movie are really well rounded, too. They are not just written one way. The women have a lot of complexity. It was really refreshing to see and it's inspiring to be part of it, because it means a lot to me."
Black Panther director Ryan Coogler weighed-in on the female-driven cast of the film as well:
"When you look at African culture, you'll often see gender roles that are different from the norm. You'll find issues with gender dynamics in African culture in the same way you do in other cultures, but you'll also find things that are different. Strong women and women's influence on culture and society is something that cannot be overlooked. That was something that we really wanted to include in the movie, although it's something that was present in the Black Panther comics as well.
Here's a featurette from the upcoming Black Panther Blu-ray release that focuses on the women of Wakanda.
Black Panther Featurette: Female Warriors
As is often the case with these pre-release clips, you're only getting half of the featurette here – the Blu-ray release will have a lot more. What we see here is very cool though, as it reveals the intense, extensive training cast members Lupita Nyong'o, Danai Gurira and Letitia Wright underwent. "We're able to find a beautiful grace in these women, and also a ferocity," says Danai Gurira.
Black Panther Featurette: Female Leadership
This featurette – which, like the featurette above, is edited done from one longer featurette – is also focused on the female characters in the film. "These female characters are incredibly important to T'Challa and important to the country of Wakanda," says director Ryan Coogler. There's also an interview with co-star Angela Bassett, who says that acting in the film allowed her to play out one of her dreams.
Black Panther Concept Art
In addition to the featurettes above, you can also check out some Black Panther concept art below – some of it previously unseen. Black Panther arrives on digital May 8 and Blu-ray on May 15, 2018.