FX Orders 'What We Do In The Shadows' TV Series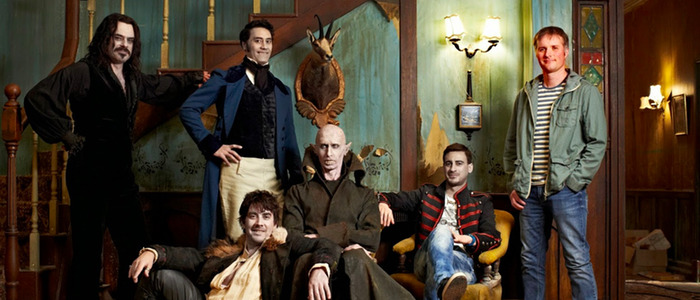 A What We Do In the Shadows TV series is officially happening now, so it's time to celebrate. FX has gone ahead and given a series order to a new show based on the 2014 vampire mockumentary. Jemaine Clement and Taika Waititi, who directed the film, will serve as co-creators and executive producers on the series.
It's been a long time coming, but it's finally (almost) here. What We Do In the Shadows directors and co-stars Jemaine Clement and Taika Waititi have been talking about a potential What We Do In the Shadows TV series seemingly ever since the film came out in 2014. Earlier this year, we reported that FX had ordered a pilot of the potential series. It seems FX liked what they saw, because now they've given the show a series order. The series, consisting of 10 half-hour episodes, is expected to debut in 2019.
The series will star Matt Berry, Kayvan Novak, Natasia Demetriou, and Harvey Guillen and move the setting from New Zealand to America (New York City, to be precise). The series, like the film, will focus on a group of vampires living together as roommates. Nick Grad, FX's co-president of original programming, issued the following statement about the series order:
"What We Do in the Shadows only gets better with age thanks to this brilliant adaptation for television by co-creators Jemaine Clement and Taika Waititi...Their feature version was a hilarious, fresh take on the mundanity of everyday life that even immortals must face. We are thankful to them, Paul Simms and Scott Rudin, and this amazing cast for taking us deeper into the shadows with this series."
In addition to the What We Do In the Shadows TV series, there's also a sequel to the film in the works called We're Wolves, focusing on werewolf characters who appear in the first film. Then there's Wellington Paranormal, a spin-off TV series focusing on two police officer characters from the original film, which is coming to New Zealand TV soon.
What We Do In the Shadows is hilarious; one of those rare horror comedies that knows how to mix its genres appropriately. It's endlessly watchable, and it was also my first introduction to Taika Waititi, who has gone on to much bigger things, like directing Thor: Ragnarok. Yet as much as I love the film, I also find it to be slightly episodic – which means it will actually make a great TV series. The concept lends itself perfectly to a show. That said, what really made the film work was the main cast – Waititi, Clement, Jonathan Brugh, and Cori Gonzalez-Macuer. The four actors had such great comedic chemistry together, and I'm very curious to see if the new cast can match them.