New 'Solo: A Star Wars Story' TV Spot Finally Gives Jon Favreau's Character A Voice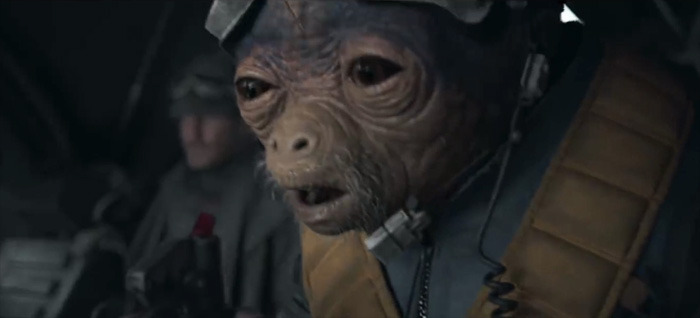 Now that Avengers: Infinity War is in our past, it's time to start looking forward to the rest of the blockbusters arriving this summer. Since Marvel Studios evacuated their early May release date for the sequel, this weekend will be a little quiet with the exception of another huge round of box office cash for The Avengers. But later this month the superheroes will likely lose some of their money to a certain scoundrel's origin story.
Solo: A Star Wars Story brings Han Solo back to the big screen, but this time it's young Alden Ehrenreich filling the shoes of the scoundrel played by Harrison Ford in the Star Wars saga. With just a few weeks left until the film hits theaters, the marketing blitz has started to hit the small screen, and two new Solo A Star Wars Story TV spots have arrived to tease the spin-off that could start a whole new franchise.
Solo A Star Wars Story TV Spots
This first new TV spot features a roll call from the team being put together by Tobias Beckett, a mentor to Han Solo played by Woody Harrelson, for some kind of big heist being pulled off in the name of a dangerous gangster played by Paul Bettany. Of course there's Han Solo and Lando Calrissian (played by the increasingly scene-stealing Donald Glover), but there's also the droid L3-37 (Phoebe Waller-Bridge) and the alien Rio Durant, voiced by Iron Man director Jon Favreau.
Meanwhile, there's another Solo spot that we missed a few days ago featuring some snippets of new footage. But the most intriguing part of the TV spot is the electric guitar style version of one of the signature Star Wars theme. Will that be featured in the movie, or is it just being used during marketing to help sell this as a little more of a cool Star Wars movie?
If you want to see more from Solo: A Star Wars Story, check out the recently released featurette taking a look behind the scenes and showing off a slew of new footage.
Ron Howard directs Solo: A Star War Story, which opens in theaters this month on May 25, 2018.
Board the Millennium Falcon and journey to a galaxy far, far away in Solo: A Star Wars Story, an all-new adventure with the most beloved scoundrel in the galaxy. Through a series of daring escapades deep within a dark and dangerous criminal underworld, Han Solo meets his mighty future copilot Chewbacca and encounters the notorious gambler Lando Calrissian, in a journey that will set the course of one of the Star Wars saga's most unlikely heroes.