New 'Deadpool 2' TV Spots Gift Us With Stripper Deadpool And Sun Tan Lotion-Wearing Peter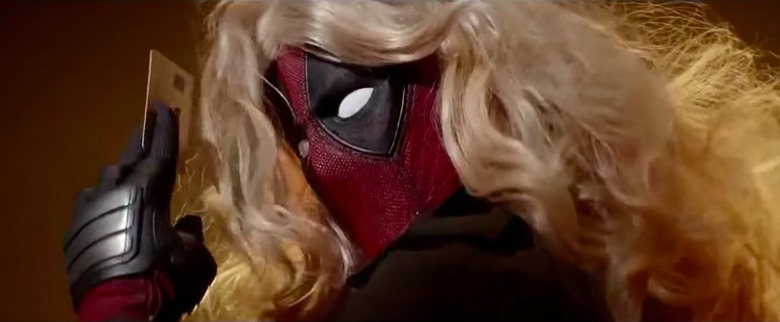 Two new Deadpool 2 TV spots know exactly what we want out of the superhero sequel, and they're giving it to us tenfold. We all want to see more of Peter, the scene-stealing normal dude who just wants to teach us about good skin care. Oh, and some stripper Deadpool vaulting around a pole, if that's your thing. But check out Peter and his sun tan lotion below!
The mysterious Peter stole the show when he appeared at the end of the latest Deadpool 2 trailer, looking a lot like a regular dude played by Rob Delaney. And he's quickly become the Internet's fan favorite character. He got his own fan poster, his own exclusive interview, and his own Twitter account where he posts pictures of his beloved bees (he's a beekeeper, you know) and of the intimidating X-Force team.
And in one of the new Deadpool 2 TV spots, we finally get some new footage of the illustrious Peter. There he is, being magnificent, applying sun tan lotion because melanoma kills.
Deadpool 2 TV Spots
The next TV spot features plenty of the footage we've seen before, with some new shots of Deadpool's new super team, the X-Force. Apparently, they're the only ones who will put up with his shenanigans, which include dressing up as an unconvincing stripper and vaulting around a pole. But hey, that Deadpool in a wig is pretty funny, huh?
Directed by David Leitch (John Wick, Atomic Blonde), Deadpool 2 also stars Zazie Beetz, Morena Baccarin, Brianna Hildebrand, Julian Dennison, and Terry Crews.
Here is the official "synopsis" for Deadpool 2:
After surviving a near fatal bovine attack, a disfigured cafeteria chef (Wade Wilson) struggles to fulfill his dream of becoming Mayberry's hottest bartender while also learning to cope with his lost sense of taste. Searching to regain his spice for life, as well as a flux capacitor, Wade must battle ninjas, the yakuza, and a pack of sexually aggressive canines, as he journeys around the world to discover the importance of family, friendship, and flavor – finding a new taste for adventure and earning the coveted coffee mug title of World's Best Lover.
Deadpool 2 hits theaters on May 18, 2018.