Michelle Pfeiffer Is Set To Join 'Maleficent 2' Cast As The Queen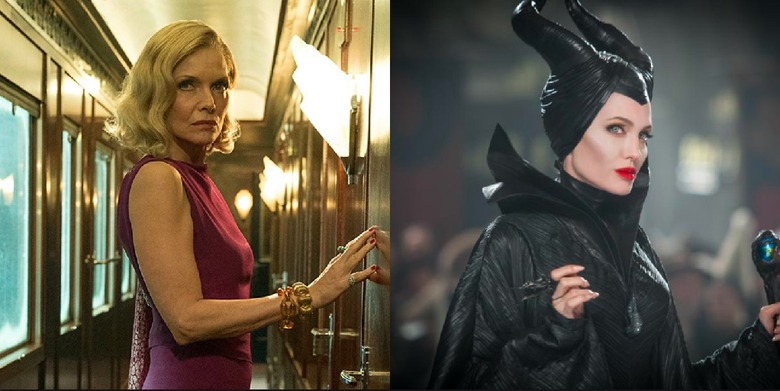 The queen of our hearts, Michelle Pfeiffer, is set to play an actual queen in the sequel to Maleficent. Pfeiffer is in talks to join the Maleficent 2 cast, starring opposite Angelina Jolie who plays the reformed Disney villain.
Variety reports that Michelle Pfeiffer is in advanced talks to play the queen in Maleficent 2. She would be the newest addition to the cast after Deadpool actor Ed Skrein joined as the sequel's villain. Jolie and Elle Fanning are both set to reprise their roles for Maleficent 2.Pirates of the Caribbean director  Joachim Ronning is set to helm the sequel.
With the addition of Pfeiffer, Maleficent 2 just got a lot more promising. The first film already took a revisionist approach to the original Sleeping Beauty fairy tale, so a female-driven sequel feels like the appropriate way to go. And plus, seeing Jolie and Pfeiffer square off against each other — or possibly team up against Skrein's Big Bad — sounds like the Hollywood diva pairing of our dreams. Just give me a full 10 minutes of Pfeiffer and Jolie vamping it up on the screen, please.
There are no details about Pfeiffer's casting other than the fact that she will play a queen. Whether that's an evil or good queen is up in the air, though Maleficent has long blurred the lines between good and evil. The original fairy tale follows a young girl who is cursed at birth by an evil fairy, doomed to fall into an eternal sleep upon her sixteenth birthday, until she's awoken by true love's kiss. The 2014 live-action adaptation of Disney's Sleeping Beauty took the animated film's iconic villain from vengeful fairy to kindly godmother to Fanning's ebullient Aurora. And it was Aurora's father, King Stefan (Sharlto Copley) who turned out to be the ultimate evil, his greed for the power causing him to betray his childhood friend Maleficent and wreak havoc upon the kingdom.
The modern twist on Sleeping Beauty made Maleficent one of my favorite — if flawed — Disney live-action adaptations. And audiences seemed to agree, bringing the film's box office haul to $758 million worldwide.
Could Pfeiffer play a new queen vying for power in Maleficent 2? Or will she play an unlikely ally to Jolie's Maleficent as they go up against Skrein's unnamed villain?
Whatever the case, I can't wait to see Pfeiffer and Jolie share the screen, alongside Fanning, who has become one of Hollywood's most exciting young actresses since she first stepped into Aurora's dainty slippers in 2014.
Production on Maleficent 2 is set to start in 2018.