Marvel's Black Widow Movie Has Met With Over 65 Directing Candidates, Is Searching For Female Directors To Take The Helm [Updated]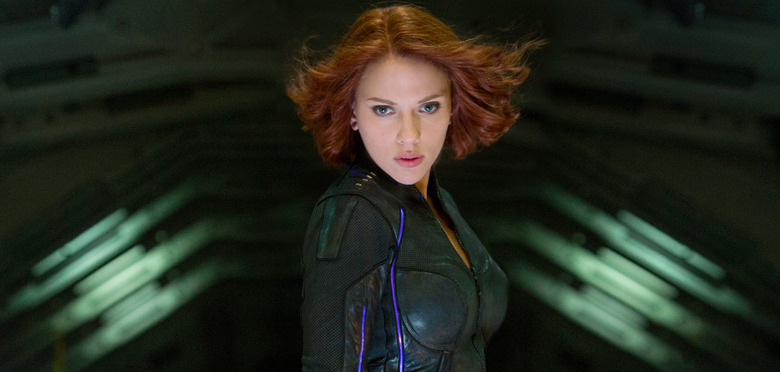 Update: Variety reporter Justin Kroll just revealed that Marvel Studios has met with over 65 directors for the directing job on this movie.
Fun fact: More then 65 directors have met for the BLACK WIDOW job. Marvel being extremely thorough on this one

— Justin Kroll (@krolljvar) May 2, 2018
Our original article from April 27, 2018 continues below.
Avengers: Infinity War is now in theaters, and it will certainly keep Marvel fans occupied for a little while. Later this summer, we'll have Ant-Man and the Wasp arriving in theaters, and the debut of Captain Marvel in March of 2019. But after Avengers 4 hits theaters on May 3, 2019, the only movies that are confirmed to be on the way in the Marvel Cinematic Universe are a Spider-Man: Homecoming sequel in July of 2019 and Guardians of the Galaxy 3 sometime in 2020.
Beyond the summer of 2019, Marvel Studios is being tight-lipped about the future so as not to ruin the suspense of who will survive the culmination of this era of Marvel movies. But one project that we know is in development is a solo outing for Natasha Romanoff, AKA Black Widow. Fans have wanted the SHIELD agent played by Scarlett Johansson to get her own movie for years, and Marvel appears to finally be giving her a chance, and they're looking for a female director to get behind the camera to make it happen.
Buried in the recent Hollywood Reporter article about Star Trek 4 hiring the first female director in the history of the sci-fi film franchise, there are some details on Marvel Studios hunting for a female director to be at the helm of Black Widow. And when you see the names on Marvel's potential Black Widow director list, it's clear they want this to be a breakout movie for an up-and-coming filmmaker. Heres's that the article says about the Black Widow director shortlist:
"Marvel Studios has been looking for a director to break its glass ceiling with Black Widow and has been meeting with filmmakers such as Deniz Gamze Erguven (the Turkish movie Mustang), Chloe Zhao (The Rider) and Amma Asante (A United Kingdom), among several others. That search is still ongoing, according to sources."
As you can see, all of those female filmmakers have landed an acclaimed indie hit and still have a promising career ahead of them. In addition to those names, Variety reporter Justin Kroll posted on Twitter that Maggie Betts (Novitiate) and Angela Robinson (Professor Marston and the Wonder Women) are also being considered as well.
There's no guarantee that any of these women will end up in the director's chair, but it's a good indicator that Marvel Studios will finally get a solo female director behind the camera for one of their Marvel Cinematic Universe movies. And it's nice to see that they're not just looking at the big names like Kathryn Bigelow and instead affording this kind of opportunity that has been given to plenty of unproven male directors in the past.
We're still not sure if a Black Widow movie would be a prequel, perhaps focusing on a mission she went on with Hawkeye, or maybe her first encounter with The Winter Soldier, or if the movie would take Black Widow on another adventure set in the present Marvel universe timeline. We likely won't hear anything on that front until after Avengers 4, so buckle up for a good year of patiently waiting.