'Deadpool 2' Box Office Tracking Suggests A Bigger Hit Than The First Film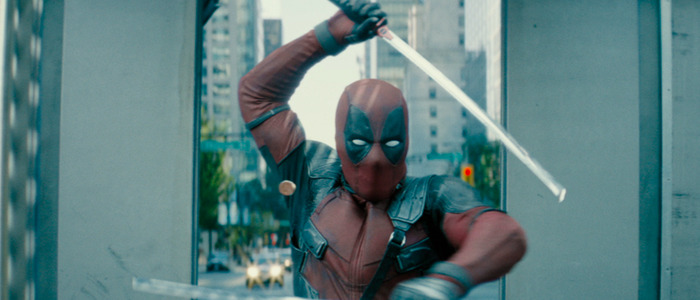 Moving Deadpool 2's release date up a few weeks is apparently going to pay off. Early Deadpool 2 box office tracking suggests the raunchy superhero sequel is on a path to have a bigger opening than 2016's Deadpool.
You probably could've guessed this, but Deadpool 2 is going to be a hit. Just how big a hit? Well, let's just say it's currently tracking for a big opening weekend. Bigger than the first Deadpool, even. Per Deadline, Deadpool 2's opening weekend "could reach $150M; at least $100M+ over three-days." This would put the sequel ahead of the original Deadpool, which landed an impressive $132M opening weekend.
Obviously, this is good news for everyone involved with Deadpool 2. Fandango has reported that Deadpool 2 is tracking to be the top R-rated preseller in the history of the site. That's a big deal, and proves that people really can't get enough of Deadpool and his various poop jokes. That said, Forbes has an interesting take on the matter that suggests that Deadpool 2's success has a few drawbacks for Fox (and Disney).
As the Forbes piece states:
"It's on track to play more like a comic book superhero sequel (which surpass or get darn close to their initial installments) than a comedy sequel (which often takes a major downturn the second time at bat). And the immortal question remains how Walt Disney feels about this. Presuming fears of a monopoly would make it harder for the Fox/Disney deal to go through, it may not be in Disney's best interest (or Fox's presuming a sale is in their interest) for the biggest movies of the summer to be Disney's Avengers, Solo: A Star Wars Story, The Incredibles 2 and Fox's Deadpool 2."
Still, Deadpool 2's box office success will all but garauntee even more Deadpool films, which will make Deadpool fans very happy, and which will make me continue to scratch my head and ask, "What am I missing here?"
Deadpool 2, which stars Ryan Reynolds, Josh Brolin, Morena Baccarin, Julian Dennison, Zazie Beetz, T.J. Miller, Brianna Hildebrand, and Jack Kesy was originally slated for a June 1, 2018 release date, but Fox moved the date up to May 18. All things considered, it looks like that was a wise move. The Avengers: Infinity War hype will probably have died down by then, and there are no other major releases set for that date. Except, of course, Show Dogs.