Aardman Animation Is Working On 'Chicken Run 2'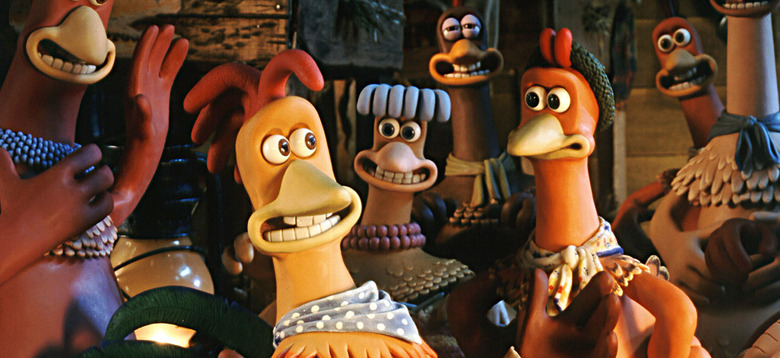 It's been 18 years since Aardman Animation delivered the stop-motion prison escape comedy Chicken Run. The film from 2000 focused on a group of chickens who hatch a plan to bust out of their coop when they learn what deadly plans an evil farm owner has for them. To this day, Chicken Run is still the highest grossing stop-motion animated movie of all time, and now is apparently the time to make a sequel happen.
Chicken Run 2 is in the works at Aardman Animation, who is developing the film with StudioCanal and Pathe. But will Mel Gibson be back to voice the lead chicken Rocky?The Hollywood Reporter has news on Chicken Run 2, but there aren't any details on the story for the sequel since it's not even ready to go looking for a distributor just yet. But the good news is that ParaNorman director Sam Fell will be at the helm and Chicken Run writers Karey Kirkpatrick and John O'Ferrell are being brought back in to pen the script. In addition, Shaun the Sheep's Paul Kewley will be producing and Aardman's Peter Lord and David Sproxton will executive produce.
Nick Park directed the first Chicken Run, but he's coming off working on Early Man and probably isn't ready to immerse himself in another time consuming stop-motion animated project so soon.
Chicken Run made over $106 million at the box office and another $118 million from international markets. It ended up landing BAFTA and Golden Globe nominations, but didn't get any Oscar nominations because there wasn't an animated film category back in 2000. But the film was critically lauded, with a 97% on Rotten Tomatoes.
Mel Gibson led the voice cast of the first film, which otherwise had a British cast that included Julia Sawalha, Timothy Spall, Imelda Staunton and more. Since then, the actor has fallen out of favor with audiences. However, Gibson starred in the family comedy Daddy's Home 2 last year, there's a chance he may have redeemed himself enough in the eyes of some audiences to return. Then again, we don't know if the story will even bring back any of the original characters from the first movie, so it might not matter.
As of now there's no indication as to when Chicken Run 2 will hit theaters, but reportedly the film will go into production at Aardman Animation after they're done working on Shaun the Sheep: Farmageddon, a sequel to the 2015 film adaptation of the popular stop-motion animated character from across the pond.