Theme Park Bits: Shanghai's 'Toy Story' Land Opens, Neil Patrick Harris Pays A Pretty Penny For Props From Disney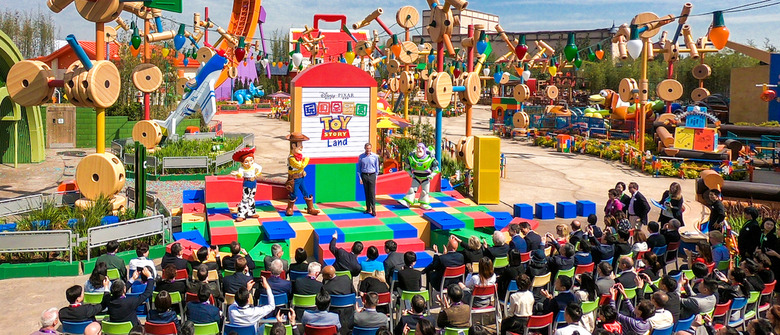 In this edition of Theme Park Bits:
Get a glimpse at the grand opening of Toy Story Land at Shanghai Disneyland.
A second Star Wars Nite has been added to the Disneyland After Dark event roster.
Learn the exact dollar amount actor Neil Patrick Harris paid for a Haunted Mansion prop.
See some exclusive new front-row pics of Tokyo Disneyland's 35th-anniversary parade.
Find out which Disney park uses men in drag to play certain female characters.
And more!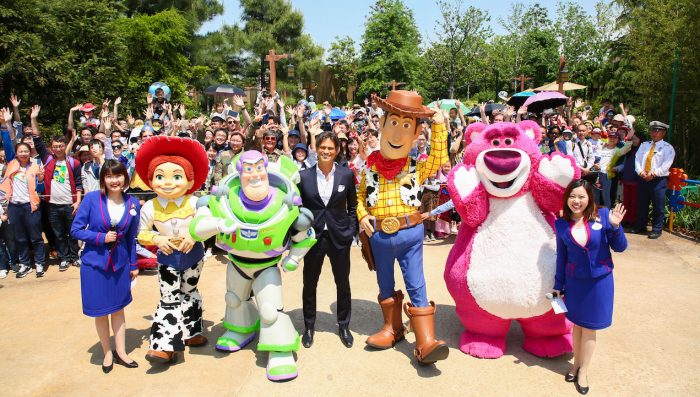 First up this week: Toy Story Land is now open at Shanghai Disneyland. Disney CEO Bob Iger was there for the grand opening and Disney Parks Blog ran a cover story about it with a neat gallery of photos showcasing the new land and its rides, shops, decorations, and characters.
In Florida, the Toy Story Land at Disney's Hollywood Studios is getting closer to its grand opening, as well. This week, we got to see our first photo of the entrance sign along with another new photo giving a view inside the land, which opens June 30, 2018.
Every day is Earth Day, as the saying goes, but the holiday celebrated on April 22 had some participation from Universal Studios Hollywood this year. On its YouTube channel, the park posted a short reminder from Doc Brown of Back to the Future that he has been "carbon neutral since 1985."
In other Universal news, the Fast & Furious Supercharged ride has now officially opened at Universal Orlando. You can read about how the ride differs from its California counterpart here.
The first event hasn't taken place yet, but citing "unprecedented demand," Disneyland After Dark has already fast-tracked the sequel, as it were, to Star Wars Nite. A second night of the event will now be held on May 9. Tickets go on sale May 1, while the first night is still scheduled to begin on May 3 and carry over into the early hours of Star Wars Day 2018.
Since the "May the Fourth be with you" option will have expired, guests attending the second night of the event may be required to utter an awkward, post-midnight greeting of, "May the Tenth be with you." No one has stipulated that this will be a requirement, per se, but let's use the Force to make it happen. Hashtag it, people. #MayTheTenthBeWithYou
Due to unprecedented demand for the Disneyland After Dark – #StarWars Nite event, we have added a second celebration of Star Wars at the @Disneyland Resort on May 9! Details: https://t.co/JA1ugfSkGT pic.twitter.com/uV1vjBYuu7

— Disney Parks (@DisneyParks) April 24, 2018
How much would you be willing to spend for an authentic Disneyland prop? Would it be an amount more or less than the dues for a Club 33 membership?
For Neil Patrick Harris, the answer was $172,500. The actor outbid Amazon CEO Jeff Bezos for an original painting from the Haunted Mansion's stretching pre-show room. Now he owns a piece of Disney history.
Neil Patrick Harris Spent $170k on Haunted Mansion Prop, Outbidding Amazon CEO Jeff Bezoshttps://t.co/3XoT2oVCGB#hauntedmansion,#neilpatrickharris pic.twitter.com/ayxbhmgwFl

— WDW News Today (@WDWNT) April 22, 2018
If you're a Haunted Mansion fan like Harris, but $9.95 is more in your price range, you can always purchase the book Tales from the Haunted Mansion Volume III: Grim Grinning Ghosts. It comes out on July 3, but if you pre-order it and/or the new Disney Parks Presents Jungle Cruise volume on Amazon, maybe you'll be doing your part to help Bezos win the next auction.
Over at Disney California Adventure, we've got our first look now at the Incredicoaster ride vehicle.
Here's a first look at the new Incredicoaster trains debuting this summer at Pixar Pier at Disney California Adventure park! https://t.co/Ge0fxCl1az pic.twitter.com/dimY3DrEKj

— Disney Parks (@DisneyParks) April 23, 2018
Thor and Loki now have a presence at Epcot. No, not the Marvel characters, but the original Norse gods on which they were based. An exhibit called "Gods of the Vikings" started this week at the Stave Church Gallery in the Norway Pavilion.
A new solar farm near Disney's Animal Kingdom will produce enough energy to power two whole theme parks. Epcot already has one other farm near it, and when you factor in the needs of the resort's various hotels, this means Walt Disney World will boost its overall solar capacity to 25%. There's a reason they call it the Sunshine State ...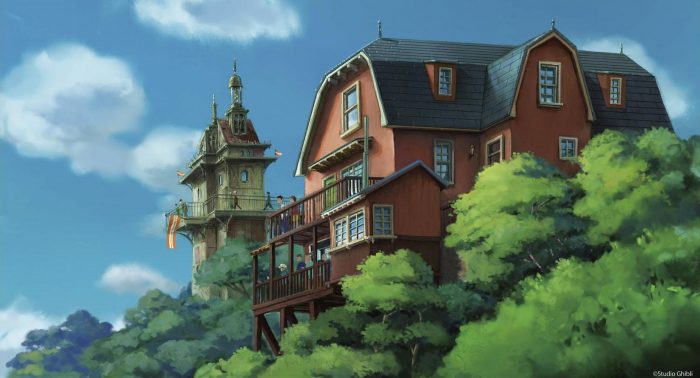 We first reported last year on the Studio Ghibli theme park coming to Japan. This week, we also shared news of the park's first concept art being released.More full-size versions of the concept images are up on Kotaku if you want to scope them out over there. Be sure to come back here though and check out /Film writer Hoai-Tan Bui's feature on the legacy of the late Isao Takahata, "the underappreciated half of Studio Ghibli."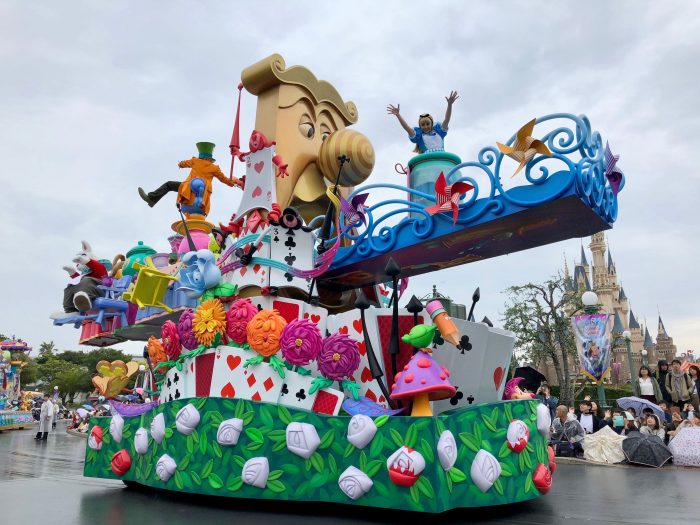 Last week, we shared a video from WDW News Today of Tokyo Disneyland's new 35th-anniversary parade, Dreaming Up. In its review of this parade, Disney Tourist Blog proclaimed, "at worst, Dreaming Up is the second-best daytime parade we've ever seen."
The video last week was shot somewhat far back from the parade route, however. There's a lottery right now for tickets to access a special parade viewing area in the park's central Plaza. Tokyo Disneyland does get crowded and Dreaming Up is still in its frenzied opening weeks, but this week I myself was able to get up close and personal with the parade when my good-luck-charm fiancee and I won the ticket lottery.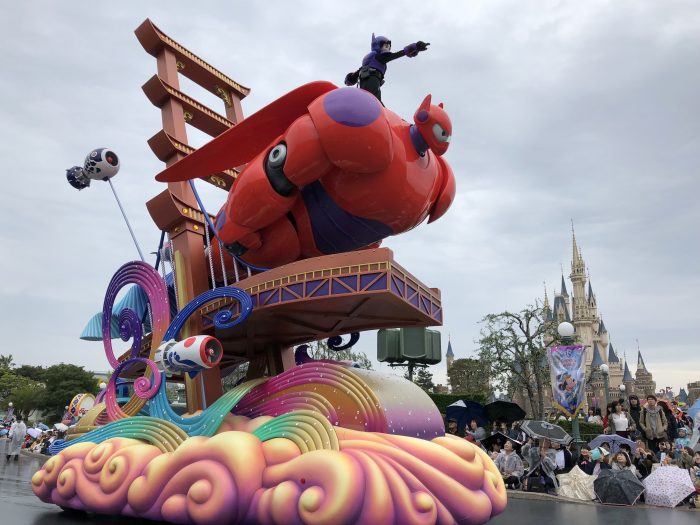 So here's my own personal contribution to the well of offbeat theme park news this week. Being in the front row with the world's first full-size Big Hero 6 parade float and others looming over us in larger-than-life fashion, I was able to get some decent iPhone X pics of Dreaming Up at Tokyo Disneyland (even though it was actually raining lightly). Since this was my first time seeing the parade, I was taking more wide shots that would show whole floats as opposed to individual performers.
It wasn't until later — when I zoomed in on some fishy female characters in pics I was weeding out — that my fiancee and I began having Austin Powers moments where we realized: "It's a man, baby!" Alice in Wonderland, Wendy from Peter Pan ... they were very clearly men in wigs and heavy makeup. But since the parade never stops moving and the park's guests won't usually get a close look at their faces, Tokyo Disneyland has apparently seen fit to perpetuate Japan's all-male kabuki tradition with select female characters in its parades.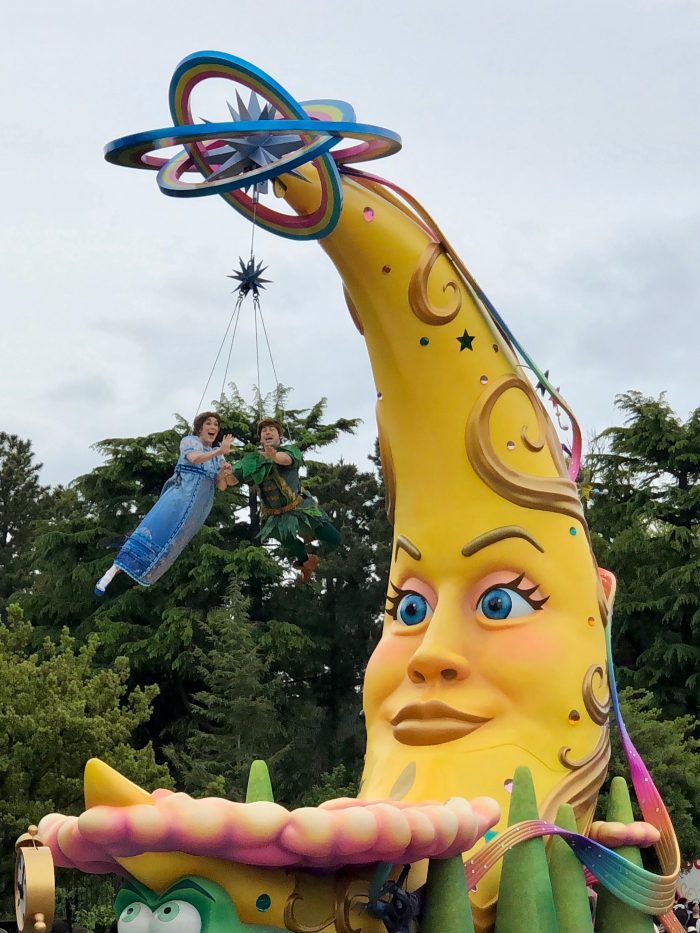 The evidence is purely anecdotal, so it's probably best to file this story under Disney urban legends for now. Who knows, maybe Tokyo Disneyland was just short-staffed that day. Japan's population is 98.5% ethnically Japanese; it's a country with fewer Western women than others. Performers sometimes have to be shipped over from Australia and the American Disney parks. Keep in mind, also: Tokyo Disney Resort is actually run by Oriental Land Company, which has a licensing agreement with Disney.
You'd never see these kabuki shenanigans in Florida or California ... or would you? You never know. Drag-queen princesses: coming soon to a Disney park near you?