Paramount Animation Announces SpongeBob Sequel 'It's A Wonderful Sponge', Two More Animated Movies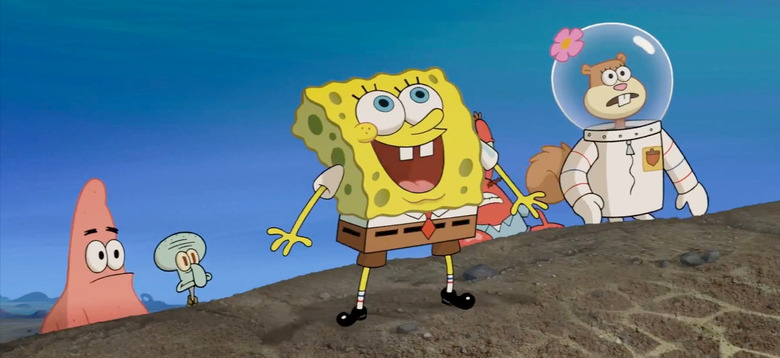 During Paramount Pictures' panel at CinemaCon, the studio revealed that a sequel to A Quiet Place and "proper" sequel to Cloverfield were in the works, but there's another sequel developing at Paramount's animation division.
Paramount Animation has a SpongeBob SquarePants sequel on the way called It's a Wonderful Sponge, which will presumably be an animated version of It's a Wonderful Life with SpongeBob SquarePants in the Jimmy Stewart role. In addition, there are two more animated projects that sounds rather intriguing.
It's a Wonderful Sponge
Details were sparse on what will be the third SpongeBob SquarePants movie heading to theaters, but the first film's screenwriter Tim Hill will be both writing and directing the sequel this time.
The voice cast wasn't announced at CinemaCon, but since series stars Tom Kenny, Bill Fagerbakke, Rodger Bumpass, Clancy Brown, Mr. Lawrence, Jill Talley, Carolyn Lawrence, Mary Jo Catlett and Lori Alan have been in these big screen adventures, they'll likely be back for this latest movie as well.
Monster on the Hill
In what sounds like an underdog sports drama with monsters, Paramount Animation is working on Monster on the Hill with ReelFX and Walden Media. The film takes place in a world where monsters are tame and the world of monster wrestling is a huge sports spectacle. In this world, a teenager named Winnie looks to follow in her father's footsteps as a manager who wants to turn an inexperienced monster into a real contender in the ring.
No voice cast has been announced, but the film will be directed by Bradley Raymond. That doesn't inspire much confidence since he's been behind straight-to-video animated sequels like The Lion King 1 1/2 and The Hunchback of Notre Dame II, but the script comes from Etan Cohen (Tropic Thunder) and Matt Lieberman (of the upcoming The Addams Family), so that should help.
Luck
Finally, the last Paramount Animation project announced will mark the first time Skydance Animation has teamed up with the studio for a project. It's called Luck, and the vague logline describes the movie like this: "A comedy that pulls back the curtain on the millennia-old battle between organizations of good luck and bad luck that secretly affects our daily lives."
That likely means the animated movie will show us the forces that control luck, likely in the form of a whole world that we can't see, not unlike Pixar's Inside Out. That's speculation on my part, but that makes the most sense. The film will be helmed by Kung Fu Panda 3 director Alessandro Carloni and written by Kung Fu Panda franchise and Trolls writers Jonathan Aibel & Glenn Berger.