'A Quiet Place' Sequel In The Works At Paramount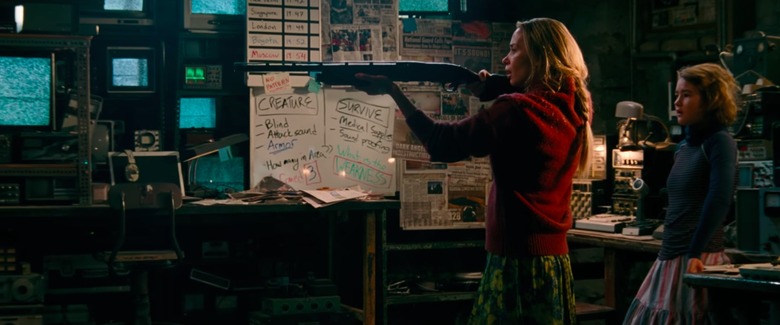 In news that should come as no surprise to anyone who ever wandered the horror section at a video rental store and saw the number of titles with numbers in them, Paramount is planning a sequel to A Quiet Place. But there's something a little different here. Most horror sequels follow a modest hit, a film made for pennies that caters to a hungry niche. A Quiet Place, in just a few short weeks, has emerged as something of a phenomenon and it feels like it's part of a larger trend.
The news was announced at CinemaCon is Las Vegas, where Paramount presented a panel showing off footage from their upcoming slate of releases. Jim Gianopulos, chairman and CEO of Paramount, made the announcement, noting that the sequel would be steered by "the same group of people that made the first film." Whether that means writers Bryan Woods & Scott Beck, director John Krasinksi, or just producers Andrew Form and Bradley Fuller remains unknown.
Also unknown: any plot details of any kind! That's expected, since the film literally just opened and surely no one at Paramount saw the film's instant and unqualified success coming, which means no one had any plans for a follow-up yet. This is where I raise an eyebrow in the general direction of a Quiet Place sequel. The film feels very much like lightning in a bottle: an unexpected director, a strong cast, and a killer premise came together to deliver something genuinely intense and fresh. And audiences responded! Part of me says "Why not get this same group of people to collaborate on a new idea and replicate that success with something that isn't a sequel," but that's not how this business works.
Plus, the ending of A Quiet Place is intentionally open-ended and pretty much perfect. Elaborating on it in any way feels...ill-advised, maybe?
Anyway, A Quiet Place has made $213 million worldwide against a budget of only $17 million in just three weeks. That's extraordinary. Between this and the box office success of Get Out and It, horror is starting to show its muscle in the blockbuster arena. Horror sequels have clogged the genre for decades (have you counted the Hellraisers recently?), but we're entering a strange new world, one where a modestly budgeted Stephen King adaptation can do Marvel-sized numbers at the box office. A Quiet Place 2, or A Quieter Place or whatever they choose to call it, could help continuing to lead the way.
How audiences, and how horror filmmakers, respond to this new trend should be fascinating.