'The Jurassic Games' Trailer Features Death Row Inmates Vs Dinosaurs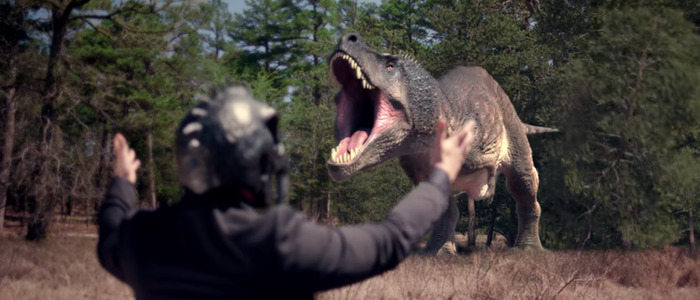 Oh, hell yeah. At last, the "death row inmates vs. dinosaurs" movie of your dreams is here with The Jurassic Games. This low-budget wonder seemingly combines Ready Player One, Jurassic Park, The Running Man, and the mostly forgotten Stone Cold Steve Austin movie The Condemned into one glorious, goofy package. Watch the Jurassic Games trailer below.
Folks, are you ready for The Jurassic Games? You better be, because they're on their way. In this film, a group of death row inmates find themselves trapped in a TV show that pits them against dinosaurs. Also it's all in virtual reality. But the dinosaurs can still kill them. Because sure, why not?
The Jurassic Games Trailer
This looks like the kind of so-bad-it's-good movie that the Sharknado films can only dream of being. The headsets on the convicts look straight out of Ready Player One. And the concept of condemned people fighting for their lives on TV is lifted out of both The Running Man and also a forgotten 2007 movie called The Condemned, which starred master thespian "Stone Cold" Steve Austin. And of course, the title The Jurassic Games ties right into Jurassic Park. Hell, there's even a little Hunger Games thrown in for good measure. In other words, there's something for everyone here!
I'm not quite sure how the logistics work. If this is a virtual reality game, why would being eaten by dinosaurs in the virtual world kill the convicts in the real world? Perhaps that's the type of question one shouldn't even bother to ask when watching The Jurassic Games, though. Perhaps it's best to just sit back, relax and let The Jurassic Games work its magic.
The Jurassic Games will be available on Digital June 12, 2018 and DVD July 3, 2018. I'm excited.
Starring Ryan Merriman (Final Destination 3) and Perrey Reeves ("Entourage"), the film imagines a world set in the near future wherein ten Death Row convicts are chosen to compete in The Jurassic Games, the ultimate virtual reality game show that pits its players against dinosaurs and each other. However, there is a catch... If you die in the virtual game, you also die in reality; and for Anthony Tucker (Adam Hampton), survival is his one chance to be reunited with his children after having been wrongfully imprisoned for the murder of his wife. As the devious The Host continues adding improbable challenges, the characters will find the odds stacked against them as only one victor can emerge as winner and reclaim their freedom.