New 'Avengers: Infinity War' Clip: Tony Stark Finds Out All About Thanos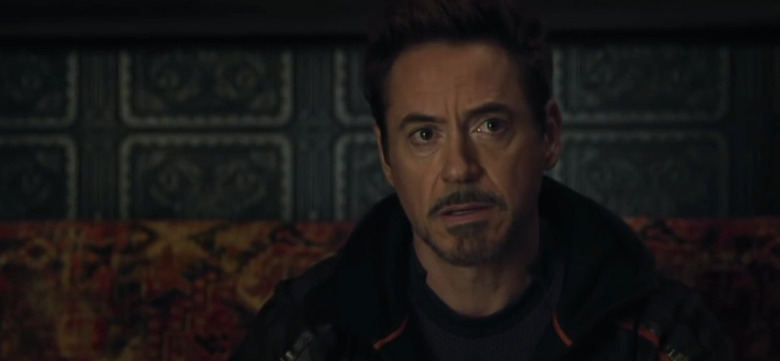 Last night Avengers: Infinity War held its world premiere in Los Angeles, and the early buzz has plenty of praise for the epic Marvel Studios sequel that has been 10 years in the making. Fans won't be able to see the movie themselves until sneak preview screenings start on Thursday evening, but a new clip debuted on Jimmy Kimmel Live last night to help hold you over.
The new Avengers Infinity War clip finds Tony Stark (Robert Downey Jr.) finding out about the impending threat that is the mad titan called Thanos. How does he find out? Well, for those of you who might be more adverse to finding out anymore details about Infinity War before you see it for yourself, we'll save those details for below.
New Avengers Infinity War Clip
The scene in question takes place at the Sanctum Sanctorum with Doctor Strange (Benedict Cumberbatch) and Wong (Benedict Wong), so it sounds like both of the sarcastic, goatee'd superheroes have already met by this point. But their meeting was apparently interrupted by the arrival of Mark Ruffalo as Bruce Banner, presumably having just been blasted back to Earth after a confrontation with Thanos. Somehow he survived, and now he's the messenger to tell everyone on Earth about the threat Thanos poses to the entire universe.
But perhaps the biggest piece of information we get from this clip is that Ben & Jerry's has named a flavor of their ice cream after the genius, billionaire, playboy, philanthropist. It's called "Stark Raving Hazelnut" and while Stark is pleased with it, Strange says it's "a bit chalky." At least we know that Strange has time for ice cream while he's mastering the mystical arts.
With just two days left until the first public screenings of Avengers: Infinity War around the world, there's still time for more footage to hit the web, but we'll be playing things very close to the vest when it comes to spoilers. We'd appreciate it if everyone else tried to do the same as well so as not to ruin the experience for anybody.
Avengers: Infinity War stars Robert Downey Jr., Chris Hemsworth, Mark Ruffalo, Chris Evans, Scarlett Johansson, Benedict Cumberbatch, Don Cheadle, Tom Holland, Chadwick Boseman, Paul Bettany, Elizabeth Olsen, Anthony Mackie, Sebastian Stan, Danai Gurira, Letitia Wright, Dave Bautista, Zoe Saldana, Josh Brolin, Pom Klementieff, Karen Gillan, Benedict Wong, Peter Dinklage, Chris Pratt, and perhaps Jeremy Renner, and it's directed by the Anthony & Joe Russo.
Iron Man, Thor, the Hulk and the rest of the Avengers unite to battle their most powerful enemy yet — the evil Thanos. On a mission to collect all six Infinity Stones, Thanos plans to use the artifacts to inflict his twisted will on reality. The fate of the planet and existence itself has never bee

n more uncertain as everything the Avengers have fought for has led up to this moment.
Avengers: Infinity War hits theaters on April 27, 2018.