'Austin Powers' Franchise Star Verne Troyer Has Passed Away At 49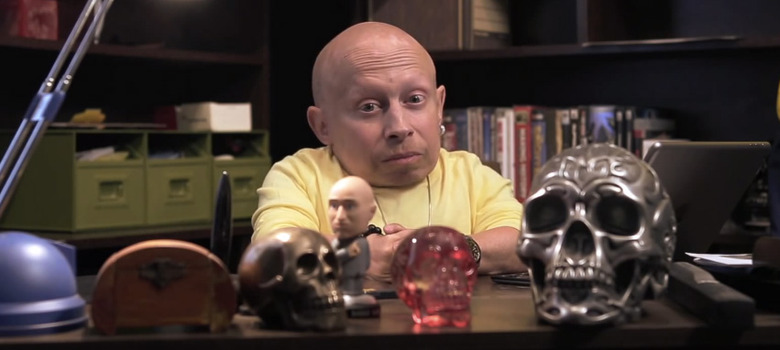 Verne Troyer shot onto the scene like a firecracker with his breakout role in Austin Powers: The Spy Who Shagged Me in 1999. He made waves as Mini-Me, the aggressive and feisty clone of the eccentric, scheming villain Dr. Evil, played by Mike Myers. The role turned him into a star overnight, and standing at just two feet, eight inches, he quickly became one of the most successful actors with dwarfism in Hollywood.
Sadly, this weekend brings news that Verne Troyer has passed away at the age of 49.
TMZ was first to report on the news of Verne Troyer dead. Reportedly the actor was admitted to the hospital earlier in April after authorities learned his alcoholism had made him suicidal recently. The actor has struggled with alcoholism for years, and it appears that battle was too much to endure for him anymore.
Troyer's family posted this image on Instagram accompanied with a statement about his passing:
A post shared by Verne Troyer (@vernetroyer) on
It is with great sadness and incredibly heavy hearts to write that Verne passed away today.
Verne was an extremely caring individual. He wanted to make everyone smile, be happy, and laugh. Anybody in need, he would help to any extent possible. Verne hoped he made a positive change with the platform he had and worked towards spreading that message everyday.
He inspired people around the world with his drive, determination, and attitude. On film & television sets, commercial shoots, at comic-con's & personal appearances, to his own YouTube videos, he was there to
show everyone what he was capable of doing. Even though his stature was small and his parents often wondered if he'd be able to reach up
and open doors on his own in his life, he went on to open more doors for himself and others than anyone could have imagined. He also touched more peoples hearts than he will ever know.
Verne was also a fighter when it came to his own battles. Over the years he's struggled and won, struggled and won, struggled and fought some more, but unfortunately this time was too much.
During this recent time of adversity he was baptized while surrounded by his family. The family appreciates that they have this time to grieve privately.
Depression and Suicide are very serious issues. You never know what kind of battle someone is going through inside. Be kind to one another. And always know, it's never too late to reach out to someone for help.
In lieu of flowers, please feel free to make a donation in Verne's name to either of his two favorite charities; The Starkey Hearing Foundation and Best Buddies.
The Wild and Memorable Career of Verne Troyer
Before Verne Troyer became famous for playing Mini-Me in the Austin Powers franchise, his small stature afforded him some peculiar roles in Hollywood. His career began as a stunt double for the titular infant in the 1994 family comedy Baby's Day Out.
Troyer continued to have bit parts in movies where he was hidden by body suits or prosthetics, such as when he played an alien baby in Men in Black or the baby version of Mighty Joe Young in the Disney movie of the same name. But we also got to see him play up his size for laughs with appearances in Jingle All the Way and My Giant.
But once Troyer appeared as Mini-Me in Austin Powers: The Spy Who Shagged Me, he became an in-demand comedic talent for a short time. After that appearance, Troyer had a string of supporting roles in movies like Harry Potter and the Sorcerer's Stone and Bubble Boy, as well as TV shows like Boston Public, Scrubs and Jack of All Trades. Plus, he reunited with Mike Myers for both Austin Powers in Goldmember and The Love Guru.
Other roles later in Verne Troyer's career saw him appearing in The Imaginairum of Doctor Parnassus and College, as well as TV shows like Trailer Park Boys and Two and a Half Men. But in recent years, he was mostly participating in various reality TV shows and talk show appearances ranging from Celebrity Big Brother to The Surreal Life to Whose Line Is It Anyway?.
Verne Troyer enjoyed his fame while he could, but unfortunately, alcoholism loomed large in his life and it was a battle he couldn't overcome. Our thoughts go out to his friends and family during this difficult time, and if you know somebody suffering from alcoholism, please do everything you can to help them.