Terry Gilliam's 'The Man Who Killed Don Quixote' And More Added To Cannes 2018 Lineup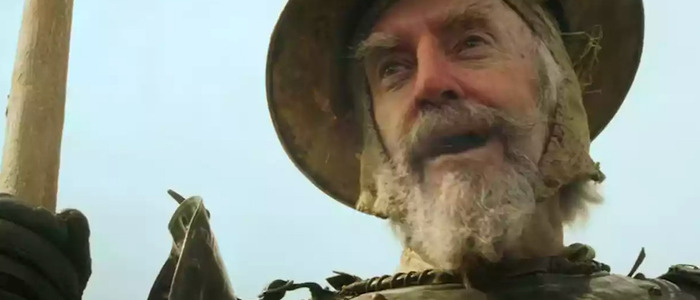 The Cannes 2018 lineup is growing. A few days following the initial announcement comes word that Terry Gilliam's long-delayed The Man Who Killed Don Quixote, Lars von Trier's The House That Jack Built and more are coming to the prestigious film festival.
The Cannes lineup has added some exciting new films (though, sorry, none of them are from Netflix). Perhaps the biggest is Terry Gilliam's long-delayed The Man Who Killed Don Quixote, which is now the festival's closing film. Gilliam has been working on Don Quixote on and off again since 1998, with a production beset with setbacks and problems. While Gilliam recently (finally) finished filming, the movie ran into more trouble yet again. The latest trouble involved a legal matter, and it seemed as if it would delay the film from playing Cannes. Now it looks as if the problem has been resolved, and the screening, per Deadline, "will take place on Saturday May 19 after the closing ceremony and the film will be released in France on the same day."
Another new addition is Lars von Trier's serial killer film The House that Jack Built. Von Trier's return to Cannes will likely be treated as a big deal. In 2011, the filmmaker was banned from the fest after making some eyebrow-raising comments about Hitler. "What can I say? I understand Hitler," he said. "I think he did some wrong things, yes, absolutely, but I can see him sitting in his bunker in the end," von Trier said during a news conference for his 2011 in competition film Melancholia. "He's not what you would call a good guy, but yeah, I understand much about him and I sympathize with him a little bit. But come on! I'm not for the Second World War, and I'm not against Jews."
Following those remarks, the Cannes festival board declare the Antichrist filmmaker "persona non grata", and he hasn't been back since. Now, his film The House that Jack Built will screen at the 2018 festival out of competition. The film stars Matt Dillon and Uma Thurman.
Other new additions include the documentary Whitney, from director Kevin Macdonald, focusing on the life of singer Whitney Houston, and the HBO film Fahrenheit 451, starring Michael B. Jordan and Michael Shannon.
Films from  Brian De Palma, Olivier Assayas, Harmony Korine, Claire Denis, Mia Hansen-Løve, Luca Guadagnino, and Terrence Malick were also expected to make a Cannes appearance, but so far they have yet to be announced. There's always a chance they could be added later, but the clock is ticking.
The Cannes Film Festival runs from May 8 through May 19, 2018.