John Carpenter Providing 'Halloween' Reboot Score; Jamie Lee Curtis Confirms Plot Details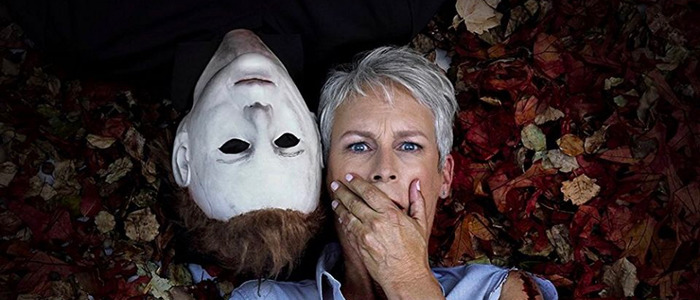 We really know very little about David Gordon Green's Blumhouse-produced Halloween reboot. Now, as the film's release date gets closer, star Jamie Lee Curtis reveals some interesting details about the Halloween reboot plot. Plus: Jason Blum confirms that John Carpenter is providing the film's soundtrack.
Halloween Retold
The Halloween reboot is getting ready to step out of the shadows. With the release date six months away, more details are beginning to trickle in. Yesterday, the first official poster for David Gordon Green's reboot/sequel dropped online. Now, star Jamie Lee Curtis is offering up some info on the film's plot. Speaking with Yahoo, Curtis, who reprises her role as original Halloween final girl Laurie Strode, says the new film – written by Green and Danny McBride – is like a retelling of the original Halloween with Laurie Strode's granddaughter:
"And as soon as I read what David Green and Danny McBride had come up with ... and the way that they connected the dots of the story, it made so much sense to me that it felt totally appropriate for me to return to Haddonfield, Ill., for another 40th-anniversary retelling," Curtis said. "There was the idea of, 'What do you call it?' If I had had my druthers, I probably would've called it Halloween Retold. Because it's being retold. It's the original story in many, many, many ways. Just retold 40 years later with my granddaughter."
While my excitement for Halloween remains through the roof, I will say that I hope the film doesn't end up simply being a complete remake of the original with Laurie's granddaughter (played by Andi Matichak) standing in for Laurie. I want more than that, and I'm confident Green and McBride will deliver.
Curtis also adds that she's seen a trailer for the film, and says "it's terrifying," adding: "They went full-tilt boogeyman. And I've never said that in my life, and I will say full-tilt boogeyman for the rest of the year as I go around talking about this." I would like to see how full-tilt boogeyman they've gone myself, so hopefully we'll be seeing this trailer sooner rather than later.
Music By John Carpenter
Original Halloween director (and soundtrack composer) John Carpenter previously indicated he would probably provide the reboot soundtrack:
"I am an executive producer and it looks clear to me that I've made a deal to do the music...There are many options. I'll be consulting with the director to see what he feels. I could create a new score, we could update the old score and amplify it, or we could combine those two things. I'll have to see the movie to see what it requires."
Now, producer Jason Blum has re-confirmed Carpenter's statement on Twitter.
Confirm!

— Jason Blum (@jason_blum) April 19, 2018
Of course, Blum doesn't provide specific details. He could be implying that the film will simply be re-using themes from Carpenter's original score. But I really hope this means Carpenter is going to provide all new music for the theme. While Carpenter has stayed away from filmmaking for the last few years, he has released two albums of original music, Lost Themes and Lost Themes II.
Halloween opens on October 19, 2018.