Cool Stuff: Dan Mumford's Vibrant 'Star Wars: The Last Jedi' Prints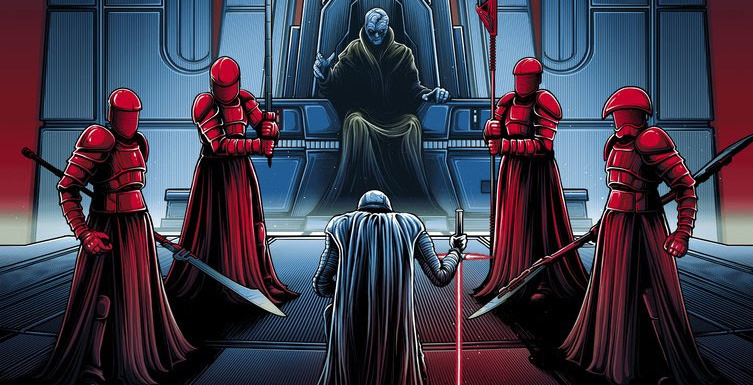 Now that Star Wars: The Last Jedi is available for us all to enjoy over and over again at home, the movie is ripe for artwork tributes. Since artist Dan Mumford delivered a fantastic set of prints commemorating Star Wars: The Force Awakens, we're glad to see he's back with another set of prints for Rian Johnson's chapter in the Star Wars saga. There are four in total, paying tribute to four iconic locations and moments from the sequel. Check out all the Dan Mumford Star Wars The Last Jedi prints below.
Dan Mumford Star Wars The Last Jedi Prints
The art for these prints was previously handed out at some screenings of Star Wars: The Last Jedi, but these are higher quality screen prints that are infinitely better than the free versions you get at theaters.
The versions of these prints on the left each have a timed edition that is already on sale and will continue to be available for purchase through Monday, April 23 at 3am ET. That means however many are ordered during that window, that's how many will be printed. Each 18x24 print will cost you $50, or you can buy the entire set for $175, which is a great deal.
Meanwhile, the versions of the right are the variants, each with an edition of 250. At the time of this writing, all but one is sold out if you want to purchase them individually for $55 each. But you can pick up all four of the variant prints for discounted price of $200.
Fans might remember that Dan Mumford's artwork for Star Wars: The Force Awakens was use for a batch of awesome collectible vinyl soundtrack releases from I Am Shark. We're not sure if the same will be done for Star Wars: The Last Jedi, but we'll be sure to let you know. In the meantime, pick up the prints above over at Bottleneck Gallery.