'Spider-Man: Into The Spider-Verse' Q&A With Lord & Miller And Actor Shameik Moore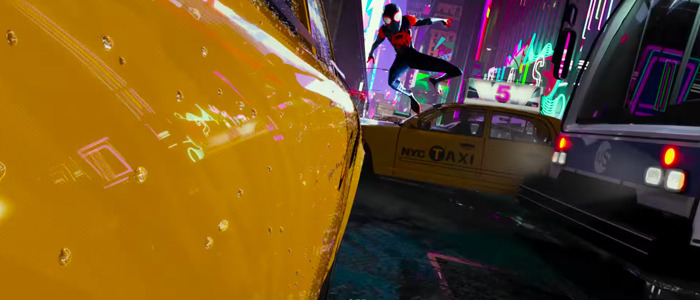 It's a great year to be a Spider-Man fan. This past summer, we saw Tom Holland reprise his role as the best live-action Spider-Man in Avengers: Infinity War, the PS4 Spider-Man video game is the best video game centered on the web-slinger, and next month, a new Spider-Man will be introduced to audiences in Spider-Man: Into the Spider-Verse, which is one of the best Spider-Man stories ever put on film.
Earlier this year, I visited the Sony Pictures lot to attend a Q&A about the movie featuring star Shameik Moore (Dope), who provides the voice of Miles Morales, the first half black, half Hispanic Spidey. Writer/producer Phil Lord and producer Chris Miller were also in attendance, and the three of them spoke about how this film will feel different because it's told through Miles's perspective, how Peter Parker factors in to this adventure, taking risks with the storytelling, and more.
"When [producer] Amy [Pascal] approached us about doing a Spider-Man movie, we thought, 'Oh, another Spider-Man movie? There's a lot of Spider-Man movies,'" Chris Miller explained during his introduction. "But then the idea of doing a Miles Morales story was really exciting to us, to tell a new version of the story with a new character and to embrace a whole new version of a superhero movie."
Lord agreed. "He's like the coolest character in the Marvel universe, and it was a chance to kind of reimagine what a superhero movie could be, to talk about the fact that there are a lot of these stories and what do they mean to us, and what is it like to try to walk in someone else's footsteps who's already done it before."
"And the idea of a movie based on a comic book that actually feels like you're inside a living comic book was too exciting to pass up," Miller said. Here are the highlights from the Q&A:
Moore Predicted He'd Be Spider-Man Years Ago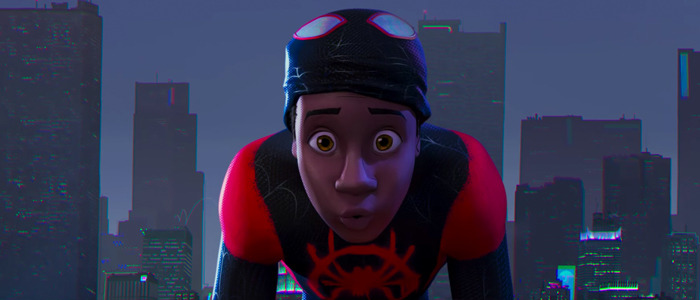 "I was very hopeful," Moore said when asked if he had a good feeling about his audition. "I wrote that 'I am Spider-Man' in my journal. I did a movie called Dope, and my friend got me a journal – her name is Kiersey [Clemons] – and I wrote 'I am Spider-Man' and 'I am Miles Morales' on the back of the page. I remember telling her that, and the next thing I know, I got that call that I was Spider-Man and I was like, 'Yeah! Sounds about right!'"
After joking about how Kiersey gave him a magic journal, Lord and Miller quipped that Moore should write the box office projection in its pages. "1.3 billion, first week...domestic," Lord joked.
Lord also explained why Moore was the right actor to voice this character:
"We had been lucky enough to audition Shameik for some other stuff and seen him work and thought he was just amazing. We loved Dope and The Get Down, and when we'd spend time together, he's just so genuine. He has a take on the material that seems unique to him, and he brings a lot of earnestness and sweetness along with a little bit of swagger, and I think that was a really neat fit for a burgeoning superhero."
What Being Spider-Man Means to Moore, and How The Film is Different Because of Miles' POV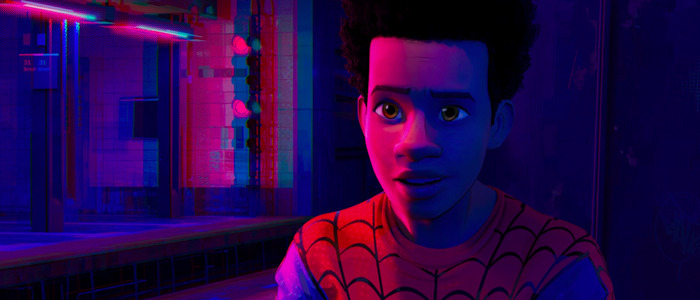 When asked why he wanted to play the character, Moore nodded to his bare arm and his exposed black skin. "There's obvious reasons," he said. "For the culture, it would be amazing. Going home and being like, 'Yo! I'm Spider-Man!' I mean, my friends were already excited about it as soon as I told them," he laughed. "I'm going to be touching people. There's going to be a little kid that's going to see this – my nephews, for instance. They can't see The Get Down. Maybe they can see Dope, but there's certain scenes. (laughs) But they're five or six [years old], so they can definitely see Spider-Man and not only hear their uncle's voice, but see themselves on screen. That's cool. I think that's cool."
Lord and Miller explained how the movie will be a different spin on the Spidey stories we've seen before because Miles is at the center of it:
Lord: Miles is coming from a different spot in his life. Miles comes from a good old nuclear family. He's got a mom and a dad who are trying everything they can to give him a great life. During the movie, you'll see how things happen that challenge Miles emotionally. What we wanted to do was tell a story about what's it like when you have great gifts and what is it like when you're almost too young to have them? What's the difference between the kids that are able to take advantage of them and the kids that aren't? What is the emotional thing you need to figure out? So getting bit by a spider, Miles goes to a really neat magnet school that he gets into via lottery – this is in the comics – and he also gets bit by a spider, which is sort of like winning the lottery. And it's complicated, going to this school is complicated. It's not as easy or as fun as his old school. So we wanted getting bit by a spider to be sort of a big metaphor for like, 'I've got a chance to go to this new place, and how am I going to handle it?'
Miller: One other big difference is that in Miles' universe, there is already a Spider-Man, Peter Parker, who, much like the universe that we live in, where Spider-Man's a thing that exists that you have to deal with. So how is the mantle going to be passed to a different guy?
How Does Peter Parker Fit In This Movie?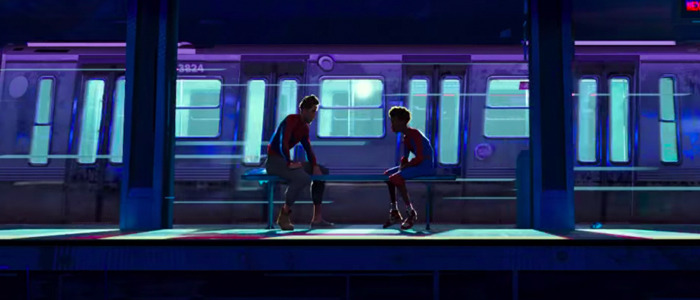 The writer/producers also touched on how an inter-dimensional Peter Parker (Jake Johnson) will factor in to Miles's adventure:
Miller: Well...the original Peter Parker dies, but another one from another dimension comes. In case that wasn't clear. It sort of opens up the idea that there are many universes out there, and each one of them probably has its own Spider-Man. And that's all I'll say about that.
Lord: Peter Parker as a character is not Mr. Miyagi. He's not ready to be a mentor. He's the guy in the back of the class. His whole life he's been poking fun at the teacher, and here's the first time in your life you actually have to mentor someone younger than you...We thought it was a really neat color for Peter Parker to have to wear that he'd never had before. 'It's life and death. If I don't train this kid, the universe depends on him becoming Spider-Man, and I don't know the first thing about teaching the kid.' We thought that was a really neat relationship.
"Uniqueness Drives the Marketplace"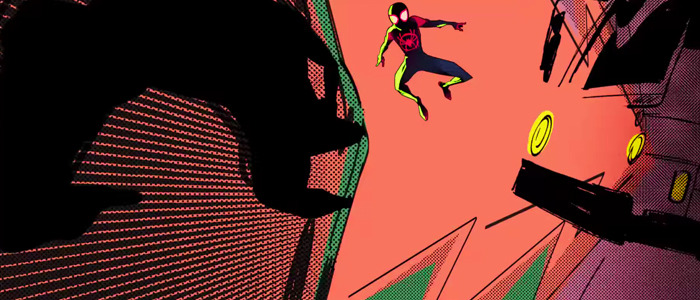 Lord and Miller spoke about the film's unprecedented visual style, which looks like a comic book in ways that are very different from the ways previous comic book films like Sin City or Ang Lee's Hulk have in the past.
Miller: I think obviously the style of it, we wanted to make something that looks like nothing you've ever seen before on screen. Part of this idea is that people go to the movies to see something new, and uniqueness drives the marketplace. What's the point of making something that feels like everything else that came before it? It seemed like an opportunity to push the boundaries as far as we possibly could, and crazily, they haven't stopped us yet.
Lord: Maybe tomorrow.
Miller: So the fact that it has its origins in the comic book is obviously really inspirational for the look, and how to create this new pipeline of how to make something look like you're in a hand-drawn, hand-painted world that still is a fully three-dimensional universe. It's been the amazing people at ImageWorks that have been able to put that together and make it look as amazing as they have. They're excited about doing something that feels groundbreaking.
Taking Risks (and Maybe a Little Star Wars Shade)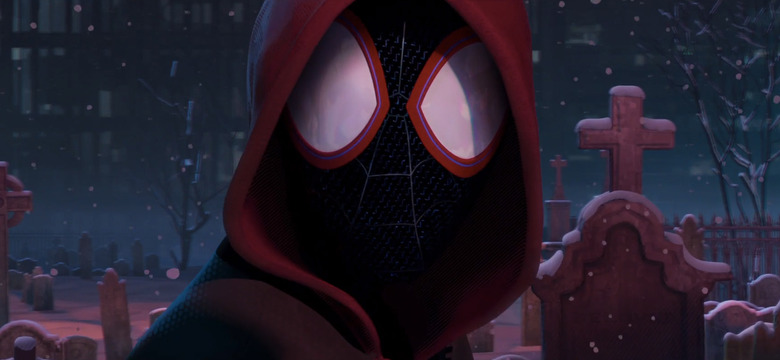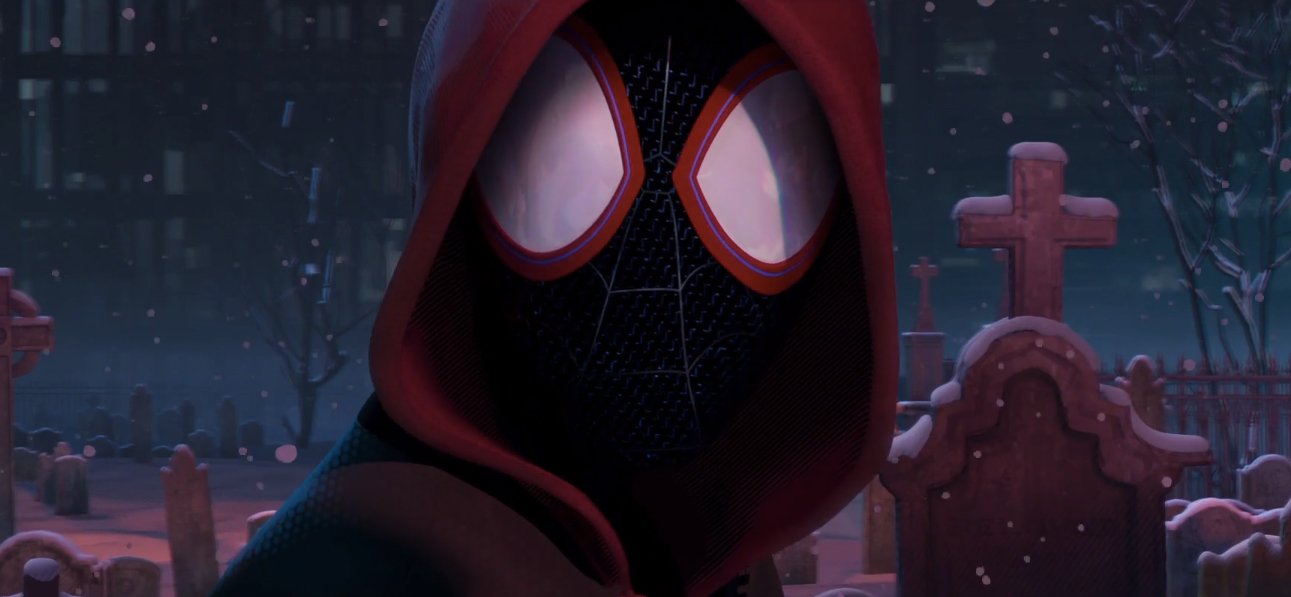 Finally, Lord explained that the audience's familiarity with this movie's title character offered them the opportunity to take chances as storytellers. And reading between the lines, there was one moment in which it seemed as if he took a bit of a swipe at Lucasfilm for maybe not embracing that opportunity for risk-taking in the same way. (Lord and Miller were famously fired from directing Solo: A Star Wars Story.) Judge for yourselves:
"The fact that this is a really well-known thing, that can scare you and make you want to be really protective and conservative about it. Like, 'It's ours to lose and we won't want to mess it up.' Some people handle their franchises that way. But when you've got something that is so much in the marketplace, for us – same with [The LEGO Movie] – this is an opportunity. People already love Spider-Man. Here's a chance to take it somewhere new and do something bold. It gives us cover, at this facility, to indulge our dreams of what an animated movie can be.
Because all around the world, the different flavors of animation are much broader. A lot of Western and American mainstream stuff is pretty conservative in terms of visuals and the kinds of stories that we tell. What's so neat about being here with all these folks, as Chris says, is they're pumped up to make it look this insane. We have three amazing directors, and they are poets, and we've got the best action director in the business, live-action or otherwise [in Peter Ramsay], and Rodney [Rothman]'s one of the funniest people I've ever met, and also, coincidentally, he has a soul. Bob [Persichetti]'s not here, but he's like a poet. They're putting this movie together and taking risks with every frame, every cut, every choice. That's so fun."
Spider-Man: Into the Spider-Verse features the voice talents of Shameik Moore, Jake Johnson, Hailee Steinfeld, Liev Schreiber, Mahershala Ali, and Bryan Tyree Henry, and it arrives in theaters on December 14, 2018.