'Blindspotting' Trailer: Daveed Diggs Stars In The Sundance Movie That Will Shake You To Your Core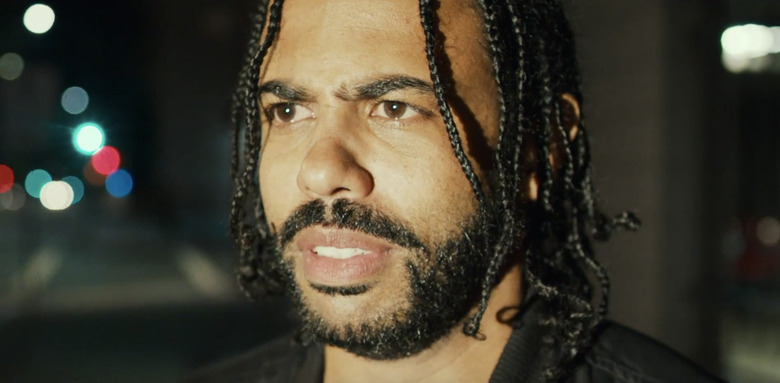 One of the breakout films from this year's Sundance Film Festival is the sharp, electric and vital Blindspotting. An impressive blend of stylish comedy and powerful drama makes this a remarkable directorial debut for filmmaker Carlos López Estrada, but it's the presence of Hamilton star Daveed Diggs giving a breakthrough performance that really drives this movie home. But don't take our word for it. Take a look at the first Blindspotting trailer below.
Watch the Blindspotting Trailer
The film follows Daveed Diggs as Collin, a man who is just trying to make it through the last three days of his probation while his best friend Miles (Rafael Casal) keeps coming close to messing it up. Adding tension to the proceedings, and sparking the perceptive commentary that takes this story to the next level, is Collin coming to terms with seeing an unarmed black man shot down by a police officer (Ethan Embry).
Blindspotting goes back and forth between poignant commentary, downright hilarity, heartfelt drama and dreamlike hip hop sequences. That might sound jarring, but the impressive blend of these elements is what makes the movie that much more impressive. It's like a modern day Do the Right Thing. Our own Ben Pearson wrote this in his review from Sundance:
"Sharp, stylish, and sincere, Blindspotting may hook you with its flashy wordplay and slick visuals, but this is a hilarious and vital movie of the moment that's burning with empathy. Some may quibble about whether its reach exceeds its grasp in terms of accomplishing everything it has on its mind, but one thing is undeniable: this movie features an outstanding performance from soon-to-be-superstar Daveed Diggs."
Indeed, Daveed Diggs is sure to become a huge star after this movie. And for anyone who loved seeing him sling rhymes on stage in Hamilton, this movie has plenty of rapping for you to sink your teeth into.
Collin (Daveed Diggs) must make it through his final three days of probation for a chance at a new beginning. He and his troublemaking childhood best friend, Miles (Rafael Casal), work as movers, and when Collin witnesses a police shooting, the two men's friendship is tested as they grapple with identity and their changed realities in the rapidly-gentrifying neighborhood they grew up in.
Blindspotting hits select theaters starting on July 20, 2018.