Cool Stuff: Throw On Han Solo's Jacket Or Lando Calrissian's Cape From 'Solo: A Star Wars Story'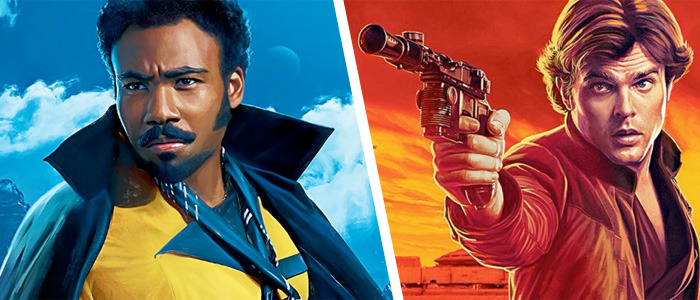 Fans have been dressing up as various versions of Han Solo for decades. Whether it's his classic look from Star Wars, his winter gear from The Empire Strikes Back, his camouflage coat from Return of the Jedi, or his slick leather jacket from Star Wars: The Force Awakens. Now there will be a few new versions of the charming smuggler entering the cosplay field thanks to Solo: A Star Wars Story, and some new gear will help you get the perfect look.
A brand new Han Solo jacket is now available from the geeky collectibles online shop ThinkGeek that is modeled after Alden Ehrenreich's jacket from Solo: A Star Wars Story. But if you're not in the market to dress up like Han Solo, there's also some new gear that will let you don the slick threads of his buddy Lando Calrissian.
ThinkGeek's Han Solo Jacket and Lando Calrissian Cape
The jacket may not look like much, but she's got it where it counts. It's a faux suede replica of the same jacket we'll see in Solo: A Star Wars Story. There are black patches on the shoulders and side pockets, and the zipper, snaps, cuffs and buckles are brass. It also has a rubber version of the Rebel Alliance Captain insignia. That makes us wonder if this is a jacket that Han Solo steals to impersonate a Rebel officer. We'll find out next month. You can pick up the jacket exclusively at ThinkGeek for $100.
For those of you who are fans of a different scoundrel, you'll see that ThinkGeek has you covered as well.  Not everyone can pull a cape off, but if you pick up this replica of one of Lando's cape from Solo: A Star Wars Story, then you can put a cape on. It has a crepe weave outer fabric with satin weave lining, a faux-leather collar with parallel decorative stitch and removable strap buttons on at collar to keep your cape in place. The cape will cost you $70 at ThinkGeek.