'Solo: A Star Wars Story' Trailer Supercut Smuggles All The Footage Released So Far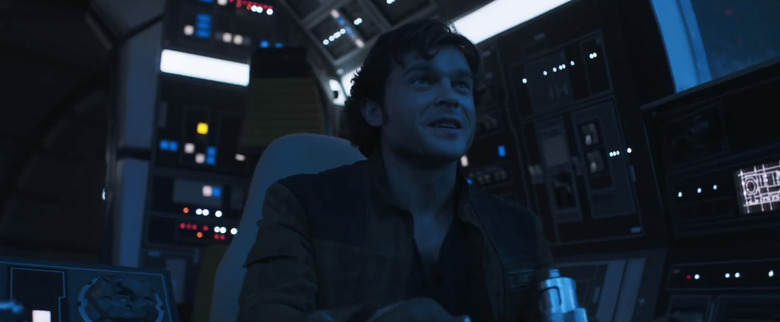 With just a little over a month to go before Solo: A Star Wars Story hits theaters, we've gotten a couple trailers, a few TV spots and a slew of merchandise showing us what we can expect from the origin story of one of the galaxy's most cunning smugglers. Of course, the movie has to overcome the hurdle of not starring a young Harrison Ford and instead putting Hail Caesar star Alden Ehrenreich in the lead role.
So far the footage from Solo: A Star Wars Story has been mostly impressive. While the jury is still out on whether Alden Ehrenreich has the same kind of cocky charisma that made Han Solo great in the original Star Wars trilogy, the movie at least looks like a thrilling heist adventure. Now, you can watch all of the footage released so far cut into one piece.
Watch the Solo Supercut Trailer
Film Threat did a nice job of piecing all of this footage together. It's almost four minutes of footage from the movie, and it's all connected like a mega trailer rather than just slapping all the videos together in a slapdash fashion. The last minute or so is cut together particularly well, and it's all starting to make me significantly less worried that this movie won't deliver.
What we don't get a lot of though is exactly what the heist at the center of the movie is about, what these villains are up to, and what the hell the Kessel Run is. These are all things that we'll probably have to wait to find out about when the movie arrives next month.
However, for a movie that's about Han Solo, I get the sneaking suspicion that it's going to be his newfound co-pilot Chewbacca and fellow scoundrel Lando Calrissian (Donald Gover) stealing the show. But maybe Lucasfilm is keeping the best bits with Alden Ehrenreich under wraps to blow us away in theaters.
Board the Millennium Falcon and journey to a galaxy far, far away in "Solo: A Star Wars Story," an all-new adventure with the most beloved scoundrel in the galaxy. Through a series of daring escapades deep within a dark and dangerous criminal underworld, Han Solo befriends his mighty future copilot Chewbacca and meets the notorious gambler Lando Calrissian, in a journey that will set the course of one of the Star Wars saga's most unlikely heroes.
Solo: A Star Wars Story is directed by Ron Howard and it arrives in theaters on May 25, 2018.