Will 'Incredibles 2' Finally Reveal Frozone's Wife?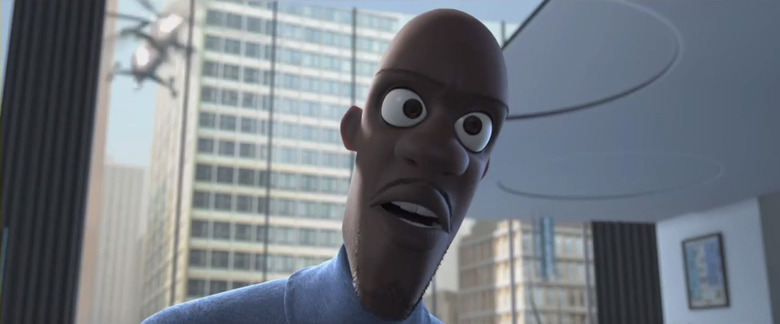 While The Incredibles was full of a bunch of memorable characters, there was one character who was quite the scene stealer. This was all the more impressive since it was a character who isn't even seen in the movie – she is only heard from off-screen. We're talking about Frozone's wife, who was not too pleased that her cool superhero husband was desperately looking for his super suit so he could ruin their date night by going out to help The Incredibles stop a giant robot from destroying the city.
With Incredibles 2 on the way, and bringing the return of Frozone (Samuel L. Jackson) alongside the titular superhero family, will we finally get to put a face with the voice who dubbed herself the "greatest good" the superhero would ever have? Director Brad Bird gave us the answer when we visited Pixar Animation recently.
Frozone's wife, named Honey Best, was originally voiced by Pixar employee Kimberly Adair Clark. But this time she will be voiced by LaTanya Richardson Jackson, the real life wife of Samuel L. Jackson. And while the most recent trailer for Incredibles 2 showed us that her voice would return for the sequel, there was no indication that we would finally see Honey make a more proper appearance in the franchise.
During a press conference for Incredibles 2 at Pixar Animation, director Brad Bird was asked about whether the increased attention being paid to diversity and equal representation, both for women and people of different races, was something that would be felt in the animated sequel. After all, there didn't seem to be any prominent characters of color in the roughly 35 minutes shown to us on Pixar's campus.
Even though Honey doesn't have a big role, Bird said there will be some prominent non-white characters, but also explained that they didn't try to shoehorn that into the story at all. "We are just telling the story we want to tell," Bird said. He then elaborated on the fact that a lot of people think they made a conscious effort to be more progressive in general by making the movie to tie in to the #MeToo movement because it has Elastigirl taking the lead. But Bird explained:
"I had that idea right on the heels of the first film. That's the oldest idea in this current movie. That and exploring Jack-Jack's powers. We don't really respond to whatever the thing of the moment is because our lead times are so long. We just tell the stories we want to tell."
Bird then pointed out that the first black character used as a walkaround character at Disney theme parks was Frozone, so he gave himself a little pat on the back for pushing Disney forward in representation a little bit. But there has still been a desire from fans to see a prominent black female character pop up, too. Bird vaguely says that they "have a few" in this movie and then explained how the potential prominence of Honey was discussed by ultimately abandoned:
"We wanted to show Honey in this movie. We didn't end up doing it because it's funnier as a voice. So we actually went through all the trouble of designing a character, and the design appears in the movie, but not as Frozone's wife. We have used her design and she is a hero [but] there's not a lot of screen time for it though. The problem is that we have a lot of different things that we want the movie to be about, and the two Incredibles movies are already the longest movies at Pixar, and they are never happy about that."
Maybe if there's ever an Incredibles 3 ,the story can turn to a story that focuses heavily on Frozone and the struggles of being a black superhero. After all, The Incredibles takes place in a mid-century world in the late 1950s and early 1960s, which is right around the time when the Civil Rights movement was heating up in the real world. That would certainly be an interesting topic for The Incredibles to tackle by using the world of superheroes for significant metaphors and themes about racism and diversity, not unlike X-Men's approach to mutant rights and acceptance.
Incredibles 2 arrives in theaters on June 15, 2018.