'Mad About You' Revival Signs Paul Reiser And Helen Hunt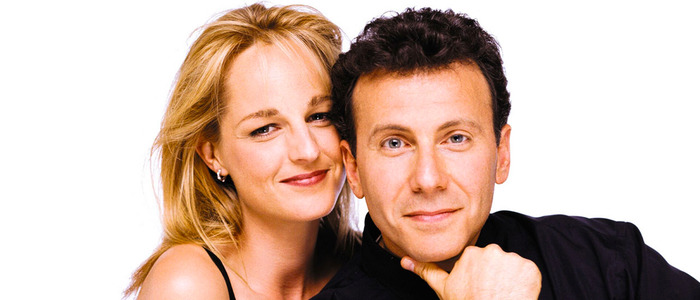 TV revivals for everyone! Next up on the possible revival list: Mad About You, which is closer than ever to a revival now that original stars Paul Reiser and Helen Hunt have signed on. More on the Mad About You revival below.
Have you heard? Revivals are "in" right now (and JNCO Jeans are "out"; sorry, big jeans enthusiasts). The Roseanne revival is a big hit, and then there are the revivals of Will and Grace, The X-Files, Twin Peaks, Mystery Science Theater 3000 and Full House. There's even been talk of a 30 Rock revival. Well, it's time to add yet another possible revival to this growing list: Mad About You. There have been rumblings about a Mad About You revival off and on for some time now. In December of 2017, word broke that stars Paul Reiser and Helen Hunt were "circling a deal." Now, it looks like it's official (the deal part, at least): Reiser and Hunt are on board.
Entertainment Weekly confirms Reiser and Hunt have "just closed deals with Sony Pictures Television to reprise their Mad About You roles." Per EW, there have been months of negotiations to get the deals just right, but now Reiser and Hunt are confirmed. This doesn't mean the Mad About You revival is 100% official, though. Producers now have to shop the revival to a network. The original Mad About You ran on NBC, and in light of recent revival successes, there's a good chance NBC will want to pick the revival up. But nothing is set in stone yet. If NBC doesn't bite, there's always the streaming route – Netflix or Hulu, for instance.Mad About You ran from 1992 through 1999, and was the delight of mothers everywhere. The series focused on "Paul Buchman (Reiser), a documentary filmmaker, and Jamie Stemple Buchman (Hunt), a public relations specialist, as they deal with everything from humorous daily minutiae to major struggles. Near the end of the show's run, they have a baby daughter, whom they name Mabel."
This move towards a revival signifies a slight shift in Reiser's thinking. In 2016, the actor said he had "no plans" for a Mad About You revival. "One of the things we did deliberately in the finale was that we jumped ahead in the future. We saw where they went,: Reiser said. "Part of why we did that was to avoid the temptation of going back...When you watch a reunion (show), all you do is say 'Wow do they look older.'"
Now that we have the Mad About You revival all but sewn up, what's next? Frasier? It has to be Frasier, right? Baby, I hear the blues a-callin', tossed salad and scrambled eggs. Oh my mercy.