'Incredibles 2' Poster Reveals New Supers, New Trailer Coming Tomorrow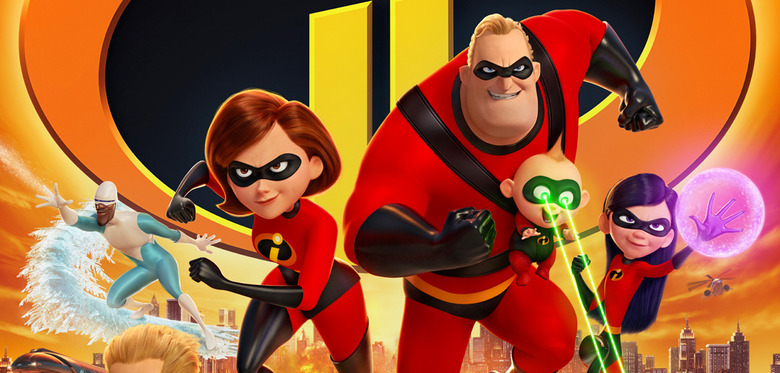 Next week, we'll be bringing you a whole bunch of new details about Incredibles 2. But in the meantime, Disney and Pixar want to get the hype train started with a brand new poster that shows our favorite superhero family in action, along with some new characters that we haven't seen in any footage yet.
However, there's a chance that we might see them appear in the new trailer that will arrive sometime tomorrow. In the meantime, check out the new Incredibles 2 poster below!
New Incredibles 2 Poster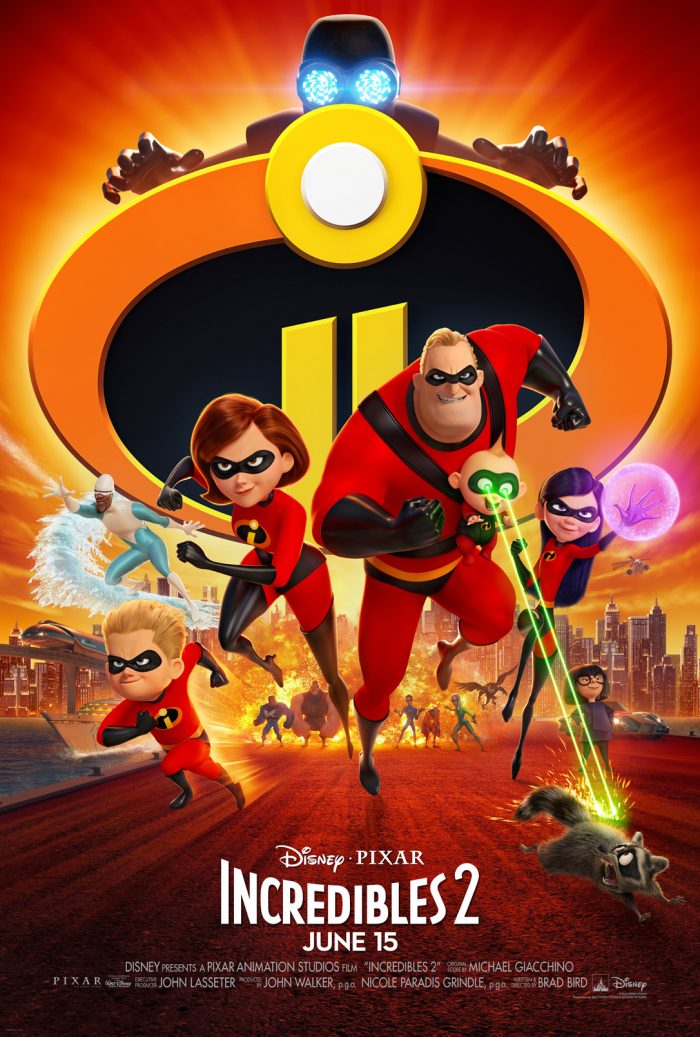 As you can see, Mr. Incredible, Elastigirl, Dash, Violet, Jack-Jack and their buddy Frozone are all coming right at us. Meanwhile, the eccentric fashion designer Edna Mode stands nearby as a raccoon runs from the dangerous laser eyes of Jack-Jack.
But wait...who are those other heroes standing in the distance, right in front of an explosion? Unfortunately, we can't tell you yet, but you'll find out on April 16 when we have the all-clear to talk about everything we saw in the 35 minutes of footage that Pixar Animation showed us from Incredibles 2 last week.
On top of that, we'll be able to tell you more about that menacing villain looming above the Incredibles 2 logo with those glowing eyes (who we also saw in the recently revealed mural from Pixar). And we'll have plenty to tell you about the monorail that you see over on the left side of the poster, just under Frozone. That's part of an amazing action setpiece that you're going to absolutely love.
Otherwise, we're betting tomorrow's trailer will reveal much more about the story at the center of Incredibles 2, as the superhero family continues their journey right where it left off at the end of the first movie all the way back in 2004. Make sure to come back tomorrow for the new trailer and next week for all the new details from our visit to Pixar!
Helen (voice of Holly Hunter) is called on to lead a campaign to bring Supers back, while Bob (voice of Craig T. Nelson) navigates the day-to-day heroics of "normal" life at home with Violet (voice of Sarah Vowell), Dash (voice of Huck Milner) and baby Jack-Jack—whose superpowers are about to be discovered. Their mission is derailed, however, when a new villain emerges with a brilliant and dangerous plot that threatens everything. But the Parrs don't shy away from a challenge, especially with Frozone (voice of Samuel L. Jackson) by their side. That's what makes this family so Incredible.
Incredibles 2 arrives on June 15, 2018