Paul Thomas Anderson Just Directed (Part Of) An Adam Sandler Netflix Special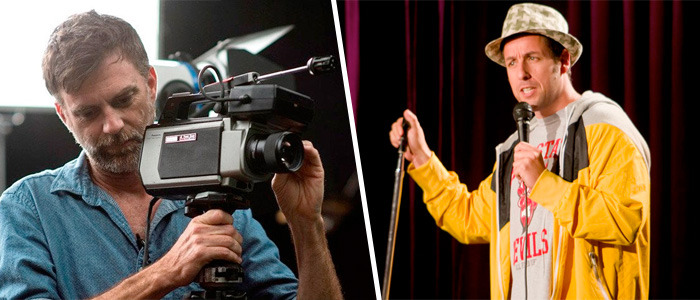 The comedy offerings of Adam Sandler have left plenty to be desired for the past decade-plus. However, it sounds like we might have something to look forward to from Sandler, and not simply because it's terrible.
This past week, Adam Sandler shot a brand new comedy special for Netflix at the El Rey Theatre in Los Angeles. Normally, that might not be cause for celebration, but this particular comedy special was directed by Phantom Thread helmer Paul Thomas Anderson.
UPDATE: We've got clarification on Paul Thomas Anderson's involvement with this project that you can learn about at the end of the story.
Not too many people noticed when Adam Sandler advertised this Netflix special on Twitter a week ago:
Next week @elreytheatre! pic.twitter.com/UolyPcrNWE

— Adam Sandler (@AdamSandler) April 4, 2018
As you can see, the date on the flyer is April 10, which was yesterday. Normally, that wouldn't be anything to get too excited about. Adam Sandler hasn't recorded a comedy special of his own since 1996, though he did appear in the Funny People stand-up special back in 2009. But the actor has been touring over the past couple years, occasionally bringing friends like David Spade, Nick Swardson and Rob Schneider. Again, that doesn't sound like anything we'd put on our radar, but then we heard the news of who was behind the special (via The Playlist):
The last time Paul Thomas Anderson worked with Adam Sandler, it resulted in the actor's finest performance in Punch-Drunk Love. That was far from the conventional comedy we've come to expect from Sandler, so having these two work together on this is one hell of an enticing prospect. That's especially true when you look at Sandler's work over the past couple decades. But Anderson has revealed that he has a bit of an obsession with Adam Sandler.
While one could argue that 50 First Dates was a decent enough romantic comedy saved by Sandler's chemistry with Drew Barrymore, the last great comedy the former Saturday Night Live cast member made was Big Daddy in 1999, nearly two decades ago. I'm not including Funny People, because that film came from Judd Apatow and didn't involve Sandler's usual collection of cronies.
For now, we have no idea what this Netflix comedy special entails, but Sandler was caught singing new songs in the subway system of New York City last month, so that might be part of the show. There's no word on when the Adam Sandler Netflix special will debut, but we'll let you know as soon as we hear anything.
UPDATE: Netflix reached out to let us know that Steven Brill (Mr. Deeds, Little Nicky) is being credited with directing Adam Sandler's Netflix special. However, Paul Thomas Anderson filmed a portion of the stand-up set recorded on April 10. That makes us considerably less excited than we were before. Carry on.