New 'Cobra Kai' Trailers Introduce Daniel LaRusso And Johnny Lawrence's Kids, And The New Karate Kid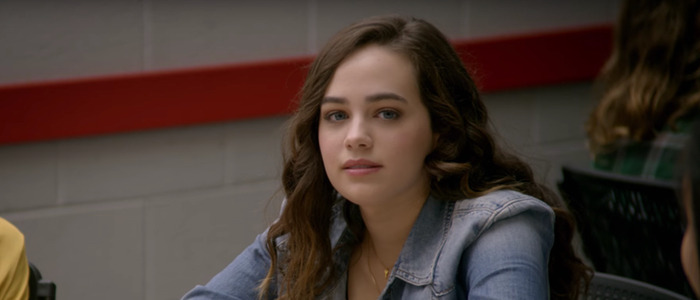 We're closer than ever to Cobra Kai, the new YouTube Red series that continues the story started by The Karate Kid. While we all wait for the series to arrive in May, here are three more Cobra Kai trailers.
This footage introduces us to the new generation of Karate Kids: Sam, Daniel LaRusso's daughter, Robby, Johnny Lawrence's daughter, and the new kid who helps Johnny get Cobra Kai off the ground, Miguel.
Are you ready for Cobra Kai? Well, you better get ready, because it's coming to YouTube Red and there's nothing you can do to stop it. The new web series continues the Karate Kid saga for a whole new generation, with original Karate Kid stars Ralph Macchio and William Zabka returning. Cobra Kai finds Macchio's character Daniel grown-up and successful, while his former rival, Johnny (Zabka) is down on his luck. Now, Johnny seeks redemption by reopening the Cobra Kai dojo and training a new generation of fighters.
Instead of focusing on Daniel or Johnny, these new trailers focus on the new kids: Danny's daughter Samantha (Mary Mouser), Johnny's son Robby (Tanner Buchanan), and Johnny's pupil Miguel (Xolo Maridueña).
Cobra Kai Trailers
As someone who has never seen The Karate Kid, I continue to be agnostic about this whole show. I'm sure fans of the film are excited, though, and more power to them. I imagine we'll be getting more mini-trailers just like this. That is, quick footage that introduces us to more of the new characters of the series beyond Daniel and Johnny.
Cobra Kai will arrive in full on YouTube Red on May 2, 2018.
In the highly-anticipated return of two iconic characters, the arch-rivals from the legendary Karate Kid film series reunite over 30 years after the events of the 1984 All Valley Karate Tournament. Now living in the affluent hills of Encino, Daniel LaRusso (Ralph Macchio) leads an enviable life with his beautiful family, while running a successful string of car dealerships throughout the valley. Meanwhile, his high school adversary, Johnny Lawrence (William Zabka), whose life has taken a rocky turn, seeks redemption by reopening the infamous Cobra Kai karate dojo. Their lives inevitably become intertwined and the rivalry is reignited, setting forth the next generation of "karate kids" in COBRA KAI, a YouTube Red Original Series. COBRA KAI is produced by Overbrook Entertainment in association with Sony Pictures Television.