Cool Stuff: 'Jurassic Park' Night Vision Goggles Can Now Be Yours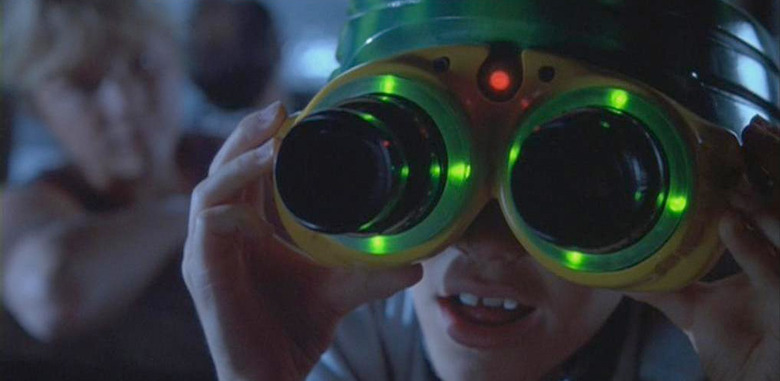 Since we're not going to get real dinosaurs in front of our eyes anytime soon, we'll take the next best thing from Jurassic Park instead.
You might remember that John Hammond's grandson Tim (Joseph Mazzello) stumbles upon a pair of cool light-up night vision goggles under the seat of the Jurassic Park branded Ford Explorer while they're stranded next to the tyrannosaurus rex paddock in the rain. Now those night vision goggles can be yours in the form of a detailed life-size prop replica from Chronicle Collectibles.
Buy Jurassic Park Night Vision Goggles from Chronicle Collectibles

Here's the official description of the Jurassic Park night vision goggles from Chronicle Collectibles:
To ensure we got every detail just right, we worked with Universal Studios to measure, 3-D scan, and extensively photograph the original screen-used goggles. As a bit of trivia, the same goggles prop was used in both Jurassic Park and Jurassic World; so we're actually covering two movies with a single prop replica!
The 1:1 Jurassic Park Goggles have lenses that can be displayed in the open or closed position through two sets of inner barrels adjusted by manual control. With the open barrel, you can actually see through the goggles. When using the closed barrel, you will see the iconic crosshair pattern displayed on the outside.
Are they heavy? As a 1:1 scale prop replica, you bet your ass they are. Unfortunately that means they're also expensive with a $449 price tag attached (and that doesn't include the mannequin head and base, which will be sold separately later). But the good news is that there are a few different payment plans so you don't have to drop all that money in one lump sum. You can choose to pay it off over three, six or even ten months.
The pre-order is live right now over at Chronicle Collectibles, so make sure you place your order now.