'Avengers: Infinity War' TV Spot Begins Rightfully Selling This Movie As 'Black Panther 2'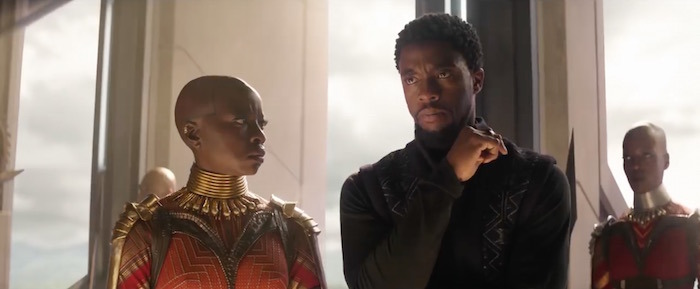 Avengers: Infinity War may be the latest team-up of every single major hero in the Marvel Cinematic Universe (except Hawkeye; sorry, Hawkeye), but this new TV spot knows who and what everyone wants to see. With Black Panther still going strong at the box office, and poised to pass Titanic to become the third highest grossing movie in domestic history, the folks at Disney's marketing department have cut a new extended TV spot selling this movie as Black Panther 2. Can you blame 'em?
Avengers Infinity War TV Spot
Sure, Iron Man and Captain America and the rest of the gang get some moments to shine, but this spot is all about Wakanda. King T'Challa (Chadwick Boseman) has the most screen time here and we get a terrific shot of Shuri (Letitia Wright) looking slick and kicking ass. And the big final moment, the moment typically reserved for a character everyone loves, goes to Dora Milaje commander Okoye (Danai Gurira), who gets to deliver a great joke and kick ass.
The messaging here is clear: you liked Black Panther? You were one of the many, many people who saw it because it was an event movie that transcended being a Marvel release? Well, there's more where that came from. With most of the original Avengers line-up set to step back or die or retire after Avengers 4, it's clear who has become the new figurehead of the MCU...and Tony Stark never made as much money on his own as T'Challa.
Avengers: Infinity War opens on April 27, 2018. In addition to the Black Panther characters, the stacked cast includes Scarlett Johansson, Josh Brolin, Robert Downey Jr., Mark Ruffalo, Tom Hiddleston, Chris Evans, Chris Hemsworth, Jeremy Renner, Chris Pratt, Elizabeth Olsen, Sebastian Stan, Benedict Cumberbatch, Paul Bettany, Samuel L. Jackson, Cobie Smulders, Benedict Wong, Zoe Saldana, Karen Gillan, Dave Bautista, Pom Klementieff, Don Cheadle, Tom Holland, Bradley Cooper, and Anthony Mackie.
An unprecedented cinematic journey ten years in the making and spanning the entire Marvel Cinematic Universe, Marvel Studios' "Avengers: Infinity War" brings to the screen the ultimate, deadliest showdown of all time. The Avengers and their Super Hero allies must be willing to sacrifice all in an attempt to defeat the powerful Thanos before his blitz of devastation and ruin puts an end to the universe.