'Wayne's World' Movie Party With Penelope Spheeris Q&A Coming To Los Angeles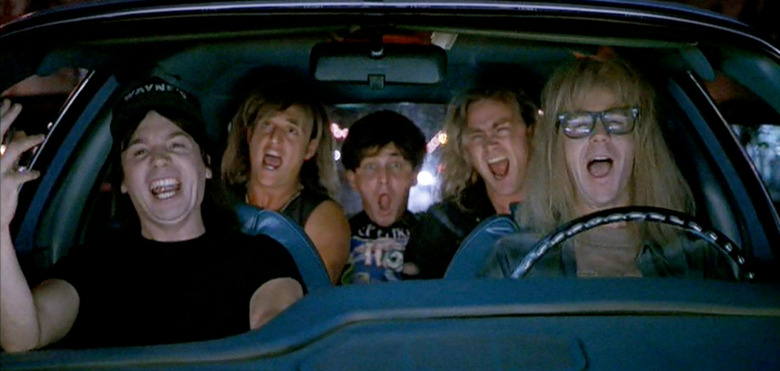 When it comes to movies based on Saturday Night Live sketches, there are good movies, bad movies, and then there's Wayne's World. It gets its own category because it would be downright unfair to put it in the same room with the others. It's comedy royalty.
And like all royalty, it needs to be celebrated every now and then. The Alamo Drafthouse is celebrating this 1992 classic in style with a special party in Los Angeles. And yes, you're invited. And yes, there will be a guest of honor: director Penelope Spheeris, who will also participate in a Q&A.
Like other Drafthouse-hosted events, this will be more than just a screening of a beloved movie. In addition to the presence of Spheeris ("We are not worthy!"), this event will include a "Live '80s musical experience" from Pop Gun Rerun, a pop-up video and merchandise store from Cinefile Video, and a vintage record booth from Burger Records. And yeah, there will be drinks inspired by the movie to help lubricate your throat before you ask Spheeris the questions you've been pondering for for 26 years.
The Wayne's World Movie Party will be held on Sunday, April 15 2018 at The Regent Theater in Los Angeles, California. Doors open at 6:00 P.M., with the event itself starting at 6:30 P.M. Tickets will cost you $25 and they're available right here, right now.
Here's the official description of the event:
It's party time and, yes, it will be EXCELLENT at this Wayne's World Movie Party presented by Alamo Drafthouse. This night will be WORTHY of your attendance. There will be a live Q&A with Director Penelope Spheeris, Live 80's musical experience from the band Pop Gun Rerun, Pop-up video & merch store from Cinefile Video, Vintage record booth by Burger Records and OF COURSE a screening of the one and only Wayne's World. One thing is certain, YOU will most definitely party on at this ZANG Movie Party with a Garth inspired drink special (YES WAY!). Things get complicated for Wayne and Garth as they make the jump from cable access to primetime. Rob Lowe is a sleazy network exec bent on exploiting the boys and making a hollow, big-budget version of the show — and bent on stealing Wayne's girlfriend, Cassandra (Tia Carrere — schwing!). Can Wayne and Garth save their show, save Cassandra and, most crucially, continue to party on?