'How To Talk To Girls At Parties' Trailer: Your Average Story Of British Punk Boy Meets Curious Alien Girl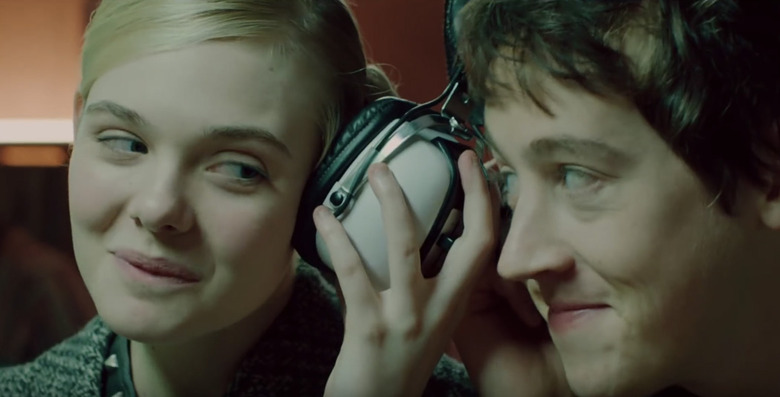 We may receive a commission on purchases made from links.
As someone reading a movie website, you've surely seen a coming of age romance here and there. And you've probably seen an alien invasion movie as well. But now they're about to combine in a sexy, punk acid trip of a movie in the form of an adaptation of Neil Gaiman's short story and graphic novel How to Talk to Girls at Parties.
The first trailer just arrived, and it looks like a wild, charming genre mash-up that should be a hell of a good time at the movies this summer.
Watch the How to Talk to Girls at Parties Trailer
Set during the glorious days of punk rock and revolution in the United Kingdom in the late 1970s, a young teen boy named Erin (Alex Sharp) is having some trouble finding his way through the raucous social environment of late night partying and chatting up girls. But that all changes when he and his friends stumble upon a strange fever dream of a party featuring a bunch of strange, sexy alien teens who are trying to blend into human society as their own extra-terrestrial rite of passage. It's here that he meets Zan (Elle Fanning), setting him on a course for first love in the strangest way possible.
This is undoubtedly an interesting blend of genres, but I hope that the story offers up a more than Elle Fanning being this clueless alien dream girl who Alex introduces to the ways of love, humanity and punk like some kind of lost child. It has the potential to be a little (here's that word again) problematic, even though Zan does seem to take matters into her own hands when it comes to rebelling against her alien superiors trying to stop her from getting caught up in the punk movement.
If anything, the movie at least seems to perfectly pull Neil Gaiman's wild story into reality, complete with some David Bowie influences, including a wild-looking Nicole Kidman, who stars along with Ruth Wilson and Matt Lucas. And since this comes from director John Cameron Mitchell, who gave us Hedwig and the Angry Inch and co-wrote this adaptation with Philippa Goslet, that makes perfect sense.
How to Talk to Girls at Parties doesn't have a specific release date in the United States yet, but it's expected to open in the United Kingdom in May, so it will probably arrive stateside sometime this summer. In the meantime, here's the official synopsis:
From the raucous dual imaginations of fantasy laureate Neil Gaiman ("American Gods," Coraline) and glam-rock multi-hyphenate John Cameron Mitchell (Hedwig and the Angry Inch, Shortbus) comes the electrifying and singular pop extravaganza film, How to Talk to Girls at Parties. Enn (Alex Sharp) is a shy suburban London teenager in 1977, sneaking out with his best friends to after-hours punk parties. One night they stumble upon a bizarre gathering of sexy teenagers who seem like they are from another planet. In fact, they are from another planet, visiting Earth to complete a mysterious rite of passage. That doesn't stop Enn from falling madly in love with Zan (Elle Fanning), a beautiful and rebellious alien teenager who, despite her allegiance to her strange colony, is fascinated by Enn. Together they embark on a delirious adventure through the kinetic punk rock world of 1970s London, inadvertently setting off a series of events that will lead to the ultimate showdown of punks vs. aliens, and test the limits of how far each of them will go for true love.