Hasbro's Crowdfunded 'Return Of The Jedi' Jabba's Sail Barge Playset Has Reached Its Goal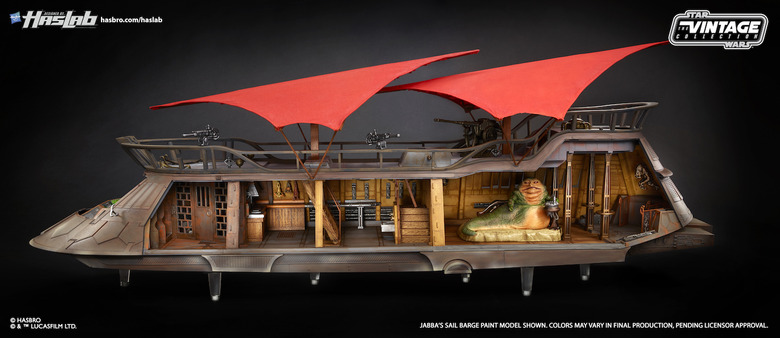 Over a month ago, Hasbro announced the launch of their new project, HasLab, a crowdfunding initiative allowing fans to support  a new collectible that will only be available in limited quantities to those who fund the product in question. The first product announced from the HasLab initiative was a Return of the Jedi playset of Jabba's Sail Barge. It looked like an incredible collectible, but the $500 pricetag was pretty steep. As of a little less than two weeks ago, it didn't seem like the sail barge was going to move forward. But fans have defied expectations and the project is fully funded.
Hasbro's Jabba's Sail Barge Playset
At the time of this writing, the project has gotten 7,168 backers. That's almost nearly half over the required 5,000 fans who needed to fund the project in order for it to get made. That means if you want to get your hands on it, you can go support the project yourself, and you'll get one of these limited edition playsets that won't be offered ever again.
You can check out even more photos over here, and read through the specs of Jabba's Sail Barge playset below:
Measuring approximately 4ft long, this vast vehicle is a dream item for any Star Wars collection. Designed to captivate and inspire, The Vintage Collection Jabba's Sail Barge (The Khetanna) features exquisitely detailed, fan accessible decks that complement 3.75-inch figures (not included) allowing fans and collectors to recreate intense battles in the Star Wars saga. Its removable side panels also offer a unique opportunity to pose and set up incredible dioramas. Complete with premium deco, vintage packaging, and soft cloth sails, this dream product offers Star Wars devotees the quality and realism they know and love. Included with the vehicle is Jabba the Hutt (3.75-inch scale figure).
The Vintage Collection Jabba's Sail Barge (The Khetanna) complete with exquisitely-detailed and fan accessible interior/exterior decks, two soft-cloth fabric sails, and other realistic features that mimic one of the most notorious vehicles in the Star Wars universe
Jabba the Hutt 3.75-inch scale figure
Classic Vintage Collection packaging with special limited edition HASLAB seal of authenticity
Jabba's Sail Barge (The Khetanna): Behind the Workbench, a premium, 64-page booklet, that goes behind the scenes of the design and development of the actual Sail Barge film set piece and Hasbro toy. Complete with set photos, product blueprints, interviews, and more.
A dedicated, ongoing stream of behind-the-scenes development updates, keeping you informed as The Vintage Collection Jabba's Sail Barge (The Khetanna) makes its way from a dream at Hasbro to a reality in your hands (subject to reaching the minimum backing goal).
NOW INCLUDING: 3.75? Yak Face figure from The Vintage Collection in exclusive Power of the Force card back packaging with exclusive Collector Coin