Universal Studios Reportedly Planning Fourth Florida Park, Could Include 'Lord Of The Rings' And More Harry Potter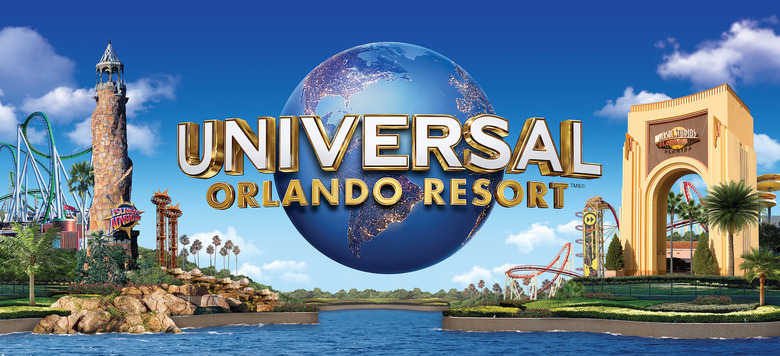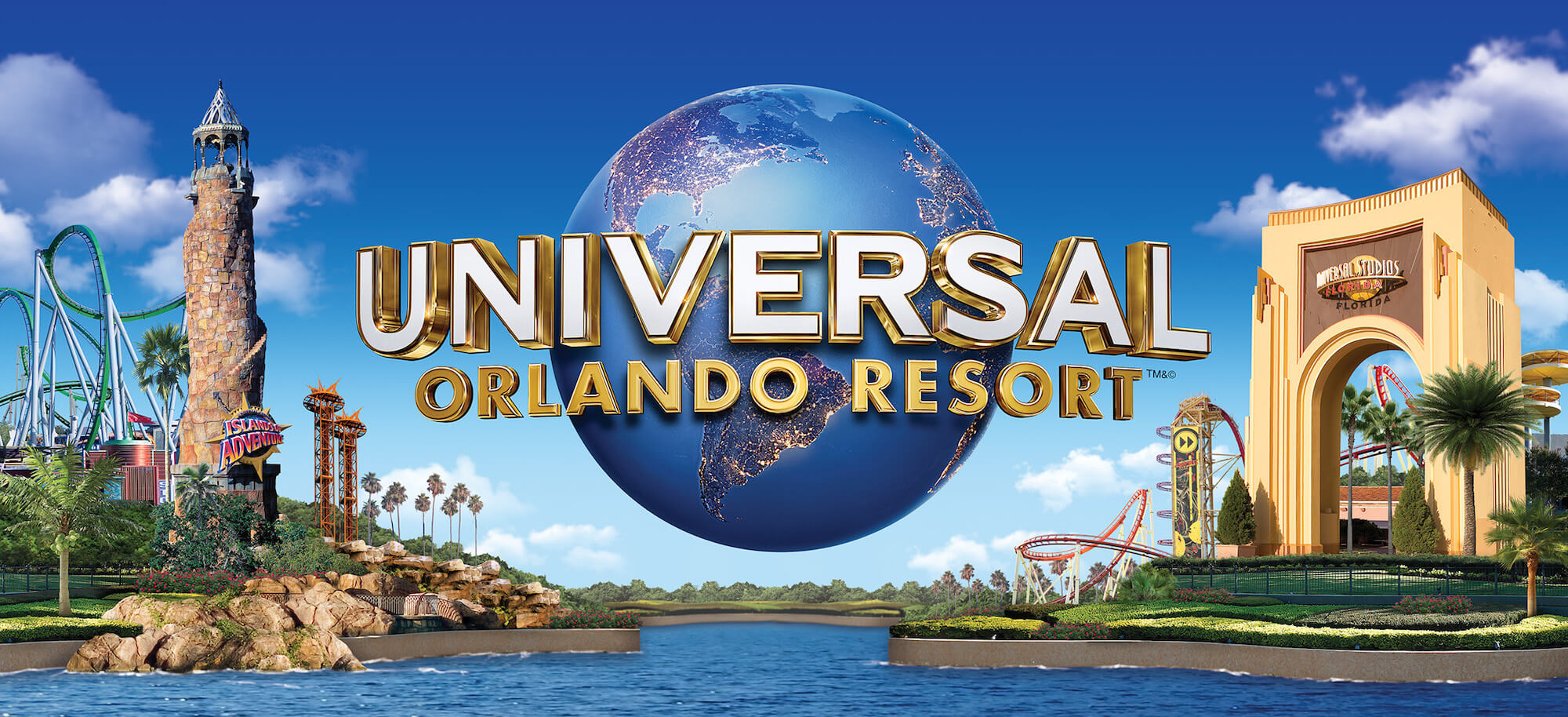 For years, the narrative has remained consistent. Walt Disney World, with available real estate roughly the size of Manhattan, had all the Florida swampland in the world to expand and grow. And a few minutes away, Universal Studios was boxed in and had to make do with its very limited amount of space. Cue Disney putting its hands on its hips and laughing at the competition.
And then a funny thing happened. Universal landed the Harry Potter license and made theme park history. And then they built a waterpark. And then they acquired a ton of new land in 2015 and even more land in 2017. And now, according to the latest rumor swirling around the internet, they're planning to add a fourth park to their Florida resort, one that could include everything from Lord of the Rings to Jurassic World.
This story comes from Disney and More, a site that has had its fair share of reliable theme park scoops in the past. But with that said, this is all rumor until we see that official Universal press release. Still, this story orbits much of what we know to be true, including the fact that there's no way Universal would buy all of that land and not want to build another park.
Disney and More reports that this top secret fourth Florida park is codenamed Project 314 and that it could be finished as soon as 2023 or 2024. That's typical for the speedy Universal, who tends to work at a much faster pace than their rivals over at Disney. If this fourth park comes into being, it will join Universal Studios Florida, Islands of Adventure, and Volcano Bay, along with many hotels and restaurants, as part of the Universal Orlando Resort complex.
But what could be featured at "Project 314", a name that could be a random number or it could be a cute reference to Universal wanting a bigger piece of the Florida tourism pie (because of pi, you see)? That's where this story starts to get very interesting.
Super Nintendo World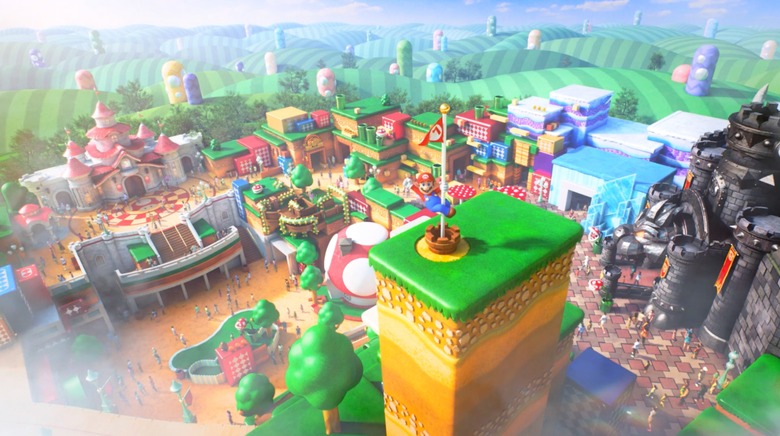 One of the most surprising tidbits of this report is that this fourth park could be home to the upcoming Super Nintendo World. Early reports suggested that this ambitious area themed around Mario, Zelda, and other members of the video gamedom's most famous family of characters would take over the Woody Woodpecker's KidZone in the Universal Studios Florida park. After all, that area hasn't thrilled anyone, even small children, in ages. It's a waste of real estate in a park without much excess space! So if Super Nintendo World is going to this mysterious fourth park, expect something big to be announced for Universal Studios Florida soon, because KidZone is definitely on the chopping block.
Anyway, Super Nintendo World will be a companion to a similar land opening in Universal Studios Japan, and will feature attractions themed around Mario Kart and The Legend of Zelda to start. Some of Universal's patents have even suggested a roller coaster cleverly themed around Donkey Kong Country. Disney and More also reports that there is a great deal of interest in bringing Pokemon to the land, which sounds like a license to print money.
Lord of the Rings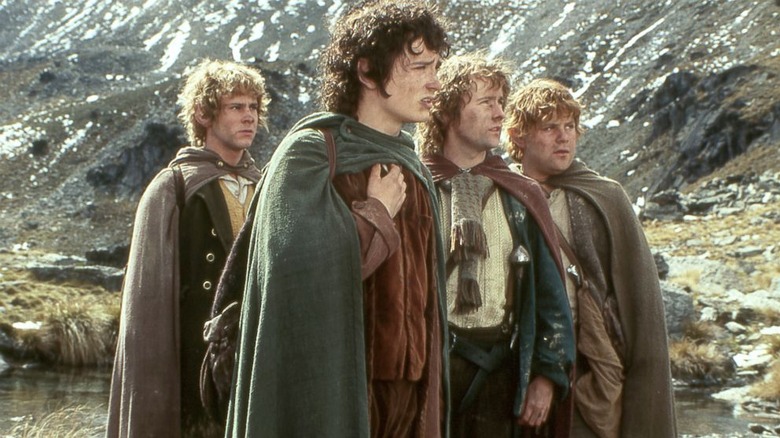 Anyone who closely follows theme park news knows that Lord of the Rings has been a frequent almost-player in this world. Both Disney and Universal have reportedly had meetings about bringing J.R.R. Tolkien's Middle-earth to their theme parks over the years, but nothing has ever come of it. However, now that the Tolkien estate is suddenly more open to letting other people play in their sandbox (remember, Amazon is making a Lord of the Rings TV show now), a theme park land based on this beloved world suddenly seems plausible. And Universal's own Wizarding World of Harry Potter makes it feel possible.
Of course, this would mean that Universal has quietly acquired the rights to this franchise, so who knows what is going on behind the scenes? It should be noted that Lord of the Rings was rumored as a possible expansion for Universal's Islands of Adventure theme park just a few years ago.
The Ministry of Magic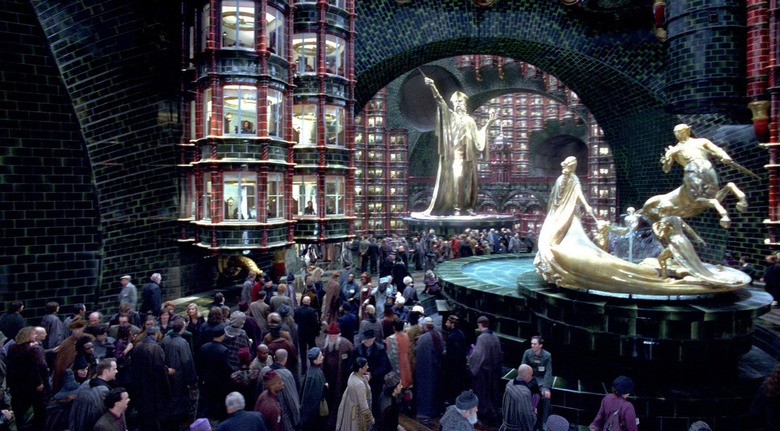 Universal has found unparalleled success with The Wizarding World of Harry Potter at Islands of Adventure and Universal Studios Florida, which have lands based on the village of Hogsmeade and the community of Diagon Alley, respectively. So it only makes sense that a new park would expand things further. According to Disney and More, this park could house the Ministry of Magic, the sprawling government building that governs the wizards and witches of England. It would be a nice change of pace from the first two areas and would allow for all kinds of tie-ins with the ongoing Fantastic Beasts series, which dwells very heavily on the politics of the Wizarding World. And of course, it's easy to imagine guests being offered package tickets that allow for transportation between the three Wizarding World of Harry Potter lands, all the better for pretending that you've actually been transported to these worlds.
On another note, Disney and More mentions that the indoor roller coaster replacing the late, great Dueling Dragons/Dragon Challenge coaster at Islands of Adventure will be a special effects-laden trip through the Dark Forest outside of Hogwarts castle. That certainly makes sense for the area.
Jurassic World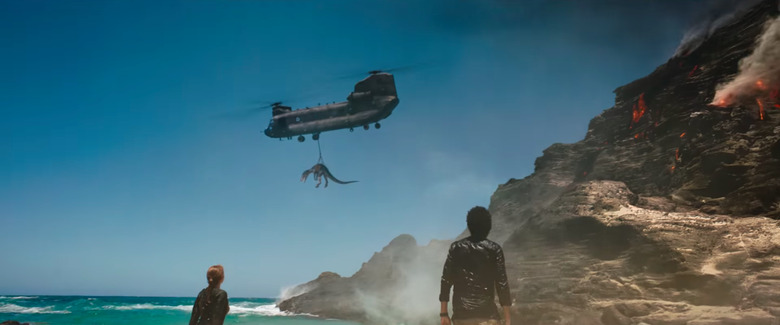 Jurassic Park already exists as a land over at Islands of Adventure, but Project 314 could be home to Jurassic World. This is the part of the story that makes me raise an eyebrow – why not just upgrade the existing Jurassic Park section with new attractions and reserve this space for something new? Anyway, Disney and More claims that the existing JP rides, including the iconic Jurassic Park River Adventure ride, will be getting refurbished and that this new area would be more clearly inspired by the new movies.
Okay, But What's the Theme Here?
My knee-jerk reaction to this rumor is "Oh, wow, I hope this is true because there's some very cool stuff here and Universal is very good at this whole theme park thing and I'd love to have another excuse to plan a Florida vacation." After a few minutes of quiet consideration, my reaction evolves to "Oh, huh, this is all very interesting, but this sounds more like a collection of IPs to which Universal has access or potential access rather than a theme park built around a cohesive idea that justifies its existence."
Disney may work slower than Universal, but their parks generally feel coherent and have a message. There is a difference between a Magic Kingdom ride and an Animal Kingdom ride. An Epcot ride has something to say that will be very different than a Hollywood Studios ride. This is not something that will matter to the casual park-goer, but it certainly matters to theme park aficionados, people who enjoy these parks as proper thematic experiences from the ground up. If this is the partial land line-up for "Project 314," I'm simultaneously impressed by the big names and bummed out by the lack of cohesion. It just sounds like a bunch of stuff. Rad stuff, but just...stuff.
Or maybe I'm missing the big picture here. Maybe something will exist to connect these disparate ideas into something coherent. Or maybe Universal is so early in the planning stages that Disney and More is simply reporting on everything that's being thrown at the wall behind the scenes and we simply do not know what will stick yet. We shall see.