Watch: This Rejected 'Deadpool' Animated Series Pitch Brings The Pain And Wisecracks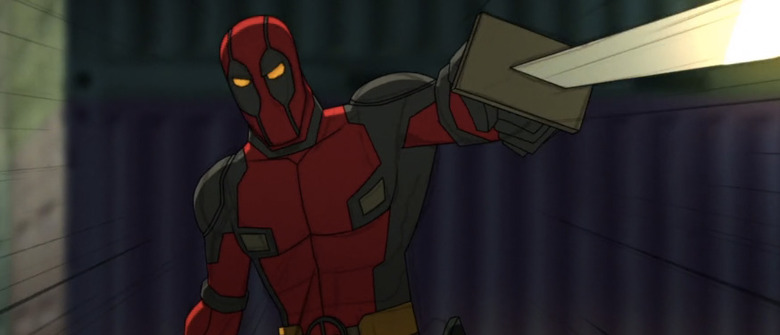 If you're still disappointed that the Deadpool animated series previously ordered by FX isn't happening anymore, and the hilarious script pages mocking the cancellation written by would-be showrunner Donald Glover only made you lament the show's cancellation even more, we have a treat that might make you feel a little better.
One of the animation studios who vied for the chance at being behind the Deadpool animated series was Titmouse. They've done work on the Netflix adult animated comedy Big Mouth, the underrated live-action animated hybrid Son of Zorn, and Marvel's Black Panther series for BET. Now that the Deadpool animated series has been scrapped, Titmouse has posted the test footage they created as part of their pitch, and it makes us wish they got the job.
Deadpool Animation Test
The footage comes straight from Titmouse on Vimeo. Meanwhile a post on Reddit adds the clarification that this was the pitch they made to possibly land the Deadpool animated series. The animation isn't anything groundbreaking, but it's still pretty slick. As you might have noticed, they merely took audio from the Deadpool movie and set animation to it. But rather than just creating an animated version of the same scene, they changed up little details and characters, including fighting what appears to be Gorilla Man as the big boss.
The job ended up going to Floyd County Productions, the company who does the animation for FX's hit series Archer. It's not clear if the Deadpool series would have been in the same style as Archer or if they maybe switched it up a bit. Personally, I don't think I like Archer's animation style for a Deadpool animated series, but since the series was canceled, it seems like we'll never get to see how it would have turned out.
Honestly, the prospect of a Deadpool animated series wasn't the most enticing idea to me. While I thoroughly enjoyed the movie, it just wasn't something I was getting excited about. But after reading the script that Donald Glover wrote as a response to the cancellation, I'm now bummed that we're not going to see what he can do with the fourth wall-breaking character.
As of now, the Deadpool animated series is dead in the water. But there's always a chance that Marvel will try to resurrect the project with new writers. But if not, at least Deadpool 2 is coming to theaters on May 18, 2018.