'Revenge' Trailer: You Probably Shouldn't Mess With Matilda Lutz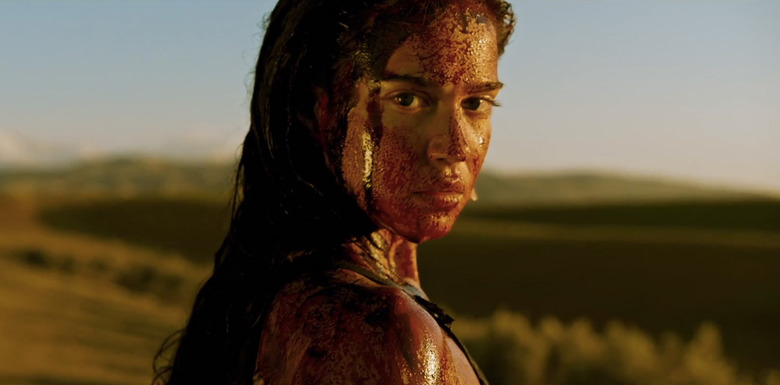 There have been plenty of badass women on the big screen lately. Whether it's the inspiring fantasy and sci-fi heroines of Wonder Woman and Star Wars: The Last Jedi, or the bloody, tough ladies of Atomic Blonde and Sicario, there are plenty of female protagonists to admire. But a new female-led revenge thriller from the festival circuit looks to get even more bloody and even more badass.
Revenge stars Matilda Lutz as Jen, the girlfriend of a dangerous man with even more dangerous friends who ends up clinging to life in the middle of the desert, left for dead by this gang of a**holes. But rather than keel over and die, Jen comes back, and she only has one thing on her mind, and it involves painting the desert red, just like the restricted trailer for the movie that just debuted online. There's a lot of blood in the red band trailer, but there's also a green band trailer if you want to play it safe.
Watch the Revenge Trailer
If the green band trailer with significantly less blood and violence is more your speed, you can watch it here.
Obviously, this film from director Coralie Fargeat (making her feature directorial debut) is going to be intense and bloody as hell. Jen is showing no mercy when it comes to getting revenge on these men who left her for dead. And as you can see by all the female critics praising the movie in the trailer, it's quite the empowering thriller that gives us another tough woman on the big screen.
Revenge has played at the Toronto International Film Festival and Sundance Film Festival, getting rave reviews all over the place. In fact, one particular scene during the film's premiere at TIFF caused someone to have a seizure because of how unsettling it was. So if you're looking for a way to convince your friends to seek this movie out when it arrives in May, just drop that trivia.
Here's the synopsis:
Jen (fearlessly embodied by Matilda Lutz, Rings) is enjoying a romantic getaway with her wealthy boyfriend which is suddenly disrupted when his sleazy friends arrive for an unannounced hunting trip. Tension mounts in the house until the situation abruptly––and viciously––intensifies, culminating in a shocking act that leaves Jen left for dead. Unfortunately for her assailants, Jen survives and reemerges with a relentless, wrathful intent: revenge.
Revenge will be served in theaters on May 11, 2018.